Feature: Concrete construction
By Neill Barston18 May 2015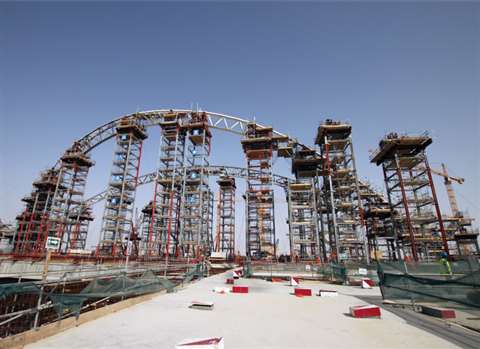 With technically challenging projects and ever-present pressures on time and money, there is an onus in the concrete construction sector to find elegant, cost-effective solutions. This often means adopting new technology, be it the latest equipment, new construction techniques or cutting-edge design tools.
For example, RMD Kwikform used 3D computer modelling to develop the formwork system for the new US$ 2.9 billion terminal at Abu Dhabi International Airport, which will feature a huge curved roof. This solution included a special ball joint with an additional jacking frame system, to support the roof arches, and RMD also supplied support towers, varying in height from 15 to 45 m.
Chris Jardine, RMD Kwikform UAE general manager, said, "Loading and stresses on the formwork and shoring were different for every single node point; we had to take a 3D model to form a solution that could operate safely and securely. As the contractor wanted to be able to use the frames multiple times, our solution had to be flexible enough to cope with the adjustments required at different parts of the erection phasing."
Meanwhile Doka has provided an adaptable formwork system for the Western High Speed Diameter (WHSD) project in St Petersburg, Russia. The motorway toll route will improve connections between the north and south of the city, and Vasiliesvsky Island. The project includes a 620 m cable-stayed bridge across the Korabelny channel.
Doka's solution comprised a system combining crane-lifted and automatic climbing formwork for the main pylons. Meanwhile, the contracting joint venture of Astaldi and IC Icta is using Doka's MF240 climbing formwork for the bridge piers. This included a new tailor-made 12 m heavy-duty bracket system to construct the pier heads.
In Macau, Meva has supplied climbing formwork for a 780-room hotel designed by architect Zaha Hadid. The building's 40-storey design has a series of elaborate spaces through the middle of the tower. These were blended with more traditional roof, wall and ceiling design for the project, which also has extensive public spaces.
Meva's MAC hydraulic automatic climbing system was used for the project, which features an improved working platform, and enhanced safety housing.
The system's inner and outer formwork systems are made up of pre-assembled panels, which can be adjusted independently in each direction. This is claimed to assist in achieving the greatest possible accuracy.
Meanwhile, Peri's Trio formwork was used to construct the Mausoleum of Martyrdom, in Michniow, Poland, which commemorates the loss of an entire village during World War II.
The walls and ceilings posed a particular challenge, with a uniform timber-like structure on the concrete surface. The timber effect was created with plaster formed with roller stencils, which required the surface of the concrete to be of high quality.
For the museum project's steeply inclined walls, Peri's Trio system was used, which is capable of working to a thickness of 1.5 m. On other areas of the site, Trio's standard elements were connected, and were braced by diagonal supports.
The scheme also used a BDF alignment coupler to extend large-sized formwork units to heights of up to 5.4 m. The customised formwork also enabled pouring concrete roofs to a thickness of 800 mm.
According to formwork company Pilosio, contractors faced a number of technical challenges working on St Anna St Sebastian hospital in Caserta, Campania, Italy.
The 500-bed facility has 13 four-storey pillars measuring 18 m in height, and has been designed with cavities to allow wiring to be passed through.
Rome-based contractor Condotte d'Acqua led a consortium on the project, which used a range of Pilosio systems. The external formwork was made from two half-shells, while the internal structure is a single mold, with six conical semi-circular elements connected to each other through a conical sledge system.
This allowed the removal of the entire formwork system with a crane, making it relatively easy to strike once the appropriate stiffness had been achieved. The procedure involved lifting the internal formwork with a hook, which saw the six component parts slide over one another, enabling the complete removal of the formwork in one lift.
Pump developments
For the mobile concrete pump sector, there have been a number of improvements, including more powerful engines and reductions in machine weight.
Putzmeister has released its latest concrete pump series, which includes the P718 compact model, which is claimed as the company's most powerful machine of its kind. It has a Deutz three-cylinder diesel engine, two-cylinder piston pump and a variable delivery rate and engine output. There is also a hydraulic control system for the pump and the S-tube.
The trailer unit has a maximum output of 17.4 m3 per hour and weighs in at 2.45 tonnes.
Cifa's Carbotech series of truck-mounted concrete boom pumps now includes the K45H, K53H and K60H models, all of which feature carbon fibre boom sections to reduce weight. This reduces axle loads, which can mean mounting booms on smaller carriers, or allowing more accessories to be carried. The reduction in weight can also translate to a reduction in fuel consumption.
The K53H has a 52 m boom, while the top of the range K60H has a 59 m placing boom. Among the series' key features are load-sensing boom operation, concrete flow regulator and fully hydraulic outrigger controls.
An interesting application of concrete pumps in action came on the US$ 1 billion project to build the new Minnesota Vikings American football stadium in Minneapolis, US. This scheme required an innovative and unusual concrete pumping system.
The venue is being built to host the 2018 Super Bowl, and the 64,000 seat venue features a high fixed roof. The major challenge was to find a way of placing concrete in the upper areas of the venue.
Ready mixed concrete supplier Cemstone suggested the use of a Schwing 750-18 trailer pump placed 200 ft (61 m) up in the stadium's superstructure. This was fed by a 61 m reach Schwing S 61 SX boom pump, which was able to deliver concrete directly into the trailer pump's hopper at its maximum reach. The material was then piped from the trailer pump to where it was needed in the upper reaches of the scheme.
Pavers
There are plenty of new products emerging in the concrete paving and slipforming sector, partly in response to new laws governing engine emissions in Europe, Japan and the US.
Wirtgen has developed a number of new machines, including the SP 15i, which is its smallest slipform paver. It is suitable for paving areas up to 1.8 m wide, as well as monolithic profiles up to 1.3 m high. The model was on show at Intermat last month, with a hydraulic vibrator, folding conveyor and the Wirtgen Autopilot 3D machine control system.
As the company's most compact model, the SP15i, which is powered by an EU Stage IIIB/Tier 4i Deutz engine, is capable of working in confined areas. It can be used for a number of offset concrete paving jobs, and is also easily transportable.
US-based manufacturer GOMACO has also made improvements to its Commander III multi-application slipform paver.
Powered by Tier 4 Final engines, it operates with the GOMACO G+ control system, which is part of the improvement to machines' hydraulic performance. It also has a redesigned frame and operator's platform with a new pivoting operator's control console.
For the first time, the paver will be available with an optional on-board camera to monitor designated areas of the slipforming process.
Meanwhile, in Australia, Nation Wide Slipforming, of Sydney, has used its Power Curbers 5700-C-MAX to complete a complicated 6 km slotted drain pour as part of the M5 West widening project in Sydney.
The slotted drains are poured using an inflated polymer-tube fed into the front of the mould. Concrete is then slip formed around the tube, which is deflated and removed once the concrete has set, leaving the open drainpipe inside the concrete profile.
This project, however, had less than 0.05% fall, or slope, meaning that water in the finished drain would not have enough of a grade to run down. Nation Wide responded by building the slot with variable depth from 0 up to 200 mm to allow for water drainage between the pits.
Brian Scattergood, of Nation Wide, said, "The precision of the drain itself wasn't the only demanding aspect of this project. "We also had the challenge of being asked to work within confined areas, and with the concrete trucks only being able to access the jobsite sometimes in only one direction."
Vertical slip forming
Meanwhile in Glasgow UK, contractor PC Harrington has adapted the principles of slipforming to build a vertical concrete structure. Concrete from Hanson with Admixtures from Sika were used to develop the material for the service towers of of the Chris Hoy Velodrome.
The slipforming process involved vertically raising self-contained formwork on hydraulic jacks, in a continuous operation, while extruding the reinforced concrete section.
Sika said the keys to this unusual technique for vertical construction were a well-designed concrete mix, a skilled workforce and well-planned delivery from the concrete supplier. It said the concrete needs to have controlled setting to match the rate of climb of the formwork.
To retain a fine surface finish, the concrete also needs to be 'drag free' as it leaves the formwork, eliminating surface damage caused by friction. The inclusion of Sika concrete admixtures to the concrete mix allowed these criteria to be successfully met, said the company.
"The slipform process is less dependent on cranes, which is a benefit on a congested site. It also allows the contractor to get the vertical elements of the project completed quickly, reducing construction time and costs," said Hanson UK's technical manager Colin Reid.
Mixing plants
The ever-increasing range of equipment and products available in the concrete sector also extends to new mixing plants, where ensuring productivity is a high priority.
For instance, Liebherr's new Betomix horizontal mixing plants have been developed with improved efficiency and flexibility. An ability to operate in a wide range of climates with built-in heating and insulation is one of its main design features.
Betomix plants are used on major construction projects including dam building. Scaling of the plant size allows configuration of the output rate, even for larger projects.
The Betomix system is contributing to the construction of major projects in Asia, providing more than 500 m³ of concrete in tandem or four-way configuration every hour. These plants can be fitted with ring-pan mixers (1 to 3 m³ nominal capacity) or twin-shaft mixers (2.25 to 6 m³ capacity) depending on requirements.
Ammann Elba has also released a new mixing plant range, the ECC Elba Concrete Centre.
This has a double spiral mixing system in an EMS or EMDW mixer, which has a high level of durability, and has been designed to work in a wide range of environments.
It has been developed with its skip and belt elevation in the same design concept, and can be assembled as either a stationary or semi-mobile facility. There is also an option for foundation-free assembly.
The plant's improved environmental features include a mixer dust reduction system, which is said to have help reduced emissions levels.
With a wealth of products being developed for the market, the sector appears in good health due to the delivery of major infrastructure projects around the world requiring these versatile machines.