Feature: Efficiency focus in quarrying
By Chris Sleight16 July 2015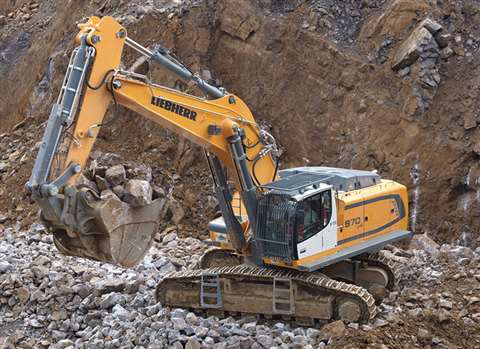 The machines used in quarries around the world tend to be a good deal larger than equipment found on construction sites. There is no hard and fast rule about what size constitutes a quarrying machine and what is an earthmover, because requirements, the size of the operation, the availability of different machines and the capital to invest varies so much around the world. But taking the UK as an example, you might commonly expect to find 20 to 30 tonne excavators on earthmoving projects, but 50 to 80 tonne machines in good sized quarries.
These machines and other equipment on this scale like loaders and haulers of course get through a lot of diesel, so there is a constant pressure on manufacturers to both cut fuel consumption and increase the productive capabilities of their equipment.
For example, Volvo has updated its 75 tonne class crawler excavator, the EC750D. The unit offers a lifting capacity of more than 26 tonnes and can be fitted with a bucket as large as 5.16 m3 – an upgrade on the EC700 it replaces.
Operators can choose from five work modes - I (idle), F (fine), G (General), H (Heavy) and P (Power) – and the engine revs will be automatically set for the best efficiency.
Volvo also said the excavator's constant high system pressure delivers greater digging force and reduces cycle times, particularly when working with hard and heavy materials. For more power, better productivity and increased manoeuvrability, the high system pressure and durable track ensure tractive force when climbing gradients and travelling over unstable ground.
Built with Volvo components, a reinforced structure and machine protection, the EC750D has been designed to last. Robust parts and easy service access are said to increase uptime and keep maintenance to a minimum.
Meanwhile, Volvo's subsidiary Terex Trucks has sold four 38 tonne capacity TA400 articulated dump trucks (ADTs) Adams Claim Mine in Carson City, US, to replace rigid chassis trucks which had been used on the gypsum quarry.
"There were a number of elements that had to be considered in the selection of new trucks, including the limited road size, the incline of the haul roads, and ability to handle bad weather in winter," said Paul Wilson, mine manager for Art Wilson Company.
The trucks operating at the site have a 1.2 km haul route from the bottom of the pit, up a 10% grade. Mr Wilson said. "The Terex Trucks TA400 passed all the tests. We went with the 38 tonne-capacity truck as it is close to the capacity of the rigid trucks we were using."
The previous 45 tonne capacity rigid trucks required substantial roads and struggled to pull on the high grade in the slippery conditions experienced during bad weather. This made the TA400's ability to climb and – more importantly – descend the 10% grade proved to be one of the critical factors in the decision-making.
Swiss delivery
In Switzerland, quarry operator Lachat is using an 87 tonne class Hitachi ZX870LCR-5 at the Asuel La Malcôte quarry in the canton of Jura to extract a mixture of marlstone and limestone.
The ZX870LCR-5 loads two ADTs with its 4.5 m3 rock bucket at a rate of up to 300 tonnes per hour, depending on the level of demand. Hitachi developed the R series specifically for the quarrying sector, with reinforced components and added protection of structures and key components.
"Our new production method utilises the ZX870LCR-5 to extract, separate and sort the materials," said Lachat general manager Yvan Ryser. "The strength and productivity of the machine have been impressive to tackle our biggest challenge, which is how to select the usable materials from the mix of stone. We used to blast the rock, but that meant that the stone was difficult to sort and this issue is more important to us than the actual amount of materials moved."
Christophe Seghin has been an operator for 15 years and he was hired specifically to work with Lachat's largest excavator. "This is a good machine and it's faster than the other similar-sized machines that I've worked with," he said. "The biggest benefit for me is its strength and power, which enables me to work more productively, and yet it's also stable and precise for the selection of materials.
Elsewhere in the industry, Liebherr has developed its super mass excavation (SME) excavators for the rigours of working in quarries. They feature reinforced undercarriages taken from the next size of excavator up in the range. For example, the R 970 SME features a strengthened R 976 undercarriage. Along with more powerful cylinders than standard machines, this gives them greater lifting ability and stability. Power comes from a 330 kW Stage IIIB/Tier 4 Interim engine on the R 970 SME..
In Dornap near Wuppertal, Germany, Recycling GmbH Lahnau operates a Liebherr R 970 SME crawler excavator in its limestone quarry. The machine already has over 2,000 operating hours, much to the satisfaction of Ralph Lang, who is technical manager and member of the management. "Our Liebherr crawler excavator operates for approximately 50 hours per week. The downtimes are minimal and we are very satisfied with the machine," he said.
Based on their positive experience, the company ordered a second R 970 SME crawler excavator, which was delivered in April this year.
In the UK, quarry operator Forest Pennant has bought a Doosan DX530LC-3 52 tonne crawler excavator for its facility in the Forest of Dean, to replace the Doosan DX520LC it has been using for the last five years. The quarry produces Royal Forest Pennant Natural Stone, a colourful decorative sandstone with hard-wearing properties.
The new DX530LC-3 excavator is used in various stages of the extraction process, first removing overburden to a depth of 18 - 19 m, then by working the rock together with a Doosan DX340LC crawler excavator equipped with a Montabert XL2600 hydraulic breaker.
The DX530LC-3 and DX340LC excavators are also used to lever complete blocks of Pennant stone weighing 12 - 14 tonnes away from the quarry face, which are then lifted by the DX530LC-3 excavator to a point where the company's Doosan DL420 wheel loader can pick them up and take them to the top of the quarry. Here the blocks are loaded on to lorries to be taken to the Forest Pennant factory a mile away in the forest for sawing and other processing work.
Meanwhile in the hauling segment, specialist manufacturer Bell is pushing the boundaries for ADTs. First unveiled at the Bauma Africa exhibition two years ago, the 60 ton (54.6 tonne) capacity B60D, is being developed for markets outside Africa following positive feedback from the first customers.
The company's director of European operations, Marc Schürmann, said, "The practical experiences of these operations show substantial advantages of the articulated 4x4 over its rigid competitors in terms of all-weather performance and costs. All field testing results are being directly considered during the final development of the Bell B60E. The EU Stage IV/US Tier 4 Final version is projected to be available in early 2017."
Crushing & screening
South Korean aggregates producer Wooryung, has acquired a Sandvik CH430 cone crusher to produce a 30 mm product from a -150 mm feed material. The CH430 is located at the company's site in YoungWol, in KangWon province, with the crushed limestone being supplied to a steel company after desulphurisation.
Like other Sandvik cone crushers, the CH430, combines high capacity with high reduction efficiency. Hydraulically adjusted closed side setting (CSS) and automatic wear compensation, a choice of different crushing chambers and eccentric throws, plus many other high performance features, helps to ensure each model is versatile, user friendly and productive.
Metso meanwhile has organised its screening products into two new lines, its Premier and Compact ranges.
The Premier range includes the CVB inclined circular motion screen, the ES horizontal elliptical motion screen and the TS multi-slope variable motion screen. These screens have long been Metso's flagship vibrating products, which can be configured in many ways and which can incorporate a range of screening media.
The Compact range includes machines that have been incorporated into Metso's Lokotrack and Nordberg mobile crushing and screening plants, but are now available for single unit sales and use in stationary plants.
They include the CVB-M inclined screens with circular motion and the FS horizontal screens with elliptical motion. A key feature of the Compact range is that they can be used with either wire or synthetic side tension screening media, which are relatively cheap.
Drilling
According to Caterpillar, its new MD5150C top hammer drill rig out-performed down-the-hole (DTH) rigs in terms of both performance and low fuel consumption in tough conditions. The unit was put to the test at the Iron Mountain Quarry, near St. Louis, Missouri, US, where it is reported to have achieved double the productivity of a DTH rig.
This was said to be due to the powerful Cat HPR6832 hydraulic rock drill, the new carousel rod changer and the efficient Cat C11 engine.
The rig was drilling 5.5 inch (140 mm) diameter holes to
70 ft (21.3 m) deep using 68 mm-diameter rods. The drill bit life was said to be 1,100 to 1,200 ft (335 to 366 m) – about the same as the DTH rigs, while fuel consumption was lower.
Cat Drills commercial manager Matt Jacobs said, "We saw similar results in an earlier trial at a Tower Rock limestone quarry near St. Genevieve, Missouri. That site has softer rock conditions and the MD5150C dramatically outpaced a competitor's DTH drill." He added that hole deviation was also not an issue.
Atlas Copco meanwhile has launched the FlexiRoc T25R top
hammer rig, which is designed for 45 – 57 mm hole diameters, but which can cover a fuller range of 38 – 64 mm. It is fitted with a 14 kW COP 1435 rock drill.
Product Manager Marcus Leu, said, "A number of large infrastructure projects are either underway or being planned right now, not least in the Nordic countries, and this, together with the growth and expansion of the big cities, is generating an increasing amount of drilling and blasting work."
Like the larger FlexiRoc T30 R, FlexiRoc T25 R is based on a well proven design platform developed in the 1990s and which has since been successively updated and refined. Even though it has been produced initially for the Scandinavian market, the FlexiROC T25 R will be available worldwide.
Innovations like this rig and others go to show that improving efficiency in quarries is not just about the latest equipment with the most efficient engines. Buying flexible machines which can cover a number of roles can have its place, and it is clearly critical to make sure all equipment is well-matched and working well together.