FEATURE: Feeling the pump
By Joe Malone15 February 2017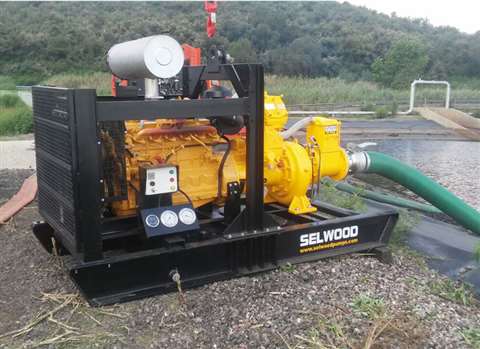 In a sector that is primed for rental, pump manufacturers continue to seek extra percentage points of improvement to add to its offerings, such as output capacity and fuel consumption. Many companies have added to their ranges, ensuring they maintain their core values, while finding subtle enhances to each new products they launch.
Starting in the UK, Selwood says it has committed to an £8 million (€9.3 million) investment in its own pump products in 2017, claiming it is aiming to strengthen its position in pump rental solutions.
Selwood says the investment will be followed by a similar injection in 2018, and comes after a £5 million (€5.8 million) boost for its pump rental business last year.
As part of its investments, the company has added new additions to its product line, including a high-performance electric drive version of its S150 Super Silent pump. The pump is driven by a 30kW IE3 motor, which Selwood says is suited for applications and installations where power is available and operates between 1000 and 1800 rpm.
The company will manufacturing an initial run of 60 units in 2017, and says it has already seen keen interest from Europe, resulting in sales in Germany.
Selwood has also introduced an S150 pump powered by an Isuzu 4LE2X diesel engine, which offers an output increase of 26.7% compared to its previous models, as well as improved build quality and sound attenuation, and lowered emissions.
The new S150 units are complemented by the recently-introduced S150M, says Selwood, which is a brand new Selwood-designed and manufactured pump suitable for multiple uses including sewage and sewer bypass, as well as over pumping, water and wastewater applications.
Commenting on the current market for pumps, Chris Garrett, CEO of Selwood, said, "We are seeing the global market shift and grow in a way that reflects what we have seen in the UK – a general move to rental rather than capital purchase as the preferred option for companies driven by the need for operational efficiencies.
"We are particularly seeing this shift gather pace in Europe and North America, an opportunity which we will be building on with our distributors at Aquatech in Amsterdam and ConExpo in Las Vegas later this year."
New range
There is also a new range of dewatering pumps from Swedish manufacturer Atlas Copco. The company has launched 18 new additions to its open frame diesel-driven centrifugal dewatering pump range.
The company's expanding PAS range claims to focus on higher fuel efficiency, while covering a wider spectrum of sizes, compared to its other models in the range.
Atlas Copco says that its PAS open-frame system includes both wet and dry prime options, while the modular design allows many different configurations.
Its new pumps provide a wide range of sizes, with performance levels from 105 to 630m³/h, and discharge sizes ranging from 7.6 to 20.3cm. The PAS open-frame system – used on all its pumps in the range, including the new ones – comprises a centrifugal pump, semi-open impeller and a large separator.
Atlas Copco says this enables air to be separated from the liquid and sucked by the vacuum pump, which makes automatic priming possible. It adds that, even with suction heights of several metres, the rapid evacuation of air from the suction pipe ensures fast activation of pumping.
Wim Moors, vice president of pumps within Atlas Copco's portable energy division, said, "The new PAS dewatering pumps meet the five key criteria that Atlas Copco sets for the development of new machines: compactness, versatility, durability, efficiency and simple service.
"They are easy to transport to wherever you need them, tested in the toughest conditions, efficient in fuel consumption and able to cover multiple applications with a focus on modular design."
Another new product comes from UK-based T-T Pumps, which has launched its new Liberator Vortex dewatering pump, adding to its Liberator submersible dewatering pump range.
Incidentally, the company used the UK's Executive Hire Show (EHS) to present its new launch for the first time, and claims its "speciality" compared to its previous models lies in its adapted high resistance to liquids, which contain sand and gravel, due to its solids handling of up to 38mm.
The company says its new hard-wearing pump can withstand the test of harsh conditions, particularly amongst abrasive material in sludge content.
T-T says it took the initiative to design the Liberator with a vortex impeller to ensure minimal risk of clogging. The company adds its new dewatering pump is lightweight in construction and has a stainless steel motor casing and thermoplastic polyester elastomer pump casing, which it says makes the pump body highly resistant to impact.
Moving across the Atlantic, US-headquartered manufacturer Gorman-Rupp has launched a new priming-assisted silent pump, which it says offer capacities of up to 1451l/s, 48m total dynamic head (TDH), and handles 76mm diameter, non-compressible, spherical solids.
The company's new product – the PA6D pump – is a 15.2cm x 15.2cm compressor style priming-assisted pump, which is driven by a 4-cylinder,
55kW, US Tier IV Final John Deere diesel engine.
The company says improvements have been made to its acoustic sound levels, compared to its previous models. Indeed, the removable aluminium enclosure offers sounds levels at 68dBA, even when operating under full engine load. It also offers improved corrosion resistance, claims Gorman Rupp.
The PA6D is mounted on a 400l fuel cell base, which the company says offers a full load operating run-time of 23.5 hours before refuelling is required. It says the base is also designed to capture fluids which prevents contamination of the surrounding ground area.
Standard warranty
Gorman Rupp adds that the PA6D comes with a two-year warranty as standard.
More improvements have been made by US pump manufacturer Xylem, which has created a technology to ensure its customers can eliminate the need for added expense while operating remotely. The idea behind its Godwin Field Smart Technology (FST) and Godwin PrimeGuard 2 controller is to provide contractors with crucial pump operating data while working offsite.
Its Godwin PrimeGuard 2 is described as a fully programmable microprocessor engine control system that allows for inputs from flow meters, level transducers, pressure transducers or standard floats. It says that using the data from any of these systems, Godwin Dri-Prime pumps can be programmed to start/stop automatically with no operator intervention required.
FST can monitor engine, motor, and pump operation conditions, such as operating hours, speed, engine temperature, and fuel consumption. It also monitors pump parameters such as suction and discharge pressure, sump level, and flow data.
Xylem says pump data can be accessed remotely from any device in the world with an internet connection. It says that FST enables the operator to remotely start, stop, and set engine speed, and alarms can be set to alert for operating or performance failures.
Xylem's PrimeGuard 2 and FST are used in tandem, and the company says the technology is a "premium solution" for any contractor.