FEATURE: Going the extra mile
By Helen Wright12 May 2016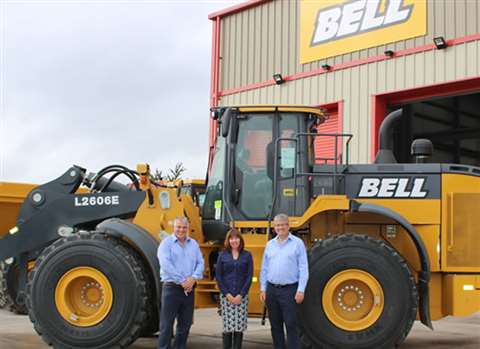 Rental companies looking to expand their earthmoving fleets are looking for robust, efficient and reliable machines that will provide them with a good return on investment and retain their residual value when they come to the end of their time in the fleet.

As well as concentrating on these primary factors, manufacturers are also offering advanced service support packages to rental customers, together with factory-fitted telematics options to allow fleet monitoring. And such innovations are proving popular, as the following UK rental buyer case studies demonstrate.

Stokey Plant Hire, for instance, invested in three 41 tonne capacity articulated dump trucks (ADTs) and a 4.4m³ bucket capacity wheeled loader from manufacturer Bell. The new models are the B40D ADT and L2606E wheeled loader, and the companies said the latest deal continued a successful relationship that has seen Bell machines used in a variety of Stokey customers' mining and quarrying applications.

Stokey director Stewart Cox said, "By using the Bell Fleetm@tic software, we can accurately monitor the performance of each Bell machine in the field, enabling us to report to customers on how to optimise their payloads. They also offer better residual value which is enhanced due to the scarcity of 40 tonne trucks compared to smaller capacity models."


Customer service


And the rental company has also been impressed by the customer service offered by Bell, something underlined during the purchase of the L2606E wheeled loader.

"We needed a loading shovel to run in a steelworks facility but there was some uncertainty at first as to the duration of the contract," Mr Cox explained.

Bell proposed a solution: that Stokey purchase a second-hand L2606E, with the option to exchange for a new machine should the steelworks contract become longer-term. This is what occurred, and Stokey has now taken on the new L2606E for the job.

Mr Cox said, "It makes all the difference when a company is prepared to go the extra mile, and to show that kind of willingness to adapt the plan as circumstances change."

Meanwhile, Doosan Construction Equipment said it took it just five days from order to delivery for it to supply over 150 crawler and wheeled excavators to rental company L Lynch Plant Hire.

Merrill Lynch, director at L Lynch Plant Hire, said, "With our new headquarters now established at Hemel Hempstead in Hertfordshire and new depots recently opened in Warrington in Cheshire, Dartford in Kent and Bridgwater in Somerset, we are an expanding business that saw an impressive 20% year on year growth from 2009.

"Our partnership with Doosan dealer Promac Solutions and Doosan continues to evolve, from the investments being made in Lynch-dedicated staffing and service at Promac to the emergency parts, engineering and training support provided by Doosan.

"The latter has included full training on the Stage IV engines for our depot staff to prepare for the arrival of the new LC-5 machines from Doosan. We hope to offer even more fuel savings and operational benefits for our customers, which with the Doosan Stage IIIB machines included fuel savings of £50-100 per week."

Lynch purchased the new Doosan excavators as part of the company's 24-hour operated plant rental service. The new order includes the first major tranche of Doosan EU off-highway diesel engine emissions regulations Stage IV-compliant 24 tonne DX235LCR-5 reduced radius crawler excavators in the UK.

These machines boast a minimum swing radius of 2310mm as well as increased performance, making them well-suited for work near buildings and in confined areas.

Doosan said the trend towards reduced radius machines has been accelerated by the space premium on construction sites and, in particular, with road and rail construction, the requirement to keep adjacent lanes and track open while working alongside them.

Meanwhile, two new Doosan DA30 30 tonne ADTs were also rented with drivers from Total Plant Hire to support construction of the Mersey Gateway Bridge Project in the UK. The six-wheel-drive ADTs were fitted with high flotation tyres to further minimise the machines' ground pressure.

Thomas Halligan, Owner of TPH, said, "Since we started purchasing Doosan ADTs in 2014, we have seen very good utilisation especially for the trucks with high flotation tyres on projects across North-west England."


New size classes


JCB has also seen some sizeable recent orders from rental companies, including ABBA Plant Hire's investment in a new 10 tonne midi excavator, the 100C-1.

The 100C-1 is based on the frame of the 8.6 tonne 86C-1 midi machine, but with a more powerful engine, larger dig end and increased hydraulic capacity to boost performance. It shares the new JCB midi appearance, along with a revised H-design undercarriage and a JCB Diesel by Kohler Stage IIIB (Tier 4 Final) engine.

The ABBA Plant Hire fleet includes JCB excavators from 1 to 46 tonnes, together with a number of 3CX backhoe loaders, wheeled loaders, skid steer loaders and JCB Loadall telescopic handlers from 4m to 17m.
ABBA plant hire manager Nick Howe said, "We see the 10-tonne JCB midi excavator as a machine with great potential. It is a unique size of machine with good power - while the lower operating weight means less damage to the ground surface.

"The machine is proving versatile – able to load our eight-wheel tippers – as well as traditional midi tasks on site. It brings the proven JCB quality to a new weight class that is easy to transport, comfortable for operators but brings power to confined sites. The machine is also backed by the consistently good service we get from our dealer TC Harrison JCB."

Hewden also placed a €3.2 million order with JCB in February this year, investing in 50 skid steer and compact tracked loaders - the JCB 155 and 205T tracked models.

JCB said its Power Boom design had secured this deal – a design which enables operators to enter the cab of the machine through a large side door rather than climbing over potentially dangerous attachments at the front.

The 155 has a tipping load of 1.41 tonnes and a loader lift capability of 1.77 tonnes. The 205T has a tipping load of 2.66 tonnes and a loader lift capacity of 1.57 tonnes.

The machines were supplied through dealer Gunn JCB, and the manufacturer said the deal also included a range of JCB attachments ranging from augers to pallet forks, as well as shovels, a trencher, a waste grapple, a patch planner, a sweeper collector, a brush cutter, a landscape power rake and breakers.

Hewden CEO Adrian Murphy said, "This is the latest in a significant round of investments for Hewden. We believe in having the latest and newest technology to meet our clients' exacting demands.

"We were impressed with JCB's design of its skid steer and compact tracked loader range and the health and safety benefits it offers. Having a side-door entry point is just common sense and sets the standard for the industry.

"Beyond that is the versatility of the equipment: it enables our hire customers to deploy the equipment in a range of challenging environments."


Lifetime costs

Meanwhile, Howard Plant Hire expanded its rental fleet with an investment in 21 Volvo CE excavators - a deal worth €1.9 million. Howard said it ordered the machines, which range from 2.7 tonnes up to 28 tonnes in operating weight, following a competitive tender process with also included a detailed appraisal of the proposed machines' life time operating costs.

Howard Plant operating manager Brain Sharkey said, "The Volvo machines weren't the cheapest we looked at but in our opinion offered us the best value for money in terms of their anticipated fuel economy, general running costs and not least, their exceptional predicted residual values.

"Furthermore, opting for a premium brand of machine which has the very latest in engine technology, emissions and other technical advantages sits very comfortably with the image we wish to portray to the market and our client base."

Howard purchased an EC27C, two 5 tonne EC50D's and four ECR88D reduced swing compact machines. Their larger brothers include three ECR145E reduced swing excavators, two EC140E's, two EC160E's, five 22 tonne EC220E's and two EC250E's.

The new machines joined four existing Volvo excavators and an older 16 tonne EC160C making Howard Plant Hire's fleet of excavators predominantly of Volvo stock. In addition, the company recently acquired two articulated haulers in the form of an A25D and an A40D.


External rental


Howard Plant Hire continues to expand its fleet and its business, and said it has a long range development strategy that included opening up to new customers. It said it had taken the new fleet investment as an opportunity to extend its offering to external rental customers, in addition to continuing to service the equipment needs of its sister company, contractor Howard Civil Engineering.

"The addition of the new Volvo excavators to our fleet heralds the start of this process and other items of construction equipment will quickly follow such a crawler dozers, tele-handlers and certainly more excavators," said Mr Sharkey.

All of the new excavators are covered by Volvo's Blue service agreements, which ensures they will be correctly serviced by qualified Volvo service technicians using genuine Volvo Parts, according to the manufacturer.

"The fact we can rely on Volvo to ensure the machines get regularly maintained and are being continuously monitored in general thanks to the Caretrack telematics system, gives us a significant peace of mind and will be a great asset in helping us manage the fleet," Mr Sharkey said.
This is a feature from the April/May 2016 issue of IRN. To read the full article, with extra images and information, subscribe to the magazine: http://www.khl.com/subscriptions/magazines/international-rental-news/