Feature: Mixing technology
By Chris Sleight16 July 2015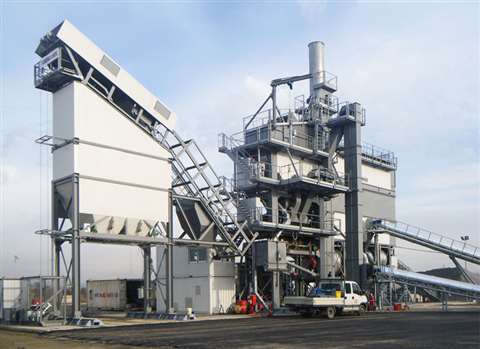 When it comes to big projects on tight timescales, keeping material flowing – be it concrete or asphalt – can be critical to the overall success. But these days it is not enough to keep producing material and meet quality standards. There is a bigger emphasis than ever on using recycled materials, particularly in the road sector.
This means that as well as being fuel-efficient and easy to transport, the latest generation of mixing plants also have to be able to incorporate high percentages of old asphalt, while still hitting those key quality standards and project deadlines.
The Fayat Group is one of the big names in the materials mixing sector, and at Intermat in Paris, France earlier this year there was lots on show from the French company at this 'home' exhibition.
Its subsidiary Marini introduced a new 6 tonne asphalt mixer, which is targeted towards applications where recycled asphalt pavement (RAP) is being incorporated.
Marini said that the traditional way of incorporating RAP into mixes was to add it cold and rely on energy from over-heated aggregates to bring it up to temperature. The downside to this is that with high percentages of RAP in the mix, the new bitumen degrades by being overheated and there can be excessive volatile organic compound (VOC) fumes, which are a pollutant and health hazard.
The company said its new 6 tonne capacity mixer allows RAP and fresh aggregates to be brought up to temperature and any water in the RAP burnt off before new bitumen is added. This reduces emissions and improves the quality of the final asphalt.
The relatively high capacity of the mixer means this can all be achieved without extending mixing times and therefore sacrificing output from the asphalt plant.
Meanwhile, the latest plant from Fayat's Marini-Ermont business is the RF 160 Neo continuous hot-mix asphalt plant. The company said it had designed the plant to be mobile, easy and quick to set up and low cost, while still providing high-quality asphalt.
It is the largest plant in the Neo range, which offers outputs from 80 to 160 tonnes per hour, and features a counterflow dryer drum mixer, which keeps energy costs down compared to other designs, and which can handle up to 50% RAP through the company's 'Retroflux' process.
In terms of keeping costs down for contractors and asphalt producers, Marini-Ermont points to feature such as its easy transportation, set-up and tear-down design, the ability to incorporate high amounts of recycled materials, a low maintenance requirement and low energy consumption.
Meanwhile on the cold mix asphalt side, Fayat's specialist in this area, SAE, has added the Packliner Compact, a continuous plant offering capacities form 50 to 200 tonnes per hour (depending on the mix design).
It is equipped as standard with two feed bins for granular materials (one volumetric bin and one weighing bin), while a third can be added as an option. All of the metering units, such as the water, emulsion or cement metering units, in addition to the control and management (automation) cabinet, are mounted on a single chassis.
The plant is designed for rural or urban road projects for which the use of products such as cold bituminous mixtures is a key benefit because of the low production cost and the lack of fumes, among other factors. SAE said it was also suitable for road maintenance work and small to medium-sized schemes for similar reasons.
As a relatively small and specialised segment of the industry, it is unusual to get new entrants to the mixing plant industry. However, China's XCMG is now marketing an 80 tonnes per hour asphalt plant, the XAP80J. The company also owns German manufacturer
Schwing, which is of course well known for its concrete plants.
The XAP80J is said to be rated at 307 kW, and produces material at an efficiency of 1 tonne for every 6.5 kg of fuel burnt. XCMG says it is not only selling these units on the domestic market, but recently delivered and commissioned its first exported plant to Pakistan.
Buying choices
A project connected to the current Expo Milan 2015 event in Italy is the Milan Motorway, which will see some 67 km added to the city's outer bypass, connecting to the A1, A4 and new A 35, to help alleviate traffic congestion and cut travel times.
Tangenziale Esterna is the general contractor for the scheme, while another company, Turchi Cesare, is producing all the asphalt. Design work began as far back as 2003 and construction got underway in 2012. Completion is expected later this year.
Angelo Ricchetti, director of Turchi Cesar, said the production of asphalt for 67 km of roads with multiple lifts had to be achieved in only 18 months. "That included a base course, a binder, a porous layer and the wearing surface," he said.
The company is using an Ammann SpeedyBatch 280 for the production. This is a container-optimised plant, meaning it is configured in accordance with container dimensions. It features steel platforms without concrete foundations and electrical and pneumatic connections integrated into the plant concept, enabling quick and cost-effective installation at the site.
The mobility is appreciated, but this job required consistent daily production. The SpeedyBatch provided it, at a maximum of 320 tonnes per hour and some days delivered 5,500 tonnes.
The production for the scheme is put at 850,000 tonnes, and at the height of work the plant produced 300,000 tonnes in four months, frequently working a 24 hour day.
"The deadlines were the most difficult part of the project," Mr Ricchetti said. "Many pieces had to come together: adequate work planning, department organisation, logistics, aggregate and bitumen supplies and worker shifts. Even breaks, rest and meals had to be planned."
The plant had to do its part as well. Various mix types were required, a process made efficient through the Ammann AS1 control system. "It's simple to operate and highly reliable and user friendly," Mr Ricchetti said, adding that the system made it easy to adjust recipes.
The plant features an RAH50 dryer to enable the utilisation of 30% RAP, an amount the RAH50 had no trouble meeting. In addition, the aggregates and the mix were CE certified as they provided the highest quality with a low environmental impact.
"The RAH50 dryer and mixer are allowing us to save money by recycling RAP," Mr Ricchetti said. "The best cost savings resulted from using a huge amount of RAP with compliance of recipe specifications."
Florida plant
Astec was the supplier of choice when Florida, US-based P&S Paving decided to build a new asphalt plant from the ground up, using the latest technology available on the market.
P&S Paving president Tim Phillips said, "The largest reason we went with the new asphalt plant was that we needed more storage capability. We wanted to test the mix; know what we have in the silo before it's delivered to the roadway. Of course the technology has changed dramatically within the last 15 years and we wanted to take advantage of what's out there."
At the heart of the new plant is Astec's latest Double Barrel XHR drum mixer, which can produce high quality asphalt even with as much as 65% RAP (at 5% moisture content) in the mix, and the high RAP capability was a key point for P&S Paving.
The Double Barrel XHR employs two mixing technologies - an outer chamber on the drum and an external mixer. Meanwhile the V-Pack stack temperature control system maintains as low an exhaust temperature as possible when running a high RAP/low virgin mix, because less virgin material in the drying portion of the drum could potentially result in high exhaust temperatures. In order to combat the high temperatures encountered when running high RAP content, the last half of the Double Barrel XHR drum is all stainless steel, including the combustion flights.
The outer mixing chamber on the dryer gently mixes reclaimed material with dry hot aggregates, maximising heat and binder transfer between RAP, aggregate, and selected admixtures in a rarefied oxygen atmosphere.
P&S Paving currently provides about 400,000 tons (364,000 tonnes) per year out of this one facility, and Astec made sure they have enough capacity to meet that goal comfortably.
Mr Phillips said, "With specifications getting tighter all the time, we know we have the best available equipment in the industry. We have all the tools, so now it's just up to us to make good mix."
Meanwhile in Sörli, Norway, one of the Nordic region's largest contractors, Veidekke, chose a Benninghoven TBA 4000 UC asphalt mixing plant to produce 320 tonnes of asphalt per hour on a major road project which started last May.
A challenge for Benninghoven was the minimum stack height of 20 m, which is prescribed by environmental laws in Norway. This prompted the designers to come up with a special foundation frame for the stack and dust collection unit which could be positioned without the need for bracing.
When it came to commission the plant, some 58 trucks were needed to transport all the components from Benninghoven's base in Western Germany, to the site in the Eifel region of Norway, some 1,500 km away. This provide a formidable logistical challenge, not least because of the number of travel permits and convoy escorts required in several different countries along the way.
Once on site, Benninghoven provided training for Veidekke's personnel "Qualified training is an integral part of the start-up procedure and helps the customers, no matter how experienced, to make full use of a plant's capacities from the very first day," said Benninghoven sales manager Rolf-Bernd Leimbrock.
Following commissioning and training, the plant has comfortably managed to supply 10 trucks per hour. Veidekke estimates the plant produced some 170,000 tonnes of asphalt in its first year, which prompted the contractor to put in an order for another unit in March of this year.
Concrete plants
This year has seen Liebherr add the Betomix 2.5 A-R to its mixing equipment range. It features a new RIM 2.5-M ring-pan mixer with mechanical agitator system at its heart, which the company says helps ensure outstanding mixing results for even the most exacting concrete types.
The horizontal plant has a modular design concept behind it, which means a range of options and accessories can be chosen, added and taken away for an efficient and flexible solution.
Liebherr also said its Betomix plants could be used in a range of climates. In very cold regions, the company can supply plants where everything is encased and insulated, while adding heating systems to the control cabs as well as the silos to ensure material does not stick together. Meanwhile in very hot climates, flake ice can be added into the mix to keep the concrete temperature down.
Betomix plants can be fitted with ring-pan mixers from 1 to 3 m³ or twin-shaft mixers from 2.25 to 6 m3. The mixers can be loaded either via skip or by loading belt, while a popular option is the lowerable delivery hopper which can accommodate vehicle heights from 3.4 to 4.0 m.
Meanwhile, SBM has delivered two Linemix 3000 CM 410 H concrete plants to the Silvetta region of Austria where they are being used on the Obervermunt II pumped storage power project – all at an altitude of 1,700 m up in the Alps.
Each plant is fitted with a 3.0 m3 twin-shaft mixer, producing 130 m3 of concrete per hour, and the two plants are being used side-by-side to ensure there is always concrete available to the project.
The scheme is due to finish in 2018, with concrete production scheduled to go on until October 2017. SBM's client, Transbeton, is producing concrete for the scheme directly in front of the dam wall, so excavated rock can be used for aggregates, and there is minimal transportation back to the site for the ready-mixed concrete.
Rock is stored in a 410 m3 mobile hopper, which has been winter-proofed to ensure material is always available and free-flowing for concrete production
This all goes to show that whether concrete or asphalt is being provided for major projects, reliability, quality and efficiency are key ingredients for mixing plants.