Feature: Off-highway haulers
By Neill Barston09 March 2015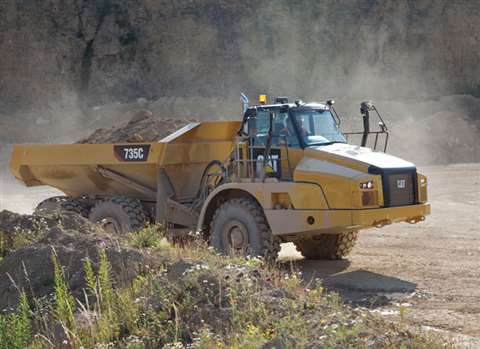 The major markets for articulated dump trucks (ADTs) are Europe and North America, where new engine exhaust emissions are coming into force. This year at Intermat many manufacturers will show their Stage IV/Tier 4 Final machines for the first time, and some already have such machines available.
Although it is a fairly niche product, manufacturers say it is a competitive market, and many are using the new laws as an opportunity to redesign machines and add new features. A common trend is for payloads and capacities to be increased.
Julien Balardelle, product specialist at Caterpillar, said the ADT market had been particularly competitive in recent years. He explained that maintaining the pace of product designs to meet customers' requirements has been of key importance.
He said, "The market is doing pretty well as far as ADTs are concerned, though some regions are doing better than others. One area of consistent growth has been in the US, where the economy is good and we've sent a lot of machines there and the order book is healthy. But there are places such as South Africa, which have seen slower growth.
"There has been roughly a 50/50 split within the North American market with 30 ton (27.2 tonne) and 40 ton (36.2 tonnes) models, with larger machines being used on infrastructure projects, and the smaller machines are often seen in more urban areas."
He added there had also been growth in rental sector use of its ADTs, with ease-of-use and practicality being key characteristics.
This month will see the release of its latest models including the 735C, 740C EJ, and 745C articulated trucks, which build on the proven performance, reliability and durability of their predecessors.
Topping the list of upgraded specifications are engines that meet Stage IV/Tier 4 Final emissions standards. Transmissions with expanded electronic control, automatic traction control, automatic retarder control, hill assist and waiting brake systems are also key elements. There is also an optional payload weighing system available.
Rated payload capacities for the new models are 36 ton (32.7 tonnes), 42 tons (38 tonnes), and 45.2 tons (41 tonnes) – a new size class for Caterpillar, with all models replacing their B Series predecessors. The new 745C's 1.7 ton (1.5 tonne) capacity increase (compared with the 740B's capacity) combines with its faster cycle times for significant production gains.
The 735C's engine is rated at 337 kW and the C18 ACERT engine in the 740C EJ and 745C is rated at 381 kW.
The series features the company's Cat Connect system, which gathers data about machine performance and can be used as a tool to improve site efficiency. An additional option is Cat Production Measurement, which measures payloads to give a greater insight into productivity, and costs per tonne. If linked to Cat Connect LINK technologies, payload data can be accessed over the Internet for further central analysis.
Latest model
Meanwhile Tristan du Pisanie, product marketing manager at Bell Equipment, said that while sales for ADTs in the company's home market of South Africa had been hit by a downturn in mining, there were other markets that were performing well.
He said, "The rental side of the market has been doing well and we've found that both in the UK and North America, that has been our largest market.
"We are relatively new in the US market, but there has been an increase in large scale infrastructure work and city projects. Up until 2012, 40 ton (36.3 tonne) trucks were the market leaders, but we have seen since 2013 that 30 ton (27.2 tonne) models have become more popular."
He added that while there was a growing trend towards mid-size trucks, the company's strategy was weighted towards producing larger 40 ton (36.2 tonne) and 50 ton (45.4 tonne) models, due to their ability to handle larger volumes of material more efficiently.
It is with the 50 ton (45.4 tonne) unit that the company has enjoyed particular success, with demand growing over the last decade.
He said one of its main areas of focus for ADTs had been in improving fuel efficiency, with its on-board telematics and payload weighing systems helping boost productivity.
Its latest models, the Bell 25E and B30E, powered by a 7.7 litre Mercedes-Benz engine and meeting Stage IV/Tier 4 Final emissions will be on show at Intermat in Paris, France in April.
Roy Haaker, product line director for wheeled loaders & articulated dump trucks at Doosan, agreed that construction equipment markets were improving.
He said, "The global ADT market is recovering slowly from the financial crisis and apart from a small dip in 2013, the market has seen growth in the last few years.
"With the unique features of the Doosan ADT such as the tandem for traction, the sloping rear frame for improved stability and weight distribution, Doosan has been able to improve market share."
Though active across global markets, he said that Europe had been especially strong for the company, with its manufacturing base in Norway.
This had provided Doosan with the additional strengths of short lead times and easy access to expertise at the factory.
It has launched new versions of the company's ADTs – the DA30, powered by a Scania DC9 276 kW diesel engine and DA40, featuring a Scania DC13 368 kW diesel engine that meet Stage IV/Tier 4 Final emissions criteria.
The company said its design features a number of key improvements including greater fuel efficiency, enhanced controls and high operator comfort, together with improved reliability, durability and reduced maintenance and servicing costs.
The new DA30 and DA40 models feature an articulation hinge positioned behind the turning ring to provide equal weight distribution to the front axle, even during maximum steer articulation.
Better fuel consumption of the new Doosan ADTs is down to a combination of features including new Scania Selective Catalytic Reduction (SCR) and Exhaust Gas Recirculation (EGR) diesel engines and a new ZF EP transmission.
The new Stage IV/Tier 4 Final ADTs do not need a diesel particle filter (DPF) to meet the emission regulations.
Desert challenge
The latest line of Volvo ADTs follows a heritage within the company that stretches back decades.
Having been used on sites around the world, the A35E model was most recently used for a Rub' al Khali desert scheme, known as The Empty Quarter.
Reportedly one of the largest and most barren sand desert in the world, spreading over four Gulf States and covering 600,000 km2, it includes the Saudi Arabia, areas of Oman, the UAE and Yemen.
The desert itself is 620 miles (1,000 km) long by 310 miles (500 km) wide and surface elevation varies from 800 m in the southwest to sea level in the northeast.
In 2010, Al-Rosan Contracting was among a group hired to build the first ever road between Saudi Arabia and Oman across The Empty Quarter. The project comprises a 519 km-long highway, built using a number of Volvo Construction Equipment machines.
The longest part of the road stretched 256 km, comprising single-lane carriageways and in sections where there are steep inclines, secondary lanes were added.
"The entire project was a challenge from day one whether it was the climatic conditions, topography of the area, the distance from the nearest inhabited city or availability of spare parts, logistics and services," said Fahad Hazza Aba Alros, general manager of Al-Rosan Contracting.
Masood Akar, construction product manager at Volvo in the Europe, Africa & Middle East (EAME) region explained that features such as on-board weighing and Volvo's CareTrack telematics system had made a difference to its hauler range.
He said, "We have a software programme that supports Volvo CE and dealers in order to calculate the Total Cost of Ownership (TCO). We can even calculate the cost of moved material per hour and we can show our customers how to optimise their fleet and operate their site at peak efficiency."
For its part, Komatsu has brought out its 40 ton (36.3 tonne) capacity HM400-5 Articulated Dump Truck (ADT) in Europe. It features the company's 353 kW SAA6D140E-7 Stage IV-compliant engine.
The 24 m³ (heaped) body capacity is combined with a loading height of 3.16 m, which Komatsu says enables easy and quick loading.
Selectable work modes allow the operator to choose between economy and power modes to tailor machine performance to the application or to work conditions, and a further feature is Komatsu's Traction Control System (K-TCS) for automatic and optimum traction in soft ground.
The HM400-5 is also features Komatsu Advanced Transmission with Optimum Modulation Control System (K-ATOMiCS ), which offers a six-speed, fully-automatic transmission with an advanced electronic system to eliminate shift shock and torque cut-off to improve engine efficiency.
An option on the HM400-5 is an integrated payload meter, which displays the weight of loaded material on the in-cab high-resolution LCD monitor. The system also indicates payload information to the loader operator via external display lamps. The data can be accessed over the Internet.
Komatsu's EU Stage IV engine features SCR and has a Komatsu Variable Geometry Turbocharger (KVGT). It has also used an EGR valve for more precise temperature and air management control.
Meanwhile Morooka has released its latest tracked carrier, the MST-2200VDR, which will be appearing at this year's Intermat exhibition in Paris. The company said its latest 16 tonne dumper has greater operating efficiency due to its 360 degree body rotation.
It said the design enables dumping at any angle and prevented wear on its undercarriage as less steering is required. This also has an added benefit of an operator being able to remain in a face-first position at all times.
It is powere by a Cat C7.1 Tier 4 Final emissions-compliant engine with a power output of 186 kW.
The machine also features a rear-view camera and a cab designed with a roll-over protective structure (ROPS).
Meanwhile scraper maker K-Tec Earthmovers said customer demand had driven its latest release of a fully integrated scraper system, which it claimed can double the amount of material hauled with the same construction power unit.
Its 1233ADT scraper adds a hitching system on its rear tail, to accommodate the attachment of a further scraper.
The company added that an operator is able to use responsive joystick control functionality inside the ADT to first load the lead scraper, and then fully load the rear scraper.
A digital display screen is also included in the cab for visual operating details, tracking load count productivity.
The company said its ADT train scrapers result in a significant advantage in earthmoving, offering the ability to travel at more than 30 mph (48 km/hour) down haul roads, which improves cycle times.
As self-loading and unloading haulers, scrapers can be used for precision grading and dumping; be push-loaded for enhanced loading time; or even be top-loaded via excavator for heaped hauling.
Rigid Hauler deal
Hitachi Construction Machinery is one of a number of manufacturers offering rigid haulers as part of its range.
It has supplied Baltic energy company Eesti Energia with 11 of its EH1100-5 models for use on a shale extraction operation at the Narva quarry, near the Russian border.
Hitachi has supplied the haulers from its factor in Canada. It had to prove its equipment could carry a nominal payload of 63.5 tonnes as part of the deal in Estonia.
The project included a calculation of the capital cost of the machine and a guaranteed buy-back after a number of years.
At the opposite end of the earthmoving spectrum, Terex has unveiled its Stage IIIB/Tier 4 Final-compliant range of nine and ten-tonne site dumpers.
Featuring 55kW JCB EcoMAX turbo-charged diesel engines, the new TA9 and TA10 models are said to offer users increased fuel efficiency without any exhaust after-treatment requirements.
The units are said to emit among the lowest emissions for comparable payloads, as well as delivering a lower cost of operation and efficient cycle times.
Among their key features are Liquid Crystal Display (LCD) dashboards, complete with hour meter, coolant temperature gauge and fuel level readout.
Early warning alerts help to prevent costly downtime and enhance operator safety. In addition, a user readout panel provides real-time machine information, while Engine Control Unit (ECU) technology manages performance data to improve reliability.