FEATURE: Power management
By Helen Wright08 August 2016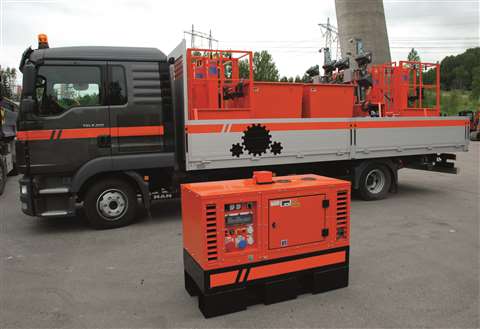 Temporary power provider Aggreko said its new Aggreko Remote Monitoring (ARM) system represented the next step in the evolution of its equipment diagnostics technology, offering comprehensive, real-time remote equipment monitoring services 24 hours a day, 365 days a year.

Initially developed for multi-site and remote locations in the UK and Ireland, ARM uses GPRS technology to transmit real-time data from its smart generators to diagnostics software, providing information to maximise the equipment's efficiency and runtime whilst at customer sites.

At the heart of the new service is Aggreko's Remote Operations Centre (ROC), where a 15-strong team of highly experienced service engineers proactively monitor equipment, round the clock, and activate an immediate, co-ordinated service response as and when required.

"Our specialist engineers continuously monitor our generator fleet, keeping watch for issues regarding maintenance, fuel levels, loads, run hours or any other warning signs," said Chris Rason, Aggreko sales and marketing director for Northern Europe. "This allows for a personalised response and a rapid resolution to any potential issue.

"We're thrilled to bring this service to our UK and Irish customers. ARM allows Aggreko to have full visibility of performance conditions to save customers from downtime and unanticipated costs. ARM gives customers peace of mind that we're watching over their equipment to ensure its optimum performance, allowing them to focus on critical operations."

In addition, customers are able to request reports on their equipment's run-time, performance and fuel usage, improving transparency of information and KPI reporting. ARM also constantly maps the location of all Aggreko generators, giving an overview of a customer's fleet on hire and improving its security.

Just as Aggreko has developed its own system, many other companies are also developing new remote monitoring technology, and some are offering it as standard on their generators.
JCB Power Products is a case in point – the manufacturer is directly targeting the rental market with its new RS generator range, which is due to be unveiled over the next 12 months, covering power outputs of 20kVA to 220kVA and eventually up to 2000kVA. The range mirrors the QS line of generators, which can also be tailored for rental use.

RS generator sets include robust, heavy duty rental skid base with 12 hour bunded fuel tanks, steel canopies to rental specification, and single point lifting and fork lift pockets for easy handling. Rental spec alternators and control options including synchronisation are also available, together with JCB's LiveLink telematics system.

LiveLink provides generator performance information such as load, idle time and generator working hours data. LiveLink offers fleet managers a remote management solution that helps to plan preventative maintenance and allows rapid fault diagnosis in the case of unscheduled downtime.

With both location tracking and geofencing capabilities it delivers increased asset security and provides fleet managers with the means to better balance fleet use, in response to real-time operation

The smallest models in the line-up, with outputs of 20kVA to 45kVA, are powered by the fuel-efficient JCB by Kohler diesel engines, while 60kVA to 131kVA and 160kVA to 200kVA models come with JCB's own Dieselmax engines. Larger 300kVA to 500kVA models will be Volvo-powered, while generators with 800kVW to 2000kVA outputs are powered by Cummins diesel motors. The range also includes Stage IIIA engines to suit all legislated regions.

A battery isolator is part of the specification and the generators are equipped with earth leakage protection and a socket box for easy connection. For ease of movement and to prevent damage during transportation, the generator canopies have a single lifting point for cranes and fork lift pockets integrated into the skid chassis.

Teksan also offers remote monitoring tools for its new diesel/battery hybrid generator system – described as a complete electrical power supply. The Tj750 HD-PE, TJ500 HD-PE, TJ2500 HD-PE and TJ4000 HD-PE modes boast Perkins engines and DC battery banks, and are designed to meet broad range of power needs in telecommunications, agriculture and heavy construction projects. They can also be integrated with photovoltaic solar panels and wind turbines

The company has developed a battery management system which charges each battery group independently, as well as tracking each battery group, maintaining a symmetrical charge and keeping the system running in case of a problem. Teksan claims its hybrid generator can offer up to 65% lower fuel consumption.

Targeting rental

Himoinsa has also tailored generators specifically for rental buyers, with the new rental canopy version of its LPG-powered generators incorporating enough fuel storage for 24 hours continuous operation. The gensets can also be used with natural gas through an external connector – adding to adaptability.

Himoinsa said the advantages of using gas power for generators included lower fuel and maintenance costs, lower emissions, and reduced risk of fuel theft.

The HRGP 25 T5 LPG, HRGP 40 T5 LPG and HRGP 60 T5 LPG models offer 25kVA, 40kVA and 60kVA of continuous power. They can also be connected to an external tank to extend their autonomous operation for as long as desired. The integrated tanks are LPG-certified for vehicles, making them a versatile option for the rental sector, where there is said to be high demand for mobile equipment that is easy to transport and can refuel with an LPG pump at a service station.

And Atlas Copco has expanded its QES range of generators – doubling the size of the range with six new models.
The new generators, ranging from 60 to 200kVA, build upon the success of the initial QES line-up, which was launched in 2015 with five models ranging from 9 to 40kVA.

The QES range aims to provide general construction and rental users with a practical and trusted power solution for the toughest worksites. The new additions are the QES 60, QES 85, QES 105, QES 120, QES 150 and QES 200. All of the new generators operate at 50Hz or 60Hz (with an optional kit) and are Stage 3A emission compliant.

The company said the QES range has undergone an extensive design and testing procedure to ensure resilience against harsh weather. The secure, corrosion-proof canopy repels all liquids, including heavy rainfall, and also performs in extreme heat.

Another key element of the design is that it is easy to operate, giving the generator plug-and-power capability and eliminating any headaches associated with start-up.

"We like to say that the QES range is weatherproof," said Angel Nieto, product marketing manager for rental and construction generators. "By adding more power nodes, these new additions to the QES range give greater scope to customers in the construction and rental markets who simply want reliable and user-friendly generators that can be easily transported to the point where they are needed."

Standard features of the expanded QES range include manual start controllers, spillage free frames with integrated forklift slots and lifting beams, external drain points and large doors for access during servicing. Among the options are battery charger and cut-off switch, external fuel tank connection and cold-start functionality.

The new 60-200 models are fitted with John Deere engines. The 9-40 models feature Kubota engines.

The QES range sits alongside the high-performing QAS mobile generator range, which has also been extended in 2016 with the launch of the QAS 630. In addition, Atlas Copco's larger containerised packages now include Twinpower, a packaged container that balances high power and fuel efficiency thanks to advanced controller technology.

Sister brand Chicago Pneumatic has also extended its range of CPDG mobile diesel generators up to 200kVA. Originally including 5 models from 9 to 4kVA, the CPDG range has been bolstered with the addition of six new models from 60 to 200kVA.

Efficiency boost

Meanwhile, Bowman Power is offering its Electric Turbo Compounding (ETC) system to improve the overall efficiency of a stationary gas or diesel genset. The ETC system recovers waste energy from the genset exhaust gas, and converts it to useful electrical power.

The company claims ETC can either reduce fuel consumption by between 4% and 7%, or allow the production of up to 10% additional power.

Bowman offers the ETC system to engine and genset OEMs, power rental providers and independent power producers. It said over 700 ETC systems were currently deployed worldwide, generating almost 400GW of energy, reducing fuel consumption by over 50 million litres.

Bowman engineering director Paul Dowman-Tucker said the company had worked hard to provide a commercially viable product for the waste heat recovery market place.

The power conversion technology Bowman employs is widely used in wind and solar power systems, according to the company.
Bowman's application is for the power generation industry; converting recovered waste energy from the exhaust stream of reciprocating engines into grid-quality electrical power.

"First of all we have to take the energy from the hot exhaust gases, which we do in exactly the same way as a turbocharger does, and convert that into electricity with the alternator part of the turbo generator," said Mr Dowman-Tucker.

"We then have to condition it as it is very high frequency AC power that we produce. We have a power electronics module which will convert that into grid quality three-phase electrical power."

While there are some configuration complexities to ensure that the host engine operation remains optimal, fitting the ETC system is relatively straightforward, according to the company, which added that payback on the investment could be achieved in as little as two years.

"'We are doing something quite specific in terms of waste heat recovery technology which has the potential to make a step change in their engine performance," Mr Dowman-Tucker said.

Industry news

The generator market has also seen a lot of movement from a consolidation perspective so far this year. US generator manufacturer Generac invested in a majority share of PR Industrial, the owner of the Pramac brand, for instance.

The transaction followed Generac's 2014 deal to acquire Pramac America. Founded in 1966 by the Campinoti family and headquartered in Siena, Italy, Pramac is a manufacturer of stationary and mobile generators for a variety of commercial and industrial applications.

Meanwhile, UK rental company Hewden has acquired the rental arm of hybrid generator manufacturer Firefly (see the Hewden Site Report on page 40 for more information on this deal, as well as a look at the company's flagship Bedford depot).

Elsewhere, manufacturer Subaru has outlined plans to close its industrial products division as a stand-alone unit and integrate it with its automotive business.

Subaru's industrial products division produces engines, pumps and generators, and its parent company Fuji Heavy Industries (FHI) the said the change would take effect from 1 October this year.

And manufacture of Volvo Penta's industrial engines has begun at the Volvo Group plant in Brazil. The engines – which are aimed at the generator set market in the region – are produced at Volvo's facilities in Curitiba.

The company said a new production line has been created at the plant for the Volvo Penta engines, which include the 13 litre TAD-1344GE and TAD-1345GE models.

João Zarpelão, Volvo Penta South America industrial engine director, explained that the company's business plan in South America targeted increased engagement with potential partners in the countries of Ecuador, Bolivia and Paraguay. Currently, Volvo Penta's main markets in South America outside of Brazil include Argentina, Peru and Chile.

Ms Barsalini said, "These are markets with potential, both for both marine and industrial engines, but in which our presence is still very limited."

The investment supports Volvo Penta's growing business relations with the main genset manufacturers, a strategy that it said allowed it to cover 70% of the market based on partnerships.

Mr Zarpelão said, "Our target is to become the preferred professional partner of companies operating in the segments of power, construction, agriculture, ports and mining."

It will be fascinating to see how these changes in the industry trickle down to the development of the next wave of generators on the market.
This is a feature from the July/August 2016 issue of IRN. To read the full article, with extra images and information, subscribe to the magazine: http://www.khl.com/subscriptions/magazines/international-rental-news/