FEATURE: Quarrying efficiency
By Sarah Ann McCay25 July 2014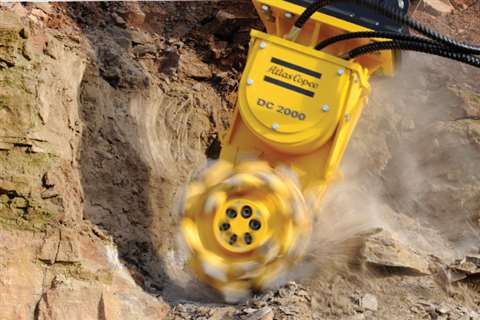 Quarrying is a science that requires a specific set of tools to ensure safety along with quality and efficiency in extraction. All quarries are different, and each quarry product presents its own extraction challenges. Choosing the right equipment is therefore vital.
rom mobile equipment such as excavators, loaders and dump trucks, to hydraulic breakers and crushing and screening units, each plays its part in a smooth quarry operation. Efficiency in operation is of course a key aim for manufacturers of all types
of equipment.
For example, Atlas Copco has added a range of eight new drum cutter attachments for excavators for use in a range of applications, including quarrying.
The DC drum cutter range is available with service weights from 200 kg to 2,900 kg, covering carriers from 1 to 50 tonnes.
"Our drum cutters are an excellent choice for rock or concrete wall and surface profiling, trenching, frozen soil excavation, soft rock excavation in quarries, demolition, and dredging," said Gordon Hambach, product line manager at Atlas Copco. "They are a complementary product to our hydraulic breakers and offer an additional solution for softer rock applications up to 100 MPa."
Caterpillar meanwhile has brought two new F-series excavators to market. The new Cat 374F and 390F build on the durability, reliability, and performance of the D-series while offering low fluid consumption for minimal operating costs, according to the company.
Aimed at lesser regulated markets, with Acert Stage II/ Tier 2 compliant engines, the new excavators are fuel efficient, using up to -5% less fuel that the D-series. The 374F and 390F both offer two power modes – standard or economy. In addition, an on-demand power system adjusts engine speed to match the operating load, and an engine-idle-shutdown system stops the engine when
not in use.
Both models are available with a range of booms and sticks fabricated from premium-steel including a mass-excavation boom for use in large-scale earthmoving.
Indian natural stone exporter, Pacific Stone Mart, operates a fleet of Volvo CE excavators for work on its granite quarries in Rajasthan.
The company was the first company in Rajasthan to buy a Volvo EC380D-Series excavator. It now operates a fleet of Volvo excavators, including an EC360BLC, five EC210s B-Prime Series, six EC380Ds and a Volvo L350F block handler.
The site's goal is to produce 50,000 m3 of granite this year. "This is easily achievable with our Volvos in action," said B R Agarwal, founder and owner of Pacific Stone Mart.
At the Carrière de Cusy quarry, situated in France's Parc Naturel Régional du Massif des Bauges, Hitachi is the brand of choice. The quarry, which produces 110,000 tonnes of limestone per year, has a strict environmental policy which involves protecting local wildlife and observing environmental regulations on noise limits, dust and machine emissions.
"It takes us one to two years to extract the limestone from each section of the quarry," explained Yves-Pierre Mathieux, co-owner of Carrière de Cusy. "Then in the following year, we restore the land, planting trees and vegetation in a continuous process."
Speeding the process along are two new Hitachi machines, a ZW250-5 wheel loader and a ZX290LC-5 excavator, supplied by local dealer Teramat.
Denis Mathieux, co-owner of the quarry and operator of
the ZX290LC-5 excavator, said, "The lifting capacity is excellent, it is still powerful even when handling heavy rocks and it has to work hard on this site. The TRIAS hydraulic system makes operating the machine so smooth and it helps to make it highly productive."
Loaders
Hitachi products are also popular with UK quarry operators. The first Hitachi ZW330-5 wheel loader in the UK has been purchased by one of the country's largest independent quarry operators, Morris & Perry Ltd, and was delivered to the site after it had been displayed at the Hillhead exhibition in June.
The new ZW330-5 is equipped with a 12.9-litre six-cylinder water-cooled turbo engine to deliver a powerful digging performance. The loader also offers a new clutch cut-off system to control the timing of the clutch for smooth operation when loading, regardless of the terrain.
Family-owned Morris & Perry provides aggregates, asphalt concrete and ready mixed concrete products to customers across southwest England. The new ZW330-5 will be used to load trucks in the stockyard, keep access roads clear and push up blasted materials at its Gurney Slade Quarry in Somerset. Equipped with a 4.6m3 bucket, it will load more than 1,000 tonnes of materials per day.
Also in the UK, the Owen Pugh Group has bought two JCB 457 wheeled loading shovels for loading aggregates at its quarry in Whitburn, near Sunderland.
The Marsden Quarry, where the new JCB 457s are loading quarried materials on to vehicles leaving the site on behalf of the Owen Pugh Aggregates division, provides a range of primary and recycled construction aggregates.
Andy Mountford, general manager at Owen Pugh Aggregates, said,
"We're already seeing a positive impact on productivity as a result of the new machines, and as they boast fuel-efficient Tier 4i engines, we expect that over time we'll see a positive impact on fuel costs too."
The group also purchased seven JCB tracked excavators - one JS130, two JS160, three JS220 and a JS260 model.
Breaking out
New breakers are constantly hitting the quarrying market. Finnish manufacturer Metso expanded its rock breaker series designed for primary stationary crushing stations earlier this year. The company's hammer-boom combination is now available for stationary aggregates production and mining applications.
In this application they are used in primary crushing stations to break oversized boulders that are fed into the crusher and to clear clogging in the cavity.
"The remotely controlled hammer-boom combination provides, without a doubt, the safest solution for clearing clogged crusher cavities," said Ilkka Somero, product manager for Metso. 
 

"We have now introduced a range of breaker boom and hammer combinations and can offer our customers a complete turnkey solution. Besides the requested primary crusher, Metso can now offer a comprehensive breaker attachment: a boom with assembly framework, hammer, related hydraulic power pack and remote radio controls." The new Metso MH-series hammers and MB-series booms include five boom-hammer combinations for jaw crushers and one for primary gyratory crushers.
Attachment manufacturer Montabert meanwhile has launched a new heavy-duty range of hydraulic breakers. The V65 provides variable-speed technology, automatically adjusting its impact energy and striking rate to match material hardness. Designed for use on large excavators ranging in size from 50 to 80 tonnes, the 5.6-tonne hydraulic breaker delivers up to 950 blows per minute.
Recommended for use in quarrying applications, especially those involving fragmented, heterogeneous materials, the breaker's energy chamber acts as a hydraulic shock absorber, reducing pressure variations in the hydraulic circuits to provide consistent energy to the breaker.
Standard features include a progressive start system, a blank-fire protection system and an automatic lubrication system.
Crushing & screening
German manufacturer Kleemann has seen strong demand for its Mobirex MR 122 Z impact crusher, one unit of which is currently in action at Grange Quarry in the UK.
One of the largest producers of aggregates and ready-mixed concrete in the south of Scotland and the north of England, Grange Quarry has been working with Kleemann for a couple of years.
"Since 2012, we have been working successfully with a mobile Mobicat MC 110 Z jaw crusher and we are really impressed with the quality of the crushed end product," said Stuart Dodd, owner and managing director. The Grange Quarry uses the mobile plant to crush whinstone for road construction, with a maximum feed size of 600 mm to 125 mm at an output of around 200 tonnes of crushed material per hour.
The new MR 122 Z impact crusher has been in use since October 2013 and crushes limestone breccia of 600 mm down to a final grain of 60 mm.
Also in the UK, a Kleemann MC 110 Z EVO jaw crusher is being put to work on the remote Shetland islands.
The island archipelago is currently experiencing an oil and gas boom, as gas fields are explored 125 km north-west of the islands. In Sullom Voe on the Shetlands the need for crushed stone is rising rapidly to support this economic growth.
EMN Plant. extracts a type of granite, granodiorite, which is predominant in the Scatsta quarry. The stone is naturally hard and abrasive, which is why Ellis Nicolson, a director at EMN Plant Ltd, invested in a new jaw crusher.
The unit can crush a feed size of up to 1000 mm down to a grain size of 100 mm in a cubic shape. The crusher can also process recycled concrete.
"Our stone has a high level of fine grain. This is why we were looking for a plant with good preliminary screening. Kleemann provided an excellent solution with the MC 110 Z EVO," said quarry manager Craig Dickie.
Winning combination
In Nigeria, Asphalt Unity Construction now operates a Sandvik mobile crusher and screening combination made up of a UJ640 jaw, together with US440i and UH640 cone crushers to work alongside two QA451 Doublescreens.
The company specialises in crushing basalt and granite to be sold to building contractors. The jaw and cone crusher combination work to break down the materials to 25mm from a maximum feed size of 975mm.
Asphalt Unity also operates a QA451 triple-deck Doublescreen. The advanced triple deck system enables operators to make changes to the drive, angling, vibration and meshes of each screen box, which enables versatility in size and specification of the finished products.
Powerscreen, part of Terex Materials Processing, launched four new machines at this year's Hillhead exhibition. New to the catalogue are the Powerscreen Premiertrak 300 HA jaw crusher, Powerscreen Warrior 2100 screen, and the Powerscreen Premiertrak 600 diesel electric jaw crusher, which feeds the new Powerscreen Maxtrak 1150 cone crusher.
The Premiertrak 300 jaw crusher features a new hydrostatic drive system option allowing it to reverse and unblock or run continuously in reverse for asphalt applications.
The Warrior 2100 screen comes with triple shaft technology to maximise on efficiency and is especially suited to sticky scalping applications. With amplitudes and accelerations in excess of 16 mm and 6 g respectively, the Warrior 2100 triple shaft screen outperforms conventional screens in a multitude of applications including aggregates, overburden, processed ores, topsoil, compost, demolition waste, foundry waste and biomass.
The mid-sized Maxtrak 1150 cone crusher is offered in two configurations: a direct feed model and a pre-screen version that enables customers to handle dirty feed material and achieve higher production rates. With a choice of strokes and four liner options that are all compatible with a single upper frame, the Maxtrak 1150 cone crusher can be easily configured for all applications.
The Premiertrak 600 jaw crusher comes to market in two possible configurations: diesel-hydraulic and diesel-electric. The diesel-electric machine can be powered directly from an on-site source. The unit boasts a 1,200 mm x 820 mm modern jaw chamber including a fully hydraulic closed side setting (CSS) range of 75 mm-200 mm and a reversing system to clear blockages.
Terex offers the complete crushing and screening package. Its Terex Washing Systems unveiled its Aggresand modular aggregate and sand washing plant at the end of last year.
Aggresand has the ability to wash and produce multiple aggregates and sands within one machine, with a throughput of 250 tonnes per hour.
The first Aggresand machine is now working successfully in Dowling's Quarry, Abbeyleix, County Laois in Ireland where it is processing glacier sand and gravel material. The Aggresand plant at Dowling's Quarry is fitted with a 12 ft (3.6 m) double deck vibrating grid with 100 mm bofor bars and 50 mm woven wire mesh. This particular plant separates 0-40 mm to the wash plant that gives three aggregate materials and two sand.
Ready to go
In the articulated dump truck (ADT) sector, one of the latest machines on the market is the Liebherr TA 230 Litronic, with a transport capacity of up to 33 tonnes. According to the manufacturer, the large dump body combined with the robust drivetrain guarantee efficiency. Even in the tough conditions encountered in a quarry, the truck impresses with good driving characteristics, and it is always safe when it is on the move because of its efficient retarder performance.
Komatsu's latest ADTs, the HM300-3 and HM400-3, offer an EU Stage IIIB engine platform offering increased horsepower and lower fuel consumption and emissions. The Komatsu Traction Control System, along with a new suspension and retarder system, helps the vehicles stabilise on any ground.
The HM300-3 offers a maximum payload of 28 tonnes, while the larger HM400-3 has a capacity of 40 tonnes.
Meanwhile, UK manufacturer Bell Equipment showcased its next-generation E-series ADTs at Hillhead 2014: the new B25E and B30E. Both come with a diesel engine with Blu@dvantage technology to provide high tonnes per litre ratios. On board weighing is also standard, while Bell's
Fleetm@tic system provides up-to date operational data for desktop fleet management.
New additions from Doosan meanwhile are the DA30 and DA40 articulated ADTs, which are now fitted with Stage IV/Tier 4 Final engines. Like all Doosan ADTs, the new DA30 and DA40 models feature an articulation hinge positioned behind the turning ring to provide equal weight distribution to the front axle even during maximum steer articulation.
This together with a free-swinging rear tandem bogie ensures equal distribution of weight to each wheel and guarantees permanent 6-wheel contact and drive for equal power distribution and excellent performance on difficult terrain.
Doosan says its new models offer best-in-class fuel efficiency thanks to the use of new Scania engines and ZF EP transmissions.
The DA40's body capacity has been increased to 24.4 m3, enabling it to carry 40 tonnes without a tailgate, which is a +15% increase on the previous model.
This illustrates the clear common theme throughout the quarrying sector – whether it is new low emission machines for Europe, Japan and the US, or equipment for lesser regulated markets – that higher productivity and better fuel efficiency are available with the latest generation of equipment.