Feature - The height of innovation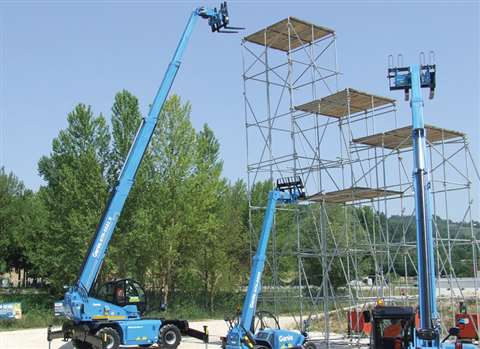 The year of 2015 shows no signs of ending quietly for Europe's telehandler companies.
Take Magni for example. The Italian manufacturer, which introduced the RTH 5.35 35-metre telehandler to the market a few months ago, is currently working on three new models, two of which are additions to its range and the other which is totally new to the market.
The company plans an official launch at Bauma in Munich next April, though it says it will be making potential customers aware of them before the end of 2015.
Magni started in business just under four years ago with 20 people, and in that time has increased its workforce to 80. As well as boosting its presence in its native country, it has opened branches in the UK and Germany since the start of this year.
Product manager Eugenio Magni said: "We are spreading out in the market. As Italians it's sometimes difficult to go and match the culture of some countries. We expect big sales in the UK and Germany because of being there, but we do not plan any more subsidiaries for the next three years. France and Belgium have very good area management, very experienced people with the machines and the markets, and we have a very big dealer in Switzerland who is always in contact with us.

"The concept on which our company is based is a young company with young people. There are around 15 people in the technical department who are all very young, with the capacity and ideas to go on projecting something new, something the market still hasn't seen.
There is a very specific market for rotating machines. By now we have nine models, and by 2016 that will increase to 11."
One company that Magni has been working with closely is Riwal of the Netherlands. Earlier this year the two signed a deal for Riwal to distribute Magni products in Poland, and Eugenio Magni said that Riwal was expected to become the dealer for the area around the French capital Paris soon.
Soren Rosenkrands, chief operating officer of Riwal said that telehandlers will form a significant part of his company's budget for 2016, and will be part of its portfolio for a number of years to come.
Apart from its link with Magni, it distributes telehandlers and aerial work platforms in Poland on behalf of French manufacturer JLG.
"Poland is relatively new for us," he said. "We like to see ourselves being part of developing rental sectors and we see an opportunity to grow the market in Poland. We think very of highly of both JLG and Riwal and we are looking forward to growing those two businesses in Poland in the future. With a new Polish Rental Association, it has signs of being a very profitable marketplace and the association together with the authorities in Poland is leading a push towards the safer use of machines."
In terms of industry safety, a notable related development for Riwal during this year was the acquisition of the UK-based company ALS Safety. At a time when companies throughout the rental sector
are taking corporate social responsibility seriously, it was too good an opportunity to turn down.
"It would be foolish of us if we didn't show this as part of the package we supply," Mr Rosenkrands explained.
"People don't always ask for training, they usually just ask for a telehandler, but training is imperative. In some countries, such as the UK and the Netherlands, it is advanced, through the work of the International Powered Access Federation. In some others countries, it works through public training centres. But some countries are not there at all, which means it can be something that we can use to bring value to customers in the future."
Riwal operates in 17 countries, though it does not supply telehandlers to all of them. While refusing to be drawn on figures, Mr Rosenkrands said a "substantial amount" of the company's €80 million fleet investment - itself doubled from 2014 - was on telehandlers for specific markets.
While Soren Rosenkrands expects rental rates to play a big part in the industry going forward, he feels other factors will come into play too.
"The rental rate discussion will still be part of the relationship between the supplier and the customer, but we will need to develop other parts of the relationship, such as supplying more information on the whereabouts of machines, and which machines should be used on site to reduce downtime and prevent machines standing idle.
"We're seeing attachments of all kinds becoming popular, and the product range is bigger than it has ever been."


Restructuring the range

Genie has been undergoing a restructuring of its range of telescopic handlers, reducing the number of models from more than 40 so that it now features six completely redesigned GTH models.
It is also expanding and reorganising its factory at Umbertide, Italy, to improve the flow of incoming parts and finished products. While Genie's telehandlers had been designed for different sectors, a more rationalised approach has been taken by the company.
The company said that rental companies wanted compact, high reach and rotating models with high performance and low running costs. They should be robust and able to stand up to day-to-day use in
rugged working conditions.
It said operators wanted comfortable, simple-touse and versatile machines.
The GTH-2506 falls in the compact sector, and is the fifth generation of 6 m telehandlers from Genie – the first having appeared in 1998. With a low-pivot boom, it claims 360° visibility. It has a lifting capacity of 2.5 t, with a maximum lifting height of 5.79 m and a maximum forward reach of 3.35 m.
Equipped with hydrostatic transmission, the machine claims better serviceability – as do all the new models. Genie pointed out that quicker and easier service meant less down time.
There are two high reach models – the GTH-4014 and GTH-4018 – which both have a 4 t lifting capacity.
The GTH-4014 has a maximum lifting height of 13.57m and a forward reach of 9.08 m.
For the GTH-4018, the lifting height is 17.61 m, and the forward reach is 13.36 m.
There are three rotating models – the GTH-4016 R, GTH-4018 R and GTH-5021 R.
The GTH-4016 R and the GTH-4018 R both have a maximum lifting capacity of 4 t, while the GTH-5021 R can lift up to 5 t. The maximum lifting heights are 15.42 m, 17.54 m and 20.86 m, with maximum forward reach of 13.35 m, 15.53 m and 18.24 m.
Genie said the GTH-5021 was designed for "ultraversatile high performance", so that one machine could do the job of many, acting as a mini-crane to get into places larger cranes could not. H-type outriggers can be deployed with one switch, and there is an option to deploy stabilisers halfway for use in more compact environments.
The company said there was a commonality of components across the range, and a range of attachments which were interchangeable across the GTH models.
The Umbertide factory was acquired by Terex in 1998, and has a 10,000 sq m covered area and 33,000 sq m outside.
Additional production lines are being added this year and next, and a new material flow is being introduced. This will mean, for example, that vehicles delivering parts will approach one side of the site, unload and leave the factory by another gate without having to turn round.
Near the factory, Genie has a test, demonstration and training area of 3,500 sq m which incorporates a specially equipped 2,000 m product testing circuit.


Confident of a change

Vincent Mazzoleni, business unit director of Haulotte said his company has experienced a "wait and see" attitude during general rental companies in Europe this year – though southern Europe was showing its first signs of recovery - and a "desperate" situation in Latin America.
"The situation in Europe has been a bit of a surprise," he said. "We are still confident of a change in the market, but we have to follow our customers. We have to find new ways of working."
At this year's Intermat exhibition, Haulotte's HTL series of telehandlers became the first to offer Tier IV final engines a year ahead of the regulation coming into force.
Mr Mazzoleni said customer feedback had been excellent, and that engine development would continue to be at the forefront with Tier V legislation looming in 2019.
"We are working on two technological developments to offer the right machines at the right cost of ownership," said Mr Mazzoleni.
"We are working with rental companies on the cost of machines, the cost of transport and the cost of maintenance. The machine will stay in our factory for a month, but it's out with the customer for 15 years. We have to do a lot of trials to make sure of its reliability."
Another feature of Intermat was JLG marking the production of its 100000th telehandler, which is due to be auctioned with the proceeds going to charity.
The company has dedicated engineers at sites in the UK and USA and recently appointed a new UK distributor, Bristol-based Molson Equipment Services.
Etienne Bourcier, director of the EAME telehandlers division, said: "JLG supports to its telehandler customers throughout their entire ownership experience. Our service, innovation and machine
reliability have made JLG one of the top three telehandler producers in the world."

JCB believes its Loadall is highly regarded as one of the industry's simplest machine to both operate and maintain. From a servicing and maintenance perspective, service intervals are set up at 500 hours which significantly reduces amount of time the machines are in the workshop.

Rental customers can benefit from service expertise offered by the factory and extensive dealer network rather than rely on a third party supplier. This has also enabled us to provide an engine solution tuned for each machine that already adheres to Stage IV/Tier 4 final legislation meaning that rental companies do not need to worry about diesel exhaust fluid (DEF) or the maintenance of a diesel particulate filter (DPF).

As far as market requirements are concerned, the company is in regular communication with both rental companies and end users around the world and their feedback is generally quite consistent; compact machines and large capacity machines on a compact platform are becoming ever more important to rental companies as building sites continue to become tighter. Safety continues to play a major part in machine development.

In September, JCB announced that it was to offer a full range of telehandlers, from the 1.6 m lift height 516-40 to the range-topping 20 m 540-200, equipped with Tier 4 Final/EU Stage IV compliant diesel engines.

Both Kohler by JCB and JCB's own EcoMax diesel engines will be available with a high torque 55kW (74hp) power rating or below, meeting the latest exhaust emissions legislation without an expensive diesel particulate filter or any form of exhaust aftertreatment requiring diesel exhaust fluid.
This is a feature from the September/October issue of IRN. To read the full feature, with extra images and product information, subscribe to the magazine: http://www.khl.com/subscriptions/magazines/international-rental-news/