Feature: The shapers, not the followers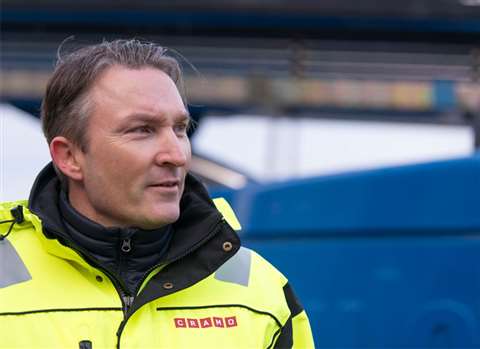 For most people, a morning routine is essential to ensuring they start their day in the best possible way. Whether it's boiling their eggs for breakfast, or making sure their kids are ready for school on time, routines provide piece of mind before heading off to work.
For Cramo's CEO Leif Gustafsson, his routine is simple – formulate a positive attitude that spreads like wildfire around the rest of the workplace.
Indeed, the 50-year-old believes a positive attitude is the key ingredient for a forward-thinking, successful business. "We want to be the shapers, not the followers," he said with a smile on his face, sitting back in his chair, drinking coffee – the look of a man who oozes a calm, positive attitude.
"With the right attitude you are always willing to improve and take something that extra mile. That is something that is particularly important in a competitive environment."
It has been little over a year since Mr Gustafsson joined Cramo as CEO and, while he may have only made small, subtle changes so far, he is preparing himself for a big four years.
"During 2016 we didn't make huge changes. There was already a good strategy at Cramo so we decided that we would continue working with that.
"However, what we did do was start up a few internal projects to analyse certain areas to see how we performed there, and how these areas were performing in comparison with others. That was more a measure to see where we were overall."
Shape & Share
Early this year, the Finnish company outlined its new four-year financial strategy – the Shape & Share strategy – which aims to lead and shape the development within its industry.
Firstly, it has separated equipment rental and modular space into two sectors – a move that seemed obvious to Cramo's CEO. "The reason for this is they're both quite different. Equipment rental is conducted with huge depots and there are daily transactions. They are a completely different customer.
"Modular space consists of longer-term agreements of, say, five years or more. Just addressing this tells us it's a totally different market, with a clear start period and a clear end period. In terms of customers, more than 60% is to municipalities. The sensitivity is lower than equipment rental."
Breaking it down even further, the company has restructured its segments into: Equipment rental, Scandinavia; Equipment rental, Finland and Eastern Europe; Equipment rental, Central Europe; and Modular space.
Double-digit growth?
Financially, Cramo is aiming for double-digit growth in its modular space sector over the next four years, achieving a return on capital employed (ROCE) of more than 12.5%. It is also targeting growth in its markets for its equipment rental sector and an ROCE of more than 14.5%.
Last year was a very stable one for Cramo, achieving a revenues increase of 6.6% year-on-year to €712.3 million. Earnings before interest, taxes, depreciation and amortization (EBITDA) were recorded at €185.7 million for the year, which was up 17.8% compared to 2015.
Another part of Cramo's strategy is the addition of its new Cramo eCRent system ('easy rent', when spoken). It was launched in December last year. It also launched 14 new websites in different countries for its company website. Mr Gustafsson said that, with Cramo eCRent, its customers could manage the entire, day-to-day rental period. He added, however, that this was only the first step for Cramo in terms of online management. "The idea behind it is to give our customers constant availability. While we want to keep a close contact with our customers, this can help speed their processes up and deal with things much more efficiently.
"We say that this [2017] is a breakthrough year for us. We want to continue increasing the positive, forward-thinking behaviour of our customers, in terms of using up-to-date technology."
So far, Cramo has launched its new online rental service in Sweden, Finland and Germany. It also said it would roll out the system to its other territories gradually during 2017.
Big data, as Mr Gustafsson calls it, is also part of what Cramo is using moving forward. He said he believed that analysing facts and figures meant that the company would make more correct decisions, rather than going with gut feeling. He set up a 72-hour challenge among his employees, called the 72-hour race to innovation, which saw Cramo's workers merge together to research its customers' behaviours and attitudes, to gain a better understanding of their future needs.
"The 72-hour race to innovation was a success for us. We wanted to find solutions on existing concerns or weaknesses.
"These often come from external inefficiencies, rather than internal. We also found lots of interesting ideas which we tested. We're looking to increase the innovation at Cramo to continue developing our research, so that we're not just going with our gut feeling on important decisions."
Managerial changes
During his 15 months at Cramo so far, Mr Gustafsson has overseen managerial changes at the company. It began with two new vice presidents – Petra Schedin Stergel, senior vice president of HR development and Mattias Rådström, senior vice president of communications, marketing and investor relations.
Then came Aku Rumpunen, firstly as the company's new interim chief financial officer before later being offered the post on a full-time basis, before Peter Bäckström came in as managing director of Cramo in Sweden. And, since IRN's interview with Mr Gustafsson, Petri Moksén, senior vice president of Cramo's modular space segment, has stepped down from his role, with Camilla Hensäter taking up the role on an interim basis.
However, that was not the initial intension of Mr Gustafsson, who said he wanted to get to know his employees first, before making any decisions on new staff.
"I don't work like that. Starting to work with the team is one thing, getting to know the staff, and the second thing was beginning the new strategy period. In the end there was nothing wrong with the people that have moved on, it was just a
natural thing.
"We needed new staff who felt motivated to work to the new strategy. They have all settled well."
Speaking of staff, young talent in the industry is a keen theme for the European rental industry at the moment. It will be the theme at the European Rental Association's (ERA) Convention in Amsterdam. Mr Gustafsson himself is on the ERA's committee. He believes that Cramo is moving in the right direction to appoint young talent, with the introduction of systems such as Cramo eCRent, given that technology is second nature to the younger generation. "It is extremely important to look for young people," he said.
"Generally in the industry there is a challenge to attract young talent but also keep young talent, and we are trying to become more attractive for young people. What we have noticed is that we have a lot of talent already in the company and we need to make them feel valued.
"However, we do need to address these types of things, and attract young people. Technology like Cramo eCRent and our new websites will help that do that."
Moving forward, Cramo is aiming to target growing markets. Sweden is by far its biggest market, equating to around 50% of its revenues, before Finland, Germany and Norway make up its other three stronger markets, out of the 15 it is currently active in. "It is a very strong market in Sweden. There have been five years of growth and it is still growing.
"It's clear they want to increase residential, for which there is a huge demand. The target was that they want to build 70000 flats per year till 2025, which is a figure we've never seen in Sweden before. The average in Sweden has been between 30000 and 35000."
He said the latest forecast now showed around 65000 for 2017 and said other construction also made the market strong, such as civil engineering – tunnels, bridges and so on.
"Germany is also growing, not as much as Sweden, but they are on an upward trend, very steady and it's obviously a very big market."
Finally, Mr Gustafsson said there was a potential for Cramo to make further acquisitions, following its acquisition of logistics and telescopic handler specialist Kurottaja- ja Kuljetuspalvelu Parviainen (Parviainen) last year. However, he said this wasn't the company's main aim over the next few years, and would only happen if the timing was right.
Almost a year and a half into his appointment it is clear that Mr Gustafsson is making his mark on Cramo, and phrases like 'positive attitude' hit the right tone. However, the key will be to translate that into financial and operational success.