Felbermayr adds 10 Demags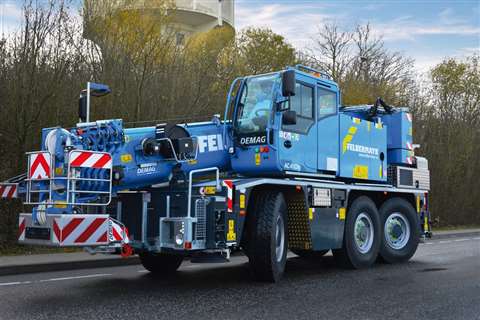 Austrian lifting and transport specialist Felbermayr is extending its fleet with an order for 10 new Demag City class cranes.
All are the 45 tonne capacity telescopic boom wheeled mobile AC 45 City crane. The first two units from manufacturer Tadano Demag have already been delivered.
Felbermayr said a key feature in the decision to buy was the crane's ability to telescope under load, both vertically and horizontally. "An invaluable advantage when used in buildings," the company said. Factory halls and city centres will be typical applications areas. In both cases, the crane's compact design is a major benefit, to make it manoeuvrable.
Also impressive, Felbermayr said, was the infinitely variable Flex Base outrigger system. It has strong benefit in confined spaces, allowing the crane's outriggers to be extended as far as possible to surrounding obstacles, giving the largest possible outrigger base in any scenario.
"We are naturally very pleased that the Demag AC 45 City has convinced such a large and important customer as Felbermayr in every respect. I could hardly have imagined a bigger compliment for our new crane," said Matthias Mayer, Tadano Demag senior sales manager.