Felbermayr in delicate monastery mission
By Euan Youdale21 November 2018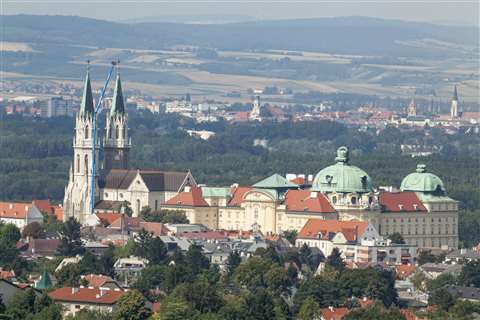 Felbermayr's new Steiger T 900 HF has been put to use at the visually-stunning Klosterneuburg Monastery, in Austria.
For several centuries, the sandstone sculptures of the North and South towers have been exposed to the weather conditions, making them fragile and increasing the risk of falling material. The Monastery Administration commissioned a scientific report to establish the extent of the damage, and, in the first step, brittle material was removed. 
The T 900 HF, on a Scania chassis, designated as F-90 LTK by Felbermayr proved to be an ideal machine for the job. With a working height of 90m, an outreach of 42m and a 33m-long upper boom, the T 900 HF can move over high, projecting edges.
Due to the local conditions, it was only possible to reach the towers from the west and south car parks. The North tower's 65m high stone sculptures were reached by negogiating a 40m-high gable of the nave. "Thanks to the aptitude of the platform's operator and of the Steiger F-90 LTK, this was possible", explains sales representative Thomas Wiesner. The maximal outreach required during the work was 40m, using the basket's rotation angle of 440°.
The truck mount was chosen rather than scaffolding or a mobile crane with a basket. The costs of both alternatives would have been higher than using powered access, said the company. Furthermore, the platform can be positioned with centimetre accuracy to the historical and filigree sandstone sculptures through a smooth and jerk-free navigation. 
For added safety, approximately 100kg of loose stone was removed from the towers. Renovation of the towers is set for 2020.