Ferrari adds new crane range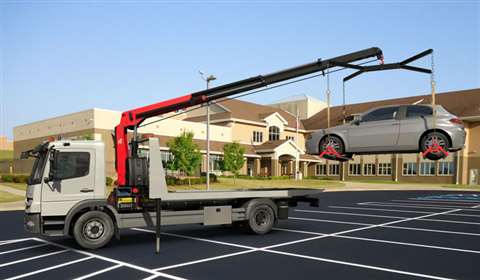 Loader crane manufacturer F.lli Ferrari from Italy has launched the first two families in a new line of hydraulic loader cranes.
In the 13 to 16 tonne-metre class the first part of the new line to be launched comprises 12 models. The 7130D and 7162D, 13 and 16 tonne-metre class loader cranes, respectively. Car recovery is a typical application, the manufacturer said. In the same capacity class are two more models, the 7130B and 7160B "for cost and performance in loading and unloading operations," Ferrari said. Also in the same capacity class are the 7131SC and 7161SC. A short boom with double linkages on these is designed for high load delivery in construction applications. It can be mounted on a compact wheelbase truck.
In the 13 to 18 tonne-metre range are the new 7131C, 7143C, 7153C, 7161C, 7171C and 7183C. A double linkage boom system on these is because they are made for complex lifting applications and highly demanding users, Ferrari said.
More capacity classes will be added over the next two years, extending the range from 8 to 150 tonne-metres.
A new feature is Dynamic Load Diagram which allows verification in advance of the crane's lifting capacity based on the truck's stability. Another is Magic Touch which allows the driver to open automatically the crane from transport position to working position and back to transport position when required. Both of these features improve driver attention and can save time and increase productivity.
Industrial design work on the new series includes improved ergonomics for operators of different sizes and covers to protect the hydraulic hoses from physical damage and degradation by UV (sun) light. An oil tank, fitted as standard, is made from a sandwich of polyethylene on the outside to resist UV light and give structural integrity while the internal material polyamide to resist oil. Positioning the tank above the pump extends its life by having a reduced workload and less cavitation.
Testing prototypes of the new design included fatigue testing of more than 600,000 cycles, including on all electronic and hydraulic components. Tests on the new electronics included water resistance and different climatic conditions. Customer feedback was also garnered and fed back to inform on any other necessary changes.
A modular element to these cranes makes them easier to use and easier to maintain, the manufacturer said, with the same controls and features so there is no need for additional training, maintenance is easier and fewer spare parts are needed. A Danfoss PVG32 control valve is used on all models that have radio remote control. It is a proportional compensated control valve so up to four crane operations can be performed simultaneously.
Rack and pinion slewing is through 425 degrees to improve productivity in all applications, especially where the crane is installed at the rear of the vehicle. Options include winch kits, Jibs and extra boom with hydraulic extensions.