Ferry move by Caba
By Laura Hatton09 September 2015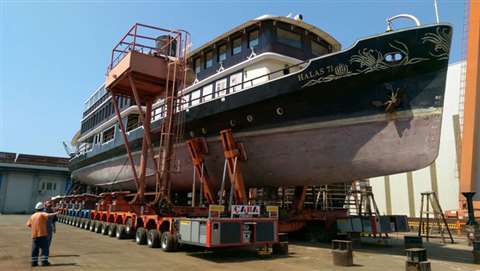 Turkish transport company Caba helped relocate the Halas 71 passenger ferry at a port in Turkey.
The Halas 71 ferry is 52 metres long and weighs 400 tonnes. It was moved using Faymonville PowerMax self propelled heavy load transport modules. The PowerMAX modular vehicles have hydraulically driven drive axles are available in two different systems, including the APMC PowerMAX, which includes trailer mode, assist mode and SPMT mode.
The ferry was built in 1914 by Fairfield Shipping in Glasgow, UK, and is now available for private charter off the Southern and Western coasts of Turkey.