Festival boats given a lift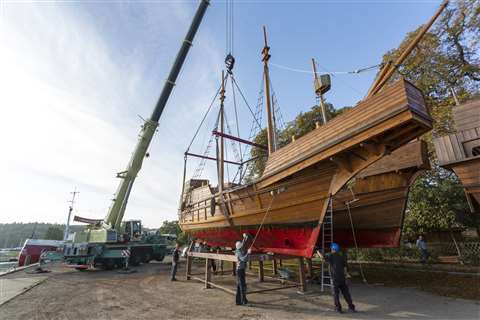 Twice a year HN Krane lifts theatre boats for the Störtebeker Festival in the small town of Ralswiek on the Baltic Sea island of Rügen in northern Europe.
Around 100,000 people visit the festival each summer to hear stories about well-known pirate Klaus Störtebeker. There is a natural stage at the open air theatre on the banks of the Jasmunder Bodden, a lagoon of almost 100 square kilometres. At the end of the season, the boats used by the theatre are hoisted onto land and sstored for winter. In 2018 HN Krane used a Liebherr LTM 1100-5.2 wheeled mobile telescopic crane to lift the replica Hansa vessels. It travelled from Stralsund. HN Krane has been doing the job for the last 25 years. booked twice per year to hoist the cog boats used at the open air theatre.
In addition to hoisting the 22 tonne boats, HN Krane also erects sets for the natural stage. The company operates from six depots between Hamburg and the Polish border. Crane and haulage work are the main areas of focus of the company based near Rostock, which has a workforce of around 120. Its fleet is 40 units, all but one of which are Liebherrs.