Financial close for Bam project
By Thomas Allen21 February 2018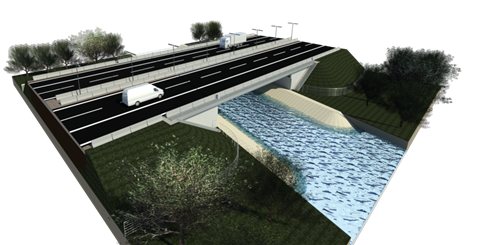 A consortium comprising Bam, PGGM and Habau has reached financial close on Availabilty Model A10/A24 Neuruppin to Pankow in Germany.
This means that all the project and financing agreements have been signed and conditions met.
The €650 million road project will include the design, build, finance, maintain and operate contract, which comprises the widening of the A10 to six lanes for a length of 29.6km of motorway and the complete reconstruction of the A20, which will have four lanes and an extended hard shoulder for a length of 29.2km.
The project will also include the replacement of 27 bridges, the construction of ten new bridges, and the demolition of two. Noise protection walls, traffic sign bridges, traffic management installations, interchanges, rest areas and secondary roads will also need to be created.
The construction activities are set to begin in March 2018 and will be carried out by Bam's German civil engineering company Wayss & Freytag Ingenieurbau in cooperation with Hanau. The project is slated to be completed by December 2022.
The operation and maintenance services will cover the entire contract section, which includes a total length of approximately 64.2km of motorway and 51 bridges. The operation and maintenance works will be carried out by BAM PPP and Habau, and will run until 2048.
The financial structure is a long-term bond funding including institutional investors. The European Investment Bank will also provide its Structured Finance Facility. Meanwhile, short-term facilities will be provided as bank loans.
The funders involved are BayernLB, DekaBank, DZ Bank, European Investment Bank, Rabobank and Tecta.