Fine tune for Hitachi wheeled loader
By Steve Ducker05 December 2017
Hitachi has announced its latest mid-size wheeled loader as a "detailed evolution" of the successful previous generation model, citing versatility, comfort and safety as its main features.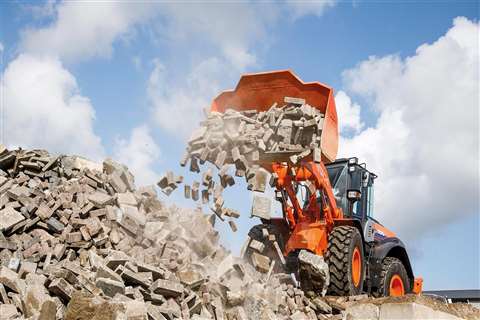 Using its extensive knowledge of the high-performing ZW-5 model, and ongoing research of the European market, the Hitachi development team said it has fine-tuned the ZW150-6 to better satisfy the needs of operators.
Ideal for a range of applications including demolition, the ZW150-6 is powered by a new Stage IV-compliant engine for the same levels productivity as the ZW150-5, but with reduced fuel consumption and running costs.
It is available with optional extras for waste handling and agriculture, such as a radiator dust protection screen, anti-clogging radiators, front windscreen guard and pressurised filtration system. These provide added protection for the operator in dusty environments such as demolition and waste management.
Three types of lift arm – standard, high lift and parallel lift – provide even greater flexibility. The parallel lift arm ensures effective handling with less tilting variation of the attachment. Ideal for pallet forks, it offers increased load control and better visibility of the attachment than the standard lift arm.
To further optimise its usage with hydraulic attachments on different job sites, the ZW150-6 has first speed dial and creep mode switches. In combination, they allow for the full adjustment of the maximum travelling speed in first gear (1 to 7 km/h), so the operator can apply higher rpm at low speeds for maximum hydraulic performance.