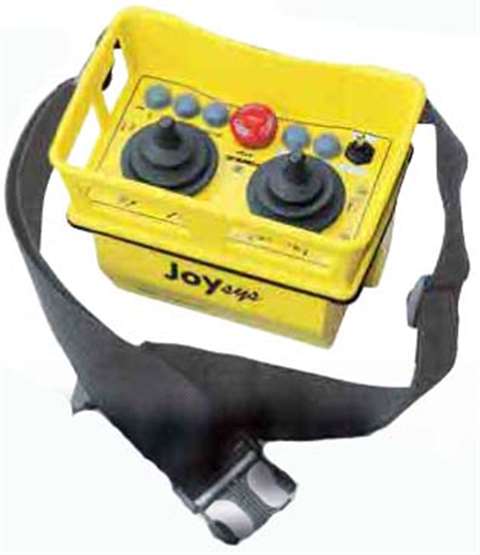 In the last 12 months many new products have continued to become available to crane n the last 12 months many newusers in the ever-developing remote control Isector. Product development centres aroundproductsproducing safer, smaller and lighter units with improved ergonomics.
New from Ravioli in Italy are the Joy and JoyPlus series, a new range of radio remote controls designed to meet requirements in several fields. They are available with two joysticks on one or two axes. Both have a high safety performance, claims Ravioli, due to a 48-bit identifying code key feature to ensure that a one-way communication system operates between the transmitter and its receiver. A series of feedback information from the radio command, including weight, radius, or working conditions, can be shown on an LCD display. In addition to the type for indoor use, one mounted in a water resistant box isavailable for useoutdoors.
In the US, Control Chief continues to develop its Advantage Series LJ45 wireless remote control transmitter. It is offered as a lightweight alternative to the existing TK6. The LJ45 transmitter has a moulded case design compatible with the MDR8400 and PLC-based receivers. The Company describes the LJ45 as a low-cost solution for Overhead crane control. It has up to five stepped or stepless functions.
"One benefit is it is 'user Control Chief spokesperson explains, "i.e., the crane does not have to be down while working on the system, a huge benefit for industry and operators."It has user replaceable relay cards and dedicated mainline control relays. Other benefits include a lithium-ion battery, prominent emergency stop and a single board design.
In unison
Also in the US, Cattron Group International is unveiling its Unity line of industrial radio remote controls. The company says it represents its first globally compatible product platform, with locally configured options to meet individual requirements. One of its first integrations will be the MKU controller/transmitter, which has a number of features, including a sealed elastomer keypad, integrated fall protection, a dual stop circuit, five multifunction LEDs for status and error indication, and a removable TransKey device containing pre-programmed system frequency, address and operating parameters. The case is an aluminium extrusion.
Also new from Cattron is the Remtron brand Safe-T-Stop (STS) that provides additional emergency control by allowing operators or supervisors to safely control and stop equipment from virtually any location. The STS system is available with optional UL913 certifications and some systems are IP66/67 rated for the harshest environments. There is a two year unconditional warranty, installation and operation is easy, it runs on standard AA batteries and has a 60 millisecond response time, Cattron says.
In addition, Cattron claims its Ergonomic Vest Harness provides greater worker comfort when used with most CGI (Cattron, Remtron, Vectran, Theimeg, SIAMtec) belly box type industrial radio remote controls, leading to increased worker productivity. It can also be used with other brands of controller.
Combinations
New from Ikusi in Spain is the 70 Mini range of transmitters and receivers, which can be combined as required. "This makes the new range very versatile, providing the ideal solution for a wide field of applications, fixed or mobile,"claims the manufacturer. The transmitters are powered by standard AA size alkaline batteries or by rechargeable AA size NiMH (nickel metal hydride) batteries.
Models in the Ikusi Mini range can be supplied with a generic keyboard (with a maximum of 10 functions with single stage buttons) and a hoisting device (maximum three movements with two stage or double speed, plus two anciliary single stage functions).
Receivers can be powered by direct current on mobile systems, or alternating current for fixed installations. The different models can have relays or pulse width modulation (PWM) outputs. Due to reduced size and low weight, the receivers can be used to control a wide range of mobile machinery and special applications, the manufacturer says.
Going for gold
Also from Spain is Itowa, which is using this to showcase a range of new radio remote controls. Winner is the name of a new transmitter with 16 double push buttons, two selectors and two lateral auxiliary transmitters. It is designed to meet the wide gamut of needs for remote controls in thecrane market.
Then there is the Tunner, which, says Itowa, "synthesises both the basic features of the remote control for cranes and multiple industrial applications."The Winner includes infrared security systems that allow the user to limit the performance zone of the equipment, and both have intelligent frequency change, detecting and selecting the most appropriate channel in the frequency band.
The new Mito from Elca in Italy was launched earlier this year. It is an industrial radio remote control unit with two, four or six channels.
There is an internal lithium battery, it has adjustable s ett i ngs an d b ot h transmitter and receiver are to IP67. Designed to work with recovery trucks, winches, small cranes and other industrial applications, it also includes the 'listen before trans eature that allows the system to automatically scan, find and lock onto a clear and available frequency at the press of the start button.
Extra features
Also from Italy, Autec says its new 10 button model is designed to add features to the established MK10 type by introducing a compact receiver with 12 commands (configurable up to 20). It has a switching power supply that makes the unit tolerant against voltage surge and allows a supply voltage range from 25 to 230 V AC. It is aimed at the industrial and building sectors.
Autec will launch its new modular Master/Slave system, at the Hannover Messe in Germany this month. The system is available either with an MK handset or MJ joystick.
New from HBC-radiomatic in Germany is the handheld Quadrix radio remote control transmitter for industrial cranes. Designed to control up to three two-stage drives via six reinforced two-stage push buttons, the unit has two extra buttons for additional functions, including 'crane.
Assuming two hours of use per day, Quadrix can operate for up to 20 days before its NiMH battery needs to be recharged, HBC said. The 330 gramme transmitter is designed for easy operation and, for example, for operators wearinggloves to be able to use it.
It has a 100 m range and a non-interruptible automatic frequency selector to prevent interference from nearby equipment. A locking impact switch is incorporated for safety The new two-way radio communication system Multidrive 2 from Olsbergs in Sweden is available in three models, MD2 Basic, MD2 BasicPlus and MD2-Display.
MD2 Basic features three menus, two with six proportional hydraulic functions and one with six on/off functions. MD2BasicPlus features all this, plus a two way communication between the operator and the crane.
The MD2-Display, meanwhile, in c l udes s ix m e n us with s ix proportional functions, with graphic symbols for each function designed to make it more straightforward for the operator to always select the correct function. The symbols are connected to the safety system and warns of overload, and slowing-sector for use day and night.