First 3D-printed bridge
By Thomas Allen01 November 2017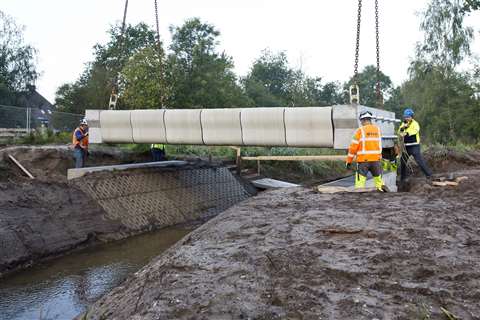 What was said to be the world's first 3D-printed bridge has opened to cyclists in the village of Gemert in the Netherlands.
As part of the Noord-Om road construction project – in which Dutch firm BAM infra has been commissioned to build a new section of ring road around the village – the 3D-printed bridge is 8m long, 3.5m wide and has a capacity of 5 tonnes.
The bridge was printed in sections at the Eindhoven University of Technology and then assembled on site. A steel reinforcement cable was added while laying a strip of concrete, acting as the equivalent of the reinforcement mesh used in conventional concrete.
Due to the fact that the printer can create any desired shape, it was said to offer greater flexibility of design than traditional formwork methods. It was also said to use less concrete, cutting both costs and carbon dioxide emissions.
The reinforced, pre-stressed concrete bridge will be used by hundreds of cyclists per day and has been designed to last at least 30 years.