First 6133 E in the Netherlands
By Christian Shelton04 August 2020
Netherlands-based crane sales and rental firm Gebri Handel & Verhuur has added to its rental fleet of around 35 cranes with the purchase of the first 6133 E crane in the country. The 6133 E is a 130 tonne capacity telescopic crawler crane from German manufacturer Sennebogen and is the largest telescopic crawler crane made by the company.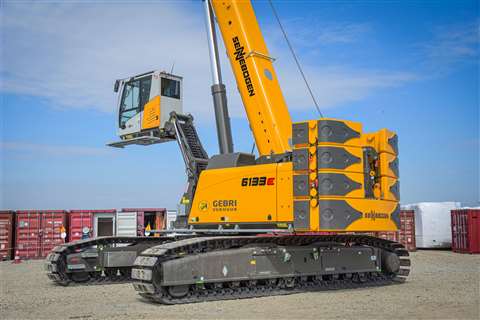 The crane is initially being used by lifting contractor BKV Kraanverhuurfor on a 15-week project constructing wind turbines in southern Holland. Specifically, the crane will move and lift tower sections. The towers are constructed as prefabricated concrete rings which are assembled on the ground and then placed in position. The elements weigh between 10 and 15 tonnes each and the complete ring weighs almost 50 tonnes. Sennebogen said the 6133 E's six-section boom, with its high lifting capacity and its maximum length of 52 metres, is well-suited to this type of work. An optional top boom means the crane can reach heights of almost 70 metres.
Good stability and manoeuvrability are provided by the tracks which extend to a width of 6.3 metres, said Sennebogen. For greater operator visibility Gebri Handel & Verhuur specified the Maxcab, which can be hydraulically raised by 2.7 m and tilted by 30° (instead of the standard 20°).
The crane was delivered in Gebri Handel & Verhuur's distinctive yellow livery by Sennebogen's Dutch distributor Van den Heuvel.
Sennebogen reports that it is seeing increasing demand for the heavyweight pick and carry functionality of its telescopic crawler cranes, particularly for precast concrete construction applications as well as in the industrial and special civil engineering sectors.