First job for LR 11000 in Romania
By Laura Hatton13 August 2014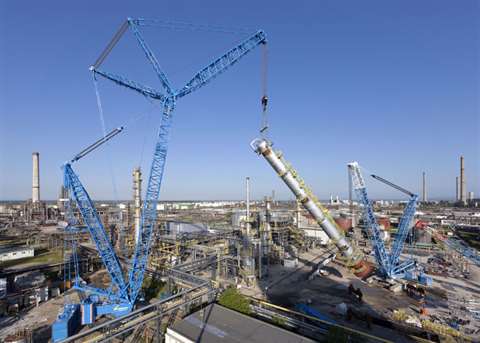 Crane service provider Felbermayr put its Liebherr LR 11000 crawler crane to work for the first time to help with the refurbishment of the Petrom refinery in Plojesti, near Bucharest, Romania.
Work for the 1,000 tonne capacity lattice boom machine includes replacing steel cylinders, the largest of which weighed 335 tonnes and measured 58 metres long with a diameter of 4 m. To carry out the lifts the crawler was confined to a working area of 35 by 35 m. In addition, all work had to be carried out whilst the plant was still in operation.
A Liebherr LTM 1250-6.1 wheeled mobile telescopic crane was used to set up the LR 11000. The crawler was configured with a 36 m luffing jib and derrick boom and 700 tonnes of counterweight.
To lift the first column, which had a total weight of 335 tonnes, an LR 1750 crawler crane was used at the foot of the column to raise and control it. Once the column was in an upright position, the LR 11000 lifted the column at a radius of 27.5 m. The gross weight of the column when lifted was 357 tonnes.
"To overcome the subsequent slewing process over a high pipe bridge the column initially had to be raised to a hook height of around 80 metres, the radius reduced and the crawler crane moved just a few metres," a spokesperson said. "Without reducing the radius of the suspended ballast pallet by around two metres to 13.5 metres, the guying rods and suspended ballast would not have got past the pipes and pillars."
The LR 11000 continued to work at the Romanian plant until the end of July, when the industrial plant was shut down for a general overhaul. During this shutdown Felbermayr brought a fleet of around 70 cranes to work on the factory site. Work for the crawler during this time included removing the old columns once the new ones had been connected.