First Liebherr crawler for Crane Service Inc
By Laura Hatton18 September 2015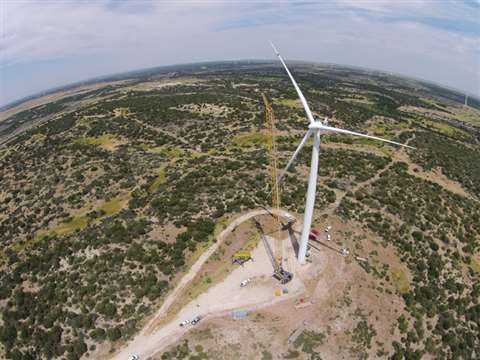 US crane rental company Crane Service Inc has taken delivery of a 300 tonne LR 1300 SX crawler crane.
The LR 1300 SX is fitted with carbon fibre components, including pendant links made from carbon fiber reinforced plastic (CFRP).
The crane will be mainly used for lifting jobs in the wind industry. It is the first Liebherr crawler in Crane Service Inc's fleet. With carbon fibre pendants, the crane is able to self-erect 86 metres of main boom and a 7 m heavy duty wind jib. In this configuration the LR 1300 SX is able to lift 75 tonnes at a radius of 15 m, the manufacturer said. Power comes from a 390 kW Liebherr diesel engine. It can be configured with 56 m of main boom and 113 m of luffing jib.
Bob Warianka, Crane Service Inc business development manager, said, "The LR 1300 SX is a highly versatile crawler crane. Furthermore, it offers a better capacity compared to other crawler cranes in the same tonnage class."
Bob Strohacker, Crane Service Inc Sweetwater Texas branch manager, said, "A key reason for purchasing the LR 1300 SX was the opportunity to upgrade the crane with CFRP pendant links. They further increase the lifting capacity of the crane, thus providing an even better lifting solution especially for operating in wind parks."
The first job for Crane Service Inc's new LR 1300 SX was at a wind park in Nolan, Texas. The crane was used for installing the rotors of five 80 m tall wind turbines. Each of the rotors weighed of 69 tonnes.