First on, last off
By Lindsey Anderson12 March 2019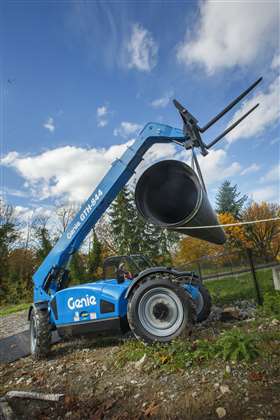 Proven workhorses. Swiss Army knives. Jack of all trades. These are just a few of the nicknames telehandlers have been given over the years. While these clichés often pop up during interviews and conversations, telehandlers hold true to their epithets; they are on the jobsite first and leave some of the last tracks behind. They can lift, place, rotate and traverse. And if you slap an attachment on the end of a tele's boom, it becomes even more versatile.
This could very well explain the market boom for these machines over the last handful of years. While the telehandler industry indeed took a hit during the slowdown in oil and gas, it rebounded strongly in 2018 and most expect it to stay the course.
"We continue to see strong market conditions for construction projects in North America," says Steve Kiskunas, telescopic handler product manager for Manitou Group. "This demand is strong for all major construction market segments: residential, industrial, commercial, bridges, roads, infrastructure and energy."
Kiskunas says equipment rental remains the primary use for telehandlers, with units then going into a multitude of applications.
"Rental customers use telescopic handlers mainly for housing, residential, commercial and government construction projects," Kiskunas says. "For residential markets, both single- and multi-family housing starts continue to grow, rebounding from the drop in 2008. Overall housing has moved from a surplus to a shortage. Along with the need for more housing, the workforce labor shortage has placed more demand on labor-saving equipment solutions for construction projects, such as telescopic handlers. The rapid growth in new energy projects has also increased the demand for telescopic handlers in support of those projects."
For the Manitou Group, which includes Gehl and Mustang, the 10,000-pound, 55-foot lift capacity telehandler has had the highest rate of growth in the last 12 months.
"This size machine is the right combination of capacity and lifting height for the majority of multifamily residential and commercial construction projects," Kiskunas notes. "We have high demand for this machine in rental fleets based on customer utilization/demand. We offer the Gehl RS10-55 GEN:3 which fits into this category. It has a rated lift capacity of 10,000 pounds, maximum lift height of 55 feet, 1 inch and forward reach of 41 feet, 2 inches. It is equipped with a 120 hp engine and features a single joystick to control all boom functions as well as F-N-R."
The Gehl DL GEN:3 Series, launched in August 2018, are powered with a 120-hp Tier IV Cummins QSF 3.8L engine and Dana 4-speed power shift transmission. Four-wheel drive is a standard feature with operator selectable four-wheel, two-wheel and crab steering.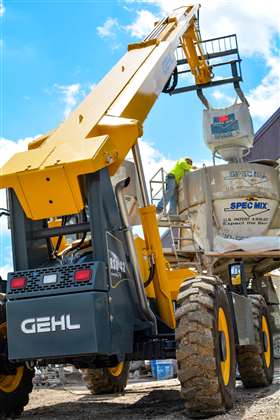 The sweet spot
The 10,000- to 12,000-pound capacity market definitely hits the high notes for most manufacturers.
Rebecca Yates, tehandler product manager, JCB North America, says the company's 10,000- to 12,000-pound class is showing "strong potential for growth as the versatility of larger telehandlers on bigger jobsites becomes more widely appreciated, and the machines are employed in more diverse applications. This class of telehandler is most often used in larger construction projects, but we are seeing strong interest—and growth potential—in new market segments such as waste and recycling and the energy sector."
Yates says one of the more notable changes in the telehandler market is the range of machines available.
"JCB has been a leader in this trend and has continued to expand its telehandler range over the past year," Yates explains. "Notable JCB model releases include the 510-42—a machine with 10,000-pound capacity that requires no outriggers—and the 512-56—the world's only 12,000-pound telehandler that requires no DPF, no DEF and no engine aftertreatment."
Genie says the popularity of its GTH-1056 and GTH-1256 telehandlers has surged, specifically in the energy segment. However, its most popular telehandler model by volume is the 5,500-pound, 19-foot lift height GTH-5519.
"This machine was a pioneer in the North American market and continues to set the standard for compact telehandlers," says Josh Taylor, Genie product manager, Terex AWP. "Thanks to the machine's versatility, easy transport and low acquisition cost, the Genie GTH-5519 telehandler provides excellent ROI to rental companies of all sizes."
In 2018, Genie incorporated several improvements into its mid-size telehandler products, which includes the Genie GTH-636, GTH-844, and GTH-1056 models. The most significant change, Taylor says, is all-new multi-function joystick that allows the operator to use any combination of raise/lower, extend/retract and fork tilt simultaneously.
"This fully proportional system gives the operator an unparalleled level of fine control while performing lifting functions," Taylor notes. "The joystick also incorporates control of the auxiliary hydraulic circuit, so the operator can operate auxiliary functions like carriage rotate or side-shift without removing their hand from the controls."
For the coming year, Taylor says Genie is focused on providing solutions that supplement diverse applications and jobsite safety.
"We will be expanding our offerings of tire types to fit a wider range of rental applications," he says. "We will start offering a positive air shutoff system, which is required in some oilfield applications, as well expanding our offering of backup cameras for enhanced object detection on any jobsite."
Xtreme Manufacturing's 12k telehandler is also a hot-selling unit for the company; it is the most popular machine in quantity of sales, the company says.
"The 12,000-pound maximum capacity with 55 feet of maximum reach is heavily populated within rental and end user fleets throughout North America," says Matthew Elvin, CEO of Xtreme Manufacturing. "End users have experience when renting and choose to purchase the machine that their operators have been trained on as well as had the most field experience operating."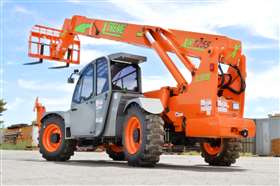 Elvin says the biggest trend the company is seeing with telehandlers is the demand for more work with lower horsepower engines.
"Utilizing lower horsepower engines in certain applications helps machines come in below the requirement where diesel exhaust fluid is required," Elvin says. "There are a growing number of transmission options which help to retain performance as much as possible when using lower output engines."
Manitou released four new MARK 74 models all featuring 74-hp Tier IV final engines, which addresses lower horsepower. These engines eliminate the need for DFP regeneration of DEF exhaust maintenance. The Gehl Mark74 Series includes four models, the RS6-42, RS8-42, RS8-44 and RS10-55, all available with 74hp power. The Mark74 Series provides a range of maximum lift capacities from 6,600 to 10,000 pounds and lift heights from 42 feet to 55 feet, 1 inch.
While the competition between capacity classes is quite close for Skyjack, the company says its largest demand from within the rental industry is for 10,000-pound-capacity machines. Skyjack offers two machines that fall within this category, the SJ1044 TH and SJ1056 TH, which both have a lift capacity of 10,000 pounds and bring materials to maximum heights of 44 feet, 3 inches and 56 feet, 3 inches, respectively.
"Between the two machines, the SJ1056 TH has proven to be the one telehandler that all rental stores make sure to have in their inventory," says Braden Spence, product manager for Skyjack. "Being a true pick-and-place machine, the SJ1056 TH features an industry-leading load chart allowing the operator to lift 6,000 pounds to 56 feet, 3 inches and 3,000 pounds to 42 feet, 6 inches forward reach, all with outriggers down. The 10,000-pound category class has proven the test of time and has continued to be the most popular telehandler capacity class in the North American market."
Skyjack recently introduced its new ECOSHIFT mechanical continuously variable transmission option in 2018. The ECOSHIFT features an infinite number of gear ratios, providing operators with an intuitive and smooth drive performance eliminating the requirement to manually select gear ratios. ECOSHIFT automatically adjusts to working conditions as it maintains the engine at its most efficient RPM resulting in increased tractive efforts, decreased fuel consumption and greatly reduces wear associated with inappropriate gear selection by the operator. ECOSHIFT is available for Skyjack's current SJ643 TH, SJ843 TH, SJ1044 TH, SJ1056 TH and SJ1256 THS telehandlers.
Innovation
Pettibone says while the 8k to 9k lifting capacity models remain strong, the 10k to 12k segment is currently the most popular in the U.S. market.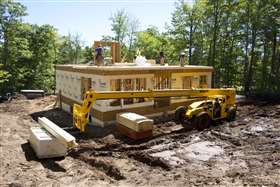 "This is due to a few different factors including an increase in oil and gas production, greater ROI for rental houses and a changing trend of building techniques that require greater lifting capacities," says Mitch Fedie, marketing manager for Pettibone.
To address this, Pettibone will debut four new 12k models at World of Concrete 2019. The new X-Series models follow Pettibone's redesigned 9K telehandler line, which were debuted in 2018. The new products focus heavily on increased sightlines, easy service and maintenance, while keeping Pettibone's tried-and-true hydraulic performance, Fedie says. Pettibone has also reintroduced its Traverse model that allows the operator to traverse the entire load forward up to 70 inches without having to coordinate multiple hydraulic functions.
Fedie says innovation in the market has been geared toward the addition of safety devices such as cameras and object detection to assist in alleviating blind spots on equipment. The X-Series is available with the added rear-view camera, as well as new developments to add cameras at the fork carriage to provide greater visibility to payload landing zones.
Over the last 12 months Manitou Group released the Generation:3 joystick control for the company's DL models. The new joystick control features proportional control for the boom functions with drive and speed control all in one location. These controls are also available on the RS line of Gehl telescopic handlers.
Mike Peterson, Cat telehandler product application specialist, says the biggest engineering advancements that have occurred on telehandlers over the last 12 months are proximity sensors and rear cameras.
The company has experienced significant year-over-year growth, with the 10,000-pound size class experiencing the largest volume increase at nearly 40 percent increase over the previous year.
"The biggest trend is certainly the significant overall growth in the industry which is on path towards the highest it has been in at least 10 years," Peterson says.
Elvin echoes the sentiment. "The demand for telehandlers increases year-over-year and we expect this trend to continue in 2019. New jobsites, new rental businesses and end-user older-fleet replacement are all contributing factors when considering what impacts telehandler demand."
Over the next 12 months, Xtreme Manufacturing will offer more options for coordinated motion (true vertical or horizontal motion) and a factory-installed load management system to its machines.
"Market conditions are changing," Elvin explains. "The future regulations may require telehandlers to have systems such as load management systems (LMS) that measure the weight of the load versus the maximum capacity of the telehandler."
For example, the LMS would recognize the load is too heavy and not let the operator proceed without removing the excess weight. Another consideration for future telehandler manufacturing is the use of an enable system, Elvin says.
"Many aerial machines already have such systems where the operator would have to push, pull or touch a lever or button to bring power to the joystick to operate the machine," he says. "Our new-era telehandlers have this system already. You must squeeze the trigger located on the joystick before you can operate the telehandler."
Elvin also notes that one of the biggest attributes that sets Xtreme apart from other telehandler brands is the use of roller booms. Xtreme telehandlers are equipped with load-bearing, long-life boom rollers in place of wear pads to allow for smoother boom operation.
"They require very little maintenance and have been shown to last in excess of 10,000 work hours with very little visible wear," he says. "The boom rollers contribute to operator confidence by eliminating boom chatter, while the low maintenance and long-life attributes appeal to companies by lowering costs and improving the telehandler's residual value.
"Xtreme roller boom telehandlers also feature proportional valves that deliver 'joystick feather ability' providing the operator with greater control when placing heavy loads in challenging locations," Elvin says.
JLG says a trend it continues to see is a focus on operator confidence, operator comfort and machine versatility.
"[We] are addressing these trends by offering features that enhance the operator experience such as a spacious cab, a reverse sensing system and reverse camera," says John Boehme III, JLG's senior product manager. "Technologies that help provide operators with a greater level of confidence and awareness are being requested more frequently.
"For example, the JLG 1644 and 1732 telehandlers are the first telehandlers in North America available with optional SmartLoad Technology, a bundle of three integrated technologies that work together to deliver a greater level of operator confidence. Requests for technologies that deliver a greater level of operator confidence are growing in all markets."
Boehme says the market also continues to be focused on return on investment (ROI) as defined not only by acquisition costs, but the total cost of the product over its lifetime.
"Rental company owners and owner/operators are paying more attention to the versatility of each piece of equipment, the productivity gains the telehandler can provide and the costs after the sale," he says. "With the importance of ROI growing, telematics are also on a rapid growth path. The ClearSky fleet management telematics solution from JLG provides equipment owners and operators access to critical engine and equipment operational data so they can make better decisions on their investment. Data points, including location, engine hours, usage, fuel and battery levels, and maintenance schedules, are conveniently available in real-time and accessible from desktop or mobile devices. The system also monitors fault codes and other critical alerts."
Rotating and fixed
Over at Magni Telescopic Handlers, 13,000- and 17,600-pound capacity machines are the most popular, says Vice President Gary Weisman. Magni offers both rotating and fixed telehandler models.
"The RTH 8.25 SH model has a lifting capacity of 17,600 pounds and a maximum lifting height of 81 feet," Weisman notes. "Also impressive is that this machine can lift 11,000 pounds at the maximum lift height of 81 feet."
Magni also introduced an XL Touch Screen which is a 10-inch touch display. This will provide an enhanced view of the load charts (LMI) and all other functionality. In addition, the software used to make updates is faster and easier to use.
"The whole idea of utilizing equipment to perform work is to be more efficient and increase profits," Weisman says. "The idea that with a Magni contractors are more profitable than they ever thought they could be is validated every day by our customers."
Weisman says Magni continues to invest in product innovation and enhancements. The company is also looking at the feasibility of engineering new models with expanded capacities.
"We expect the market [next year] to be very strong," Weisman says. "There continues to be a backlog of construction projects and the market's recognition of rotating telehandlers from Magni is growing daily."
Smaller stature
As many have stated, telehandlers are a smart choice because of their versatility, exceptional reach and lift capacity in many applications. But for Bobcat Company, compact models provide more flexibility when working in tight spaces, as well as open areas without stepping up to a larger machine, says Jason Boerger, marketing manager for the company.
"Telehandlers continue to improve as it relates to technology and what is available for these machines," Boerger says. "Bobcat Company has many new features it has added to the V723 model including a Smart Handling System (SHS). The SHS combines productivity and precision, allowing operators to set the boom speed for lifting, telescoping and tilting, adapting the machine to the work being done. It's ideal for achieving precise boom motion when jobs demand high-rpm performance."
Bobcat offers more than 15 available attachments for its telehandlers, which Boerger says "is something that makes Bobcat telehandlers ideal for many applications."
Skyjack says it has also experienced an increased demand for compact units.
"Operators are continuing to utilize the compact telehandler for a wide range of applications as a result of its versatility through the use of attachments and its ability to maneuver easily around jobsite debris and tight corners," Spence says. "To address the high demand for the compact telehandler, Skyjack launched the SJ519 TH."
Skyjack's SJ519 TH offers a skid steer attachment adaptor plate option which allows the operator to use a wide range of skid steer attachments with an auxiliary flow of up to 18GPM. Additionally, the small stature of the compact telehandler means operators have increased maneuverability onsite and can contribute to various tasks that traditional telehandlers cannot, Spence notes.
"New opportunities for telehandlers will stem from displacing the need for other equipment lines. For instance, with auxiliary hydraulics up to 18GPM, a skid steer attachment adaptor plate option, and a small machine footprint, Skyjack's SJ519 TH can potentially displace the need for a skid steer," he says. "Additionally, Skyjack's ZB2044 telehandler provides optional equipment to help transform itself to be even more adaptable to certain job sites – even displacing the need for other equipment lines such as rough terrain cranes, front end loaders and excavators."
Manitou also sees a growing opportunity for sub-compact telehandlers, Kiskunas says.
"The sub-compact units are smaller in overall size than the current compact-sized telescopic handlers," Kiskunas explains. "While they have a smaller overall size, they still are able to perform most material tasks with palletized loads. These units open up a new opportunity to use labor saving equipment in confined spaces that have low overhead or narrow width requirements."
Gehl will soon launch the RS4-14 sub-compact telescopic handler, which generated a "great deal of interest" when previewed at Manitou's dealer meeting in 2018.
As we look forward into 2019, most everyone ALH spoke with expressed a positive outlook for the telehandler market. The industry can anticipate the telehandler market to be positively affected by the continued strength in the construction industry. Additionally, with rental houses and end users becoming increasingly aware of the telehandler's versatility beyond just a pick-and-place machine, this will continue to contribute to this equipment's growth.
However, since we started with clichés, we can very well end on one: no one has a crystal ball to predict the future