First order for Dorman Long Mega-Transporter
By Alex Dahm16 September 2015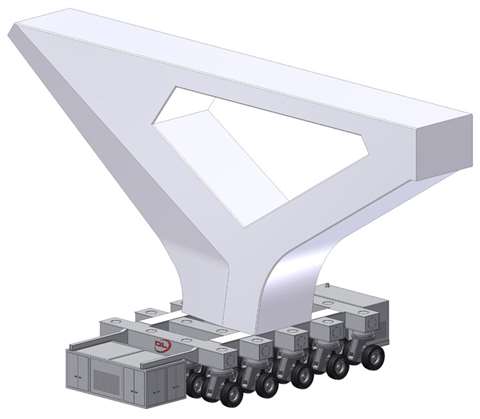 Dorman Long Technology in the UK has won the first order for its new Mega-Transporter which has a capacity of 160 tonnes per axle line.
It will be used on the New Champlain Corridor bridge project in Montreal, Canada. Working in the project casting yard it will carry precast concrete bridge elements weighing up to 1,000 tonnes and standing as tall as 11.5 metres.
The Canadian project's contract value is undisclosed but each axle line (4 wheels) costs between US$130,000 and $160,000 depending on configuration, David Dyer, Dorman Long Technology Equipment Ltd managing director, told IC. The equipment is designed as a compact alternative to conventional self propelled modular transporter (SPMT), Dyer said. It is for off road applications where space to manoeuvre is at a premium.
Shipping is in standard open top containers and the units are then bolted together on site. Other potential applications include, offshore construction yards, shipyards, mining companies and heavy steel fabrication centres. David Dyer said, "We are also marketing to the global transport companies who may also come across projects where their standard fleet of SPMTs are not suitable."
The Mega-Transporter is a grid of 80 tonne capacity, 2-wheel suspension points so the 160 tonnes capacity is per 4-wheel axle line. Typical spacing for the 2 wheel units is 2.2 m, longitudinally and transversely. Other arrangements can be specified to suit individual projects. In theory there is no limit to the number of lines that can be combined and used together, Dyer said. "We are not planning to standardise the system into modular units of set numbers of axle lines or file widths." It is all be connected together with a fixed or modular steel structure and central control of multiple separate transporters is possible, Dyer continued.
Steering modes include diagonal (crab) and carousel. A double hydraulic/pneumatic braking system is used. Maximum travel speeds are 5 km/h loaded and up to 10 km/h unloaded.
Most parts of the approach viaduct foundations and piers on the New Champlain Corridor bridge project will be manufactured in a narrow casting yard built on reclaimed land. Next they will be transported to a loading point at one end of the yard for transfer to a floating crane. Casting beds are in multiple locations around the yard at transport distances of up to 450 m between them and the loading point. The client needed a transport solution that would be as fast, flexible and reliable as an SPMT, but far more compact, Dorman Long said.
For the Canadian bridge project which is a flat site there will be 300 mm of suspension travel (150 mm each way from centre) but this can be customised. The hydraulic self levelling suspension has a central monitoring and control system. Dorman Long worked with an aerospace tyre manufacturer in the UK on a suitable 40 tonne capacity tyre. The wheel hubs are purpose-designed for this application and the rest of the drive is standard Bosch-Rexroth hydraulic drive components, Dyer explained.
"The hydraulic circuits, steel structure, electrical and control systems are all designed by us in our UK and China engineering offices. The Mega-Transporter will be manufactured in China by our subsidiary company in Shanghai where we have been manufacturing all of our equipment since 2006. Design and manufacture is to European standards and most components are sourced from European manufacturers. Like all our equipment, it will be a European product made in China." Dyer continued.
Power options are an integrated diesel power unit or an electric drive. The latter uses a locally-sourced site generator to comply with the local emission regulations where it is operating. Either a central wireless control or a driver cabin can be specified. Delivery of the first unit is due in January 2016. It will be subjected to static load testing at 125% of maximum capacity and a full dynamic test at 110 %.