First Platform Basket for MBS
By Euan Youdale19 September 2018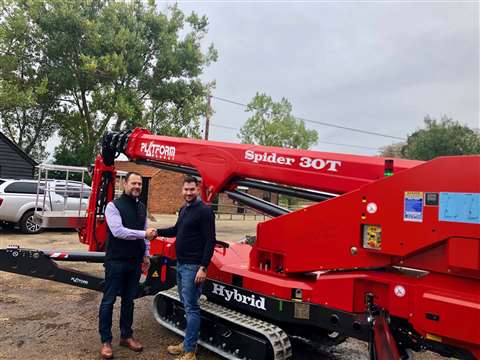 MBS Access has purchased the first 30m Platform Basket 30T in the UK from local distributor Promax Access.
Adding to MBS's fleet of more than 30 tracked platforms, the 30T hybrid - which features a lithium battery and Kubota diesel engine - has a five section straight telescopic boom with articulating jib giving a 30.3m maximum working height, 14.2m maximum outreach and 230kg capacity with fully automatic working envelope monitoring. When set-up with the outriggers in the narrow position, it has a maximum outreach of 18.5m over the front or rear of the machine with 136kg in the basket.
"The 30T is an amazing machine and a real game changer in the 30m tracked spider market," said Ben Dobson of MBS Access. "We decided to purchase the 30T because of its innovative overall size and ability to go through doorways less than one metre wide. Also being fully hybrid we can use the lift indoors with a simple flick of a switch. The guys at Promax did a lot of research into the machine on our behalf to ensure it was what we and our customers needed."
The lift is compact with a stowed width of 890mm and 1.96m height and length of 6.52m. For extra stability when travelling the tracks can be extended to 1,290mm wide. Given its performance the 30T is also lightweight at 4,250kg.
Standard features of the 30T include high lift outriggers - giving a maximum clearance of 1,215mm - which allow the lift to self load/unload onto a truck. The variable position outriggers include asymmetric set-up, automatic levelling and stowage. The radio remote control has a two speed drive, automatic recovery and machine self-diagnostics. The 1.8 x 0.8m quick detachable, lightweight basket has outlets for air, water and 110v/230v electrics.
Options include remote diagnostics and fleet management software, non-marking tracks, wind speed monitor and lithium battery pack giving longer working times.