First Raimondi crane erected in Albania
By Christian Shelton30 May 2017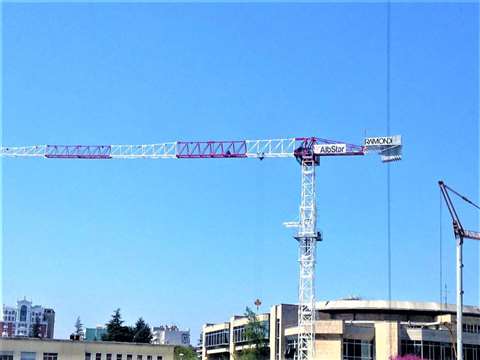 Italian crane manufacturer Raimondi Cranes erected one of its cranes to help build the new Tirana National Arena in Albania. It is the first time one of its cranes has been used in the country, the company said.
The Raimondi MRT152 tower crane, with an under-hook height of 57 metres is helping to build the arena also known as the Arena Kombetare. The high-profile project covers 36,000 square metres. It will replace the country's Qemal Stafa stadium. The new arena will have the capacity to hold 22,000 people and the project is costing an estimated Euro 50 million. It is a public private partnership (PPP) project that is being carried out by construction company AlbStar. It is expected to take around three years.
Raimondi said it overcame a number of challenges on the jobsite. "One of the challenges was that a crane with high load capacity and high freestanding height was required but, due to the ground configuration, we were requested to minimise the dimension of the plinth," explained Domenico Ciano, technical director, Raimondi Cranes. "We worked on the plinth design to reduce its dimensions while respecting the rules and maintaining the correct safety margin."
A second challenge was that the building shape and architecture required a specific design with tailor-made climbing solutions, together with a strictly-controlled timeline. The site, due to its proximity to Tirana's main street, required a quick erection turnaround.
"The crane installation was time-sensitive, as we wanted to minimise the inconveniences associated with road closure," said Ciano. "Fortunately, all of our new cranes are designed to be quickly and seamlessly installed. We studied specific installation sequences to help our technicians plan the full job with safety and timelines top of mind."
Ciano added that different solutions with respective models were analysed before the MRT152 was chosen as best fit-for-purpose. "While the client had initially requested the Raimondi MRT111, after careful consideration of the jobsite drawings we recommended the MRT152," he explained.
"Paola Zattarin, Raimondi's export sales manager, supported the customer for all commercial aspects, including transport and customs, while our team of engineers and I supported the customer with a study of the jobsite, and by providing technical documentation for the installation with the plinth design, bracing design, and installation sequences. Finally, though our technicians, we supported the customer for the actual crane erection and commissioning," Ciano concluded.