First time job in Turkey
By Alex Dahm04 February 2019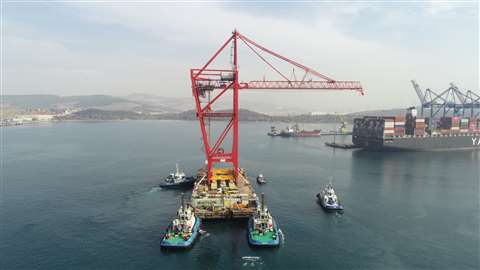 Lifting and moving specialist Hareket Load Engineering and Project Transport, transported a large ship to shore container crane 600 metres by sea in a load in and load out operation. It was a first for this type of work in Turkey, Hareket claimed.
The crane was 90 m tall and weighed 1,840 tonnes as shipped. It left Batilimana in Aliağa and travelled with some parts removed. Those parts weighing up to 110 tonnes and measuring 70 m long carried with the vessel were offloaded with the help of a mobile crane and moved to the storage area.
Installation of the crane and its parts was done using a 600 tonne capacity Terex CC 2800 lattice boom crawler crane. It was rigged with an 84 + 12 m boom and jib. A 300 tonne capacity CC 1800 crawler crane was also rigged with an 84 m boom. The other two cranes on the project were a 200 tonne Liebherr LTM 1200 and a 120 tonne capacity LTM 1120.
The heaviest part of the STS crane was 100 tonnes, lifted to a height of 58 m. The assembled crane stood at 90 m and weighed 2,000 tonnes. It was carried on 2 x 26 axle lines and 1 of 22 lines, for a total of 74 axle lines. It took about eight hours to cover the necessary 600 m distance before being loaded on to the pontoon the next morning. Trailers then carried the crane to a private port.
Samet Gürsu, Hareket project operation director, said the imbalance in the centre of gravity made their work more difficult because of the narrow foot spacing of the STS crane. A team of 30 people worked on the project.