First Volvo FM LNG in the UK
By Christian Shelton13 April 2018
Vehicle manufacturer Volvo Trucks has said it is intensifying its development of gas-powered trucks for heavy, regional and long-haul operations with the introduction of its first FM LNG vehicle in the UK.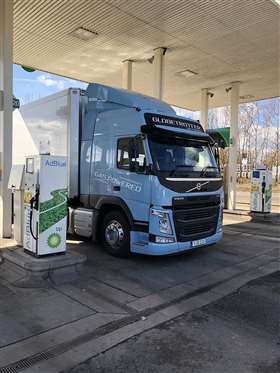 The new Volvo FM LNG is a gas-powered truck with a powertrain based on Volvo's conventional diesel engine technology. According to Volvo, by using liquefied natural gas (LNG), CO2 emissions can be significantly reduced when compared to a regular Volvo FM truck. The company said the use of LNG also dramatically reduces other dangerous particulates, like NOx and SOx.
The Volvo FM LNG filled up with gas at a liquefied natural gas facility at Donington Park Services – one of seven facilities in the UK run by gas provider Calor.
According to Volvo, the new FM LNG is far quieter than a conventional diesel FM, so it can operate for longer in areas where noise restrictions might apply. This is often an issue when HGVs need to deliver to supermarkets located near residential areas, or city centres that impose regulations on traffic and noise levels, Volvo said.
LNG is created by cooling natural gas to a temperature of around -162°C when the gas liquefies and reduces in volume to a colourless, odourless liquid fuel. Volvo said that this quality ensures LNG is easy to store and makes it ideally suited to fuel regional and long-haul HGVs.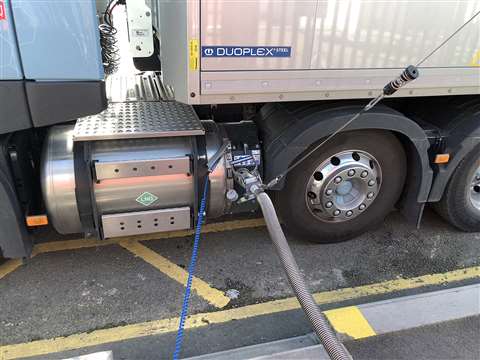 In liquid form, it is possible to carry larger quantities of fuel and thus ensure the necessary operating range for long-haul transportation. However, because both natural gas and biogas consist largely of methane - a potent greenhouse gas – Volvo said it is particularly important to minimise the risk of gas leakage during transport, refuelling and operation of the vehicle.
Martin Tomlinson, head of product demonstration at Volvo Group Trucks, commented, "LNG is the fuel that is best positioned to quickly become a competitive and globally available alternative to diesel. The development of our new FM LNG truck is the result of our commitment to transportation that is sustainable in the long term, through energy efficient, competitive and future-proof solutions with a low climate and environmental impact."