Five Haulotte platforms work against the tide
By Lindsey Anderson31 July 2008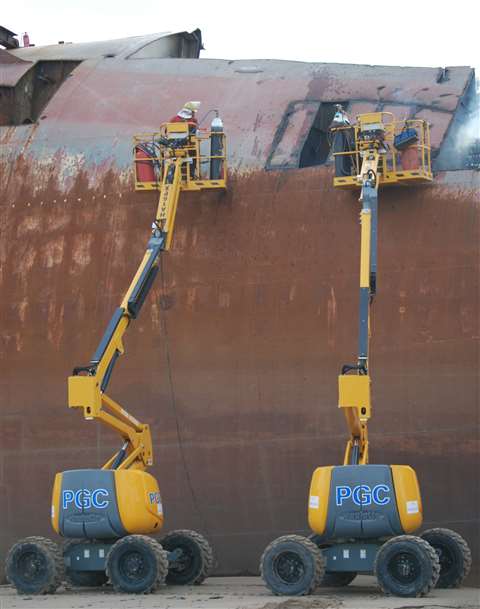 PGC Demolition, a UK-based contractor, recently brought in a bevy of Haulotte HA 16 PX platforms to unearth and remove a ship that is lodged on its side roughly 9 feet deep into the sand. The five HA 16 PX platforms chopping away at 'The Riverdance' ship are 7-ton units with maximum working heights of 53 feet. The lifts have a maximum outreach of 30 feet and are four-wheel-drive equipped with a gradeability of 50 percent.
The ship, a 6,000-ton roll-on/off ferry, was beached during a severe storm this year on the Lancashire coast and can only be accessed at low tide due to its location almost 1,000 feet from shore. Because of the tricky tide situation, all the equipment must be driven out and back according to the tide timetable.
"The tide comes in very quickly, but we need to spend as much time working as possible, so speed of travel and reliability are critical," said Peter Cordwell, managing director of PGC Demolition. "We cannot risk machines being trapped. There is also a steep ramp providing access to the beach, so all machines have to have good gradeability. The Haulotte platforms meet these criteria and have proven their reliability. They are doing everything we expected without any problems. This is a harsh environment and tough on men and machine."
The project, which started in April 2008 and is expected to be wrapped up by October 2008, includes cutting the steel hull into one to two-ton pieces before being lowered into an articulated dump truck by a heavy-duty tracked excavator.
"The Haulotte machines, with their articulating booms and telescopic extension, allow the operator to reach a large area without having to travel," Cordell said. "And, although working on sand, they have also proved extremely stable, even when used to their maximum height."