Five key global construction equipment trends
By Lewis Tyler29 September 2022
Boosted by a positive 2021, optimism for the construction equipment sector was high going into 2022. However, while many markets saw record growth last year, 2022 has presented manufacturers with several challenges, such as supply chain issues and increased fuel prices.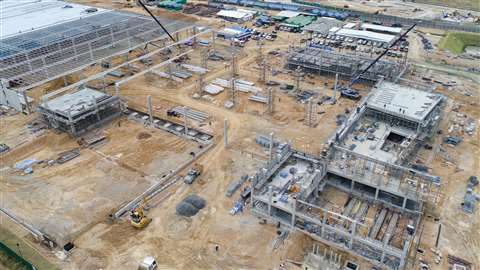 Some regions have been more impacted than others, and as such downturn in growth and sales, which perhaps wouldn't have been expected at the start of the year, has been predicted in many areas by Off-Highway Research in its report on the sector.
With that in mind, here are five key findings from the report.
Global construction equipment sales predicted to decline for 2022
Despite the pandemic, 2020 to 2021 saw a period of growth for the construction equipment sector, with sales hitting a record 1.29 million units in 2021.
The Off-Highway Research report puts this down to the proactiveness of the construction industry in getting back to work following lockdowns, low interest rates and government spending.
However, growth in 2022 has not been maintained, in fact, the report forecasts a 7% decline in global equipment sales for this year.
The report also highlights the potential impact of the war in Ukraine and rising interest rates as something that could see further decline for equipment sales in the future.
Peak sales for developed equipment markets to continue
Russia's invasion of Ukraine has also caused some uncertainty in developed equipment markets. Many international manufacturers in the country withdrew earlier this year, while it has also caused supply chain issues for many industries, construction included.
Despite this, demand for equipment in established markets has continued in 2022, according to the report, and will likely do so into 2023 despite some uncertainty due to inflation.
For Europe and North America in particular, growth is expected to continue until the early months of 2023.
The impact of Covid on the Chinese construction equipment sector
While almost every industry was in some way impacted by the pandemic, the last two years has seen a sustained period of recovery, particularly for construction.
However, China, and the Chinese construction equipment market saw perhaps the biggest impact this year as lockdowns in the country brought on by rising cases meant the economy took a significant hit.
The report also highlights the Evergrande liquidity crisis, which has resulted in less demand for residential construction projects, as a major factor in a decline in equipment sales.
Record sales for emerging construction markets
According to the report, an increase in commodity prices will result in a record year for equipment sales in emerging markets.
Off-Highway Research believe this is the result of several factors, including the war in Ukraine which has seen consumers look elsewhere, such as Australia, for commodities like coal and liquefied natural gas.
Despite the upturn in sales, the report also predicts a decline for emerging equipment markets in 2023.
'Soft landing' predicted for construction equipment sales in 2023
Having seen record sales last year, it is perhaps no surprise that equipment sales will decline in the coming years, especially when taking into account events that were unpredictable and unavoidable.
This, alongside inflation and rising interest rates could see further decline in the equipment sector for 2023 and 2024.
However, the report does point out that over the medium term, global equipment sales are expected to stay above 1 million units per year.
The full report into the global construction equipment sector is available in the Global Construction Guide 2022. Read more here for other reports published by Off-Highway Research.