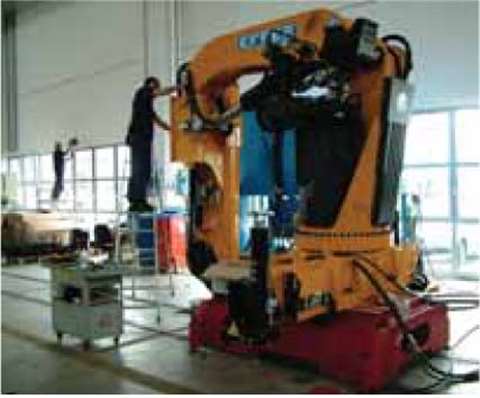 As the Italian economy slows many of the country's crane manufacturers are setting their sights firmly on international markets. While the crane market has become flat, it remains at a high level, with domestic sales still strong and a demand for new and larger products.
Fassi is a leading truck mounted knuckle boom manufacturer in the country. Owner Giovanni Fassi says the Italian crane market is now flat but that has not stopped the company purchasing two new facilities this year, showing its commitment to keeping all production in the country.
Despite the country's GDP rising less than the EU average, up 2.3% in the first quarter of this year compared to the same period in 2006, Fassi says, "I would still like to have this market at-2% because, it's fantastic."
Fassi's sales are favourable compared to previous downturns in the market. A 1993 market crash saw the company's domestic sales reduced to 400 units that year, while a housing dip in 2002 led to sales of 1,300. This year sales are forecast to reach 1,700 units. "All manufacturers have increased their sales in the domestic market mainly due to the government's investment in high speed rail links and motorways, many of which are coming to fruition," Fassi comments.
Fassi says exports account for around 80% of the company's production. But the worldwide construction boom also means Italian manufacturers, like their international competitors, are unable to supply enough new cranes to meet the demand for their products. This, Fassi fears, is playing into the hands of small companies that produce very few cranes a year. "Small companies have a better turnaround time. A 20% increase for them might be two cranes, so they can supply more quickly."
Meeting demand
Fassi explains how companies, unable to deliver products until mid 2008, may find that potential customers choose a small company that can. This has resulted in the birth of more new companies, rather than consolidation. "What is actually happening is the opposite to consolidation; new companies are still opening. It is much easier to buy a company that is collapsing, but no one is collapsing at the moment. If you can afford to invest money then you would be better to invest it in your own company."
The situation is exacerbated by the plethora of companies that sub-contract all their production work, Fassi adds. "You do not have this situation in France or Germany. They do not have sub contractors. That is why it is so competitive in Italy.
"You could buy up all the companies in Italy and those people could then set up their own compy with very little effort."
Fassi is extending its Evolution automated control system to all of its small to medium range models and above, at no extra expense to the customer, Fassi says.
Evolution features the Fassi ADC (Automated Dynamic Control) system that controls the crane speed relative to the load and eliminates undesirable load bouncing. It also includes the XF extra fast system, which is an oil regeneration valve that increases jib extension speed.
Fassi says the continuous rotation feature on the Evolution cranes is ideal for machinery removal applications when rear mounted, especially as there is no reduction in crane slewing torque up to an angle of five degrees.
Fassi hopes that the Evolution system will be able to control more crane functions in the future, for example, setting outriggers and giving increased speed but, before that can happen, Fassi says that hydraulic technology has to be developed to effectively handle the additional electronic equipment.
Technological improvements will continue with the addition of further robots at Fassi's Carmo production line, carrying out automated welding and laser cutting. Ultimately, the automated production line will reduce labour costs, "and that is why we will be able to stay in Italy," Fassi explains.
Wider appeal
Fassi also sees his products taking on all terrain cranes and crawler cranes in the 70 to 100 tonne capacity range. "Knuckle boom is becoming more and more flexible and can compete more with mobile cranes and heavy lifting equipment."
Fellow knuckle boom manufacturer Effer is also riding the flat market and this year opened its state-of-the art Minerbio 3 manufacturing plant in Bologna, north Italy. (See News.)The new factory will concentrate on larger cranes up to 150 tonnemetres, including the two new models in the 110 to 130 tonne-metre range; both of which will be launched at October's SAIE 2007 exhibition in Bologna.
According to Effer its large range models, the 1750L, 2200 and 2750 are the largest truck mountable articulating cranes available in the world.
In 2005 Effer was taken over by the CTE group and has since reasserted itself in the market, reestablishing links with suppliers and distributors. By 2006 the company says it was producing 1,485 units a year, which is set to rise to over 2,000 by then end of 2007, the manufacturer forecasts. The aim is to exceed 3,000 units in 2008 and, ultimately, reach 3,300 units a year.
In May Sol Ge SpA, owner of Effer, Effer Marine and Bizzocchi, released its first annual financial report, for 2006, showing total revenue of €44.7million (US$60 million); a 55% increase on 2005, ten months of which was under the company's previous owner Effer Holding.
Strong demand from Europe and the US in the first quarter of 2007 contributed to the resurgence of the company, which was also recognised at UK construction show SED in May, when the Effer 305 model won the SED Award for Excellence. The 30 tonne-metre capacity class 305 was launched in 2006 and won acclaim for its ability to withstand side stress and prevent the load from swinging.
The four extension version occupies just over one metre of load space, has an extra wide stabiliser spread and features continuous slewing.
Managing director Giovanni Scarlini says Effer plans to cater for the upturn by building a single production site in Emillia Romagna, north Italy, with initial discussions concerning the project due to begin in 2009. There has also been investment into product research, after sales care, and spare parts, 90% of which Scarlini says can now be delivered in one or two days.
"We expect to end the year with some 1,000 units sold on the Italian market. Based on our estimate this means a market share of 13% for the Effer brand.
"Our goal is to further increase our presence in this market, the largest in Europe, particularly in the mid-capacity range, up to 20 tonne-metres, where Effer is not traditionally a major player and where we believe yet that we can offer cranes with a very high-performance and an attractive price-to-quality ratio," comments Giancarlo Manzano, Effer export area manager.
Up the tower
New tower crane manufacturer RD Lift, based in Reggio Emilia, was launched early this year and is setting its sights firmly on the international market, where manufacturers are finding it difficult to meet demand.
RD Lift managing director Enrico Natella is the former general manager of SIME Group, which owns Italian tower crane manufacturer Carlo Raimondi (see News).
Natella says, "After eight or nine years of an increasing market in Italy and a lot of building and construction it is normal that it has started to level off. All these apartments are finished now, that is the reason.
"Five years ago building companies could sell 90% of the flats before they started to build. Now it is very different. It is lucky if they can sell 20% of the flats that are available."
With a large number of crane manufacturers in Italy, the domestic market has become quite aggressive, according to Natella. "Not all companies in Italy are able to export all over the world because they do not have the technical ability to do that. "So you can imagine when there a lot of producers and competitors the prices go low, there's a big struggle." In light of this RD Lift is aiming its products firmly at the international market including Europe and further afield.
"The market is interesting in Russia and Ukraine where cranes are very old and there is a great demand for them. Since the end of communism they are now building a lot in the country."
The road into Russia, however, is not a smooth one. Many crane manufacturers in Italy are slowly feeling their way through the bureaucratic minefield. Their aim, along with competitors around the world, is to forge links with effective distributors in the country.
At such a tender age RD Lift does not yet have any official distributors but is using its considerable market experience to establish links in the industry and aims to have produced 150 cranes by the end of 2007.
"We are in the position that we wanted to be. Even if the company is very new the people working here are very experienced in the field. It is new but, in the end, not so new.
"Concerning the future and next two years we are mainly looking to invest in the company to complete our range of self erecting and tower cranes," Natella adds.
Emmanuel Greppi, engineering manager at Natella's former company Carlo Raimondi in Legnano, forecasts its total exports to rise from 40% in 2006 to 60% this year, building on a €50 million (US$67 million) turnover in the last two years.
"The last eight years in Italy have been good but the situation is stabilising. We have been expecting that for the last two years and now it has happened.
"In the past there has been a five year cycle - when interest rates increased building went down. Now the Euro is very stable, so construction is very stable.
"Commercial fighting in Italy has become fierce. It's all about prices - many customers look at the cost - whether the crane is good or not," Greppi says.
Raimondi is developing its standard series of tower cranes and switching to the flat top type, which is increasingly becoming the design of choice, rather than it's A-framed sister. Greppi says the flat top can be erected relatively quickly and that it is very easy to recompose the jib."
The company is also planning a new middle-sized luffer, designed for markets like the UK and Korea where over flying neighbouring properties is an issue.
A larger 75 tonne capacity crane is also ready to make its way into the market. It was designed five years ago, but the project was put on hold as a market could not be found. "In Italy we have sold many small cranes but I think there will be a change in size. As has happened in Europe, there will be a requirement for bigger models."
Another feature of Italy's construction industry landscape is the lack of rental firms, although Greppi feels the situation could change. "Five to six years ago we thought Italy would become like France and the UK - the rental company would rise but there is a mentality in Italy that people want to have their own cranes. However, I think the market will change and will be shared by rental companies and owners."
On the move
According to Giancarlo Perego, president of knuckle boom crane producer Amco Veba, there are probably too many crane manufacturers in Italy.
Perego took over Amco Veba in 1995, before adding the Flli Ferrari Corporation to the group in 2002. For the 2007 financial year group turnover is forecast at around US$500 million and Amco Veba expects to export 84% of its wares. "In the past some parts of the world were growing while other parts were slowing down. But now more or less the whole world is booming, with maybe a slight slow down in the US construction industry. The real problem is the manufacturing, if we had more cranes we would sell them," Perego comments.
Concerning the Italian market Perego adds. "Compared to the rest of world it is probably less progressive, and more or less constant. But there is a lot of competition compared to other countries that may have one or two manufacturers - we have a few. There are many small companies which sell to end users, making it difficult for us to compete."
According to Perego the trend is to produce ever-larger knuckle boom cranes to compete with mobile crane manufacturers.
"The future for cranes is bright. An economic downturn will affect our cranes less. More and more people will use this type of product as labour becomes more expensive."