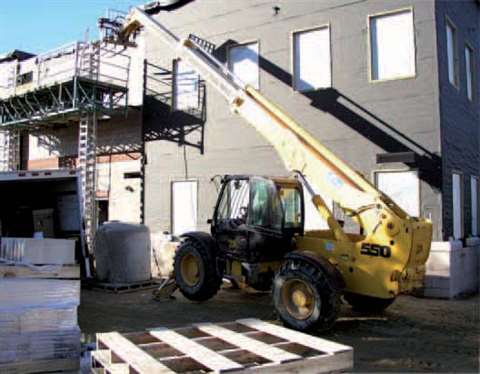 Since 1984, John "Jack" Walker Jr., vice president of Delaware sub–contractor J.W. Walker & Sons Inc., has been a faithful Loadall customer. His fleet currently includes 520, 525, 530, 532, 536 and 550 models. These machines perform well for the masonry and concrete work in which his firm specializes, he says.
Walker was introduced to the Loadall by local JCB dealer PowerPro. After watching a Loadall demo, the Middletown, DE–based company purchased two models and subsequently went over to tour the then–nearby JCB facility in White Marsh, MD. This helped cultivate a relationship that has lasted to the present.
Whether constructing brick and block or tilt–up panels, the company needs a rugged machine that can perform in all climates. In his part of the country, where winters can be unpleasant, Walker says his machines need to perform the same under all conditions. They often use their Loadalls for pushing snow in order to create a workable surface.
After J.W. Walker & Sons purchased a handful of Loadalls, JCB began asking the company to test prototypes. Because their feedback was so well received, JCB flew Walker's brother Dave, who served at the time as J.W. Walker's technician, out to England to speak with the company's engineering staff.
"We' re hands–on guys and small business owners. They listen to what you have to say about the nuts–and–bolts of their machinery," says Walker, "They are interested in providing us with a machine that's durable and comfortable. They understand the challenges we face out there."