Fleet management: Doing away with paper
By Thomas Allen17 September 2019
Optimising equipment utilisation rates is, of course, a central concern for rental companies, and poor utilisation can often be traced back to inefficient internal processes.
One aspect of this is the collection and delivery of equipment. Rental software provider MCS recently refreshed its Resource Planner to enable better communication between the office-based transport controller and the remote team of drivers.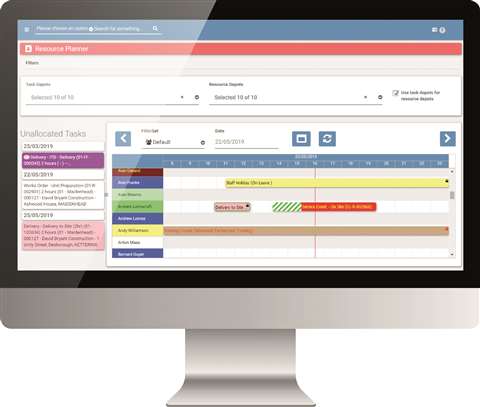 A transport controller is given a personalised view of their available resources and can allocate jobs to drivers with optimised travel routes. Those tasks then appear on drivers' mobile devices, removing the need for them to return to the depot to pick up paperwork.
When there's an equipment shortfall on a site, machines need to be requisitioned from elsewhere. To avoid the delays this can cause, inter-depot transfers can be made within the MCS-rm rental management system.
Nick Thomson of MCS said, "Rehire or cross hire suppliers can be set up in advance, with pre-agreed rates, so that requesting equipment from third parties does not waste a significant amount of your valuable time nor does it impact on your equipment uptime."
Being proactive
Rental management software can also help a company to be more proactive and plan maintenance schedules in advance. Within MCS-rm, maintenance reminders can be set for specific time intervals, mileage points or at defined meter readings to reduce the risk of unplanned downtime. When the costs of maintaining a piece of equipment exceed the income it returns, it is a sign that the machine has come to the end of its useful life and this is clearly visible with MCS-rm because you have full access to an asset's history.
One company that recently implemented MCS's software to streamline its internal processes is UK-based Wernick Hire.
Before using MCS's E-sign electronic document signing, the company had been hindered by cumbersome paper processes that were necessary for the collection of legally binding signed contracts, but were proving to be inconvenient for its customers.
Iain Lewis, Quality Manager at Wernick Hire, said, "Previously we had to e-mail out a hire contract, wait for the customer to sign and return the document, save the signed contract, classify it and put it through the document scanner. It was a very lengthy process.
"Now, however, with E-Sign everything goes straight to the MCS hire software where it needs to be."
This not only makes it easier for Wernick Hire but also for the customer.
Another rental company that has introduced new technology for managing its fleet is pump specialist Selwood.
Its new Smart QR code system allows customers to easily access information about the equipment they have rented, such as service information and inspection documents, simply by scanning codes on the machines using the camera on a smartphone or tablet.
Once again, the need for paperwork is removed for things like service inspections, and all the information is centralised. This was said to be particularly useful for contractors on big sites where a large number of machines need to be managed.
Going forwards, Selwood plans to add maintenance tutorial videos that can be accessed via the QR codes.
As ever, customer experience is a central concern. Scott Butler, Operations and Fleet Manager at Selwood, said, "During trials, customers have told us that it is very straightforward to use and helpful to find all the documentation they need in one place – particularly when there are many machines in use on a site or project."
Compliance checks
An important issue for rental companies – especially those dealing in access equipment – is the need to regularly check equipment for compliance with legal and safety regulations. Depending on product type, these examinations need to be carried out every six to 12 months, and the equipment must not be on rent when checks are due.
Hire Station, part of UK-based rental company Vp plc, used to use a paper-based system, with data being inputted manually, but since 2014 it has been working with CoreRFID, which provides hardware, software and consultancy services for electronic tagging.
In this instance, CoreRFID developed a solution based on its CheckedOK system, which enables customers to collect and access inspection data using handheld computers, tablets or smartphones, speeding up the inspection process.
The set-up is regularly reviewed by Vp Hire Station and CoreRFID, with bespoke updates rolled out roughly every six months.
Frequent updates
Point of Rental has announced that updates to its software will be rolled out more frequently from now on, starting with 2019 versions of its Expert and Elite packages. Every two or three weeks, new improvements will be implemented and made available to all users.
Director of Product Development David Jensen said, "By switching to sprint cycles, Point of Rental users will always have access to the newest features and best possible rental software experience."
The latest improvements include continuation billing templates, which enable users to customise different billing scenarios, and parts items can now be created, allowing for serialised, fractional and labour parts items. There are also new multi-currency and multi-language features.
Meanwhile, inspHire has launched a new Operated Plant module for managing onsite resources digitally.
As an end-to-end solution for complex resource-based scheduling and timesheet driven activities, it is intended to make it easier to assign trained operators to machines, quickly cross-referencing a worker's availability against the competencies required for a task. Employees on site have access to the module on their mobile phones.
The new resource planning module has been developed in collaboration with experts in the operated plant, powered access and crane industries.
inspHire's Operated Plant Specialist and New Business Manager, Dane Evans, said, "Guaranteeing all the necessary features are under the hood of one system, we wanted to give businesses the ability to better manage resources, operators, shifts and schedules. Customer feedback has been pivotal in the development process."
The new resource scheduling screen has drag-and-drop functionality for assigning the relevant equipment and suitable operator to a job.
The cards, licenses and certificates held by an operator will be logged in the system to ensure that any individual or team allocated to equipment is legally permitted to operate it and has the necessary skills for the job.
Shift patterns can also be specified during the schedule planning process, giving visibility of when operators have been working, when they will be available next and the gap in-between shifts.
In addition to the assignment of operators, timesheet entry has also been digitalised within inspHire Mobile. Operators can log their hours through the App, and a site foreman can then sign it digitally to confirm the authenticity of the timesheet.
Afterwards, users can instantly transfer the data to the back office for review and authentication, allowing invoices to be created faster.
With the intention of helping customers to better manage rental and used equipment activity and information, new features for catrentalstore.com and catused.com are being launched by Caterpillar Global Rental and Used Equipment Services, and a large number of US Cat dealers.
Quicker access
On catrentalstore.com, a new portal feature for My Account online services will be available to customers via a web App. This new capability allows quicker access to account information, expanding what a customer can do online, including quote requests and equipment call-off.
Meanwhile, catused.com has been completely refreshed with a responsive design for smartphones and tablets.
More than 22,000 used pieces of construction equipment, power systems, attachments and agricultural equipment are now available through it, and new features have been added. These include custom alerts that inform customers when equipment meeting their needs becomes available on the website.
Working in collaboration with major rental firms, fleet managers and owner operators, JCB has developed two new technology products: the JCB Operator App and LiveLink Fleet website portal.
The Operator App makes the pre-start machine check process electronic, replacing paper-based checks. It allows operators to add comments and images to safety checks, and provides useful documents such as quick start guides.
Once the user has logged into the App, they can scan the data plate on JCB machines or manually enter a machine serial number. Machine checks specific to the given model are then provided if the user has an online connection. If they don't have a connection, then a generic machine checks template will be provided.
The new LiveLink Fleet website portal, on the other hand, allows customers to monitor all brands of machine in one place by integrating external telematics data feeds from other equipment manufacturers and aftermarket telematics providers.
Used in tandem with the JCB Operator App, it also offers a real-time overview of a complete fleet and allows users to collate all machine pre-start checks electronically, manage servicing and immediately deal with critical health alerts, reducing downtime.
Open platforms
Genie also offers a brand-neutral platform. The company's new Lift Connect telematics programme is now provided as a standard feature with a three-year subscription on all new machine purchases for Genie GS scissor lifts, Z- and S-boom vertical masts, and TZ trailer-mounted booms. It is also an option on Terex and Genie branded lighting towers.
The kits can also be installed on Genie units equipped with a telematics-ready connector, which includes units dating back to 2015.
With the subscription, the data can be consumed through the Genie Lift Connect portal or the standard ISO API (ISO15143-3) interface.
It gives rental fleet and service managers greater visibility of their entire fleet. For instance, they can access dashboards and reporting to quickly identify what should be worked on first, and they can see what is due for maintenance at a glance.
Christine Zeznick, Genie Director, Product and Business Development, Telematics Terex AWP, said, "As time goes on, the data from the Genie Lift Connect offering will become more and more powerful. Initially, this information will be "descriptive," focusing on what's currently happening with a machine."
However, she adds, "Over time, Genie Lift Connect data can be leveraged on a larger scale and used for "predictive" and "prescriptive" activities, such as predicting service calls in the field."
US-based rental firm EquipmentShare is also providing a brand-neutral platform for monitoring equipment.
Its telematics and Internet of Things (IoT) platform, called Track, is able to draw together all the relevant telematics data from various assets into a single place, removing the need to sign into multiple platforms to keep track of a diverse fleet.
The company is looking for European partners – OEMs, contractors and rental companies – to adopt this system.
It said the technology can help companies manage their fleets, improve the reliability of their equipment, operate more safely and, ultimately, improve productivity in construction.
In addition to real-time fleet management, Track offers predictive maintenance and safety features such as the monitoring of operator behaviour and certifications.
Trackunit and Point of Rental partner up
Trackunit and Point of Rental recently announced a long-term partnership that should help businesses relying on equipment rentals to perform jobs more efficiently.
"We're going beyond the health and location of the machine," said Jeff Cohen, President of Trackunit. "By partnering with industry leader Point of Rental, who shares a similar macro vision and desire to raise industry standards, we can connect the ecosystem even further and automate much more than ever."
Cohen continued, "The partnership enables better customer service, opens communication and allows for transparency across all stakeholders."
Via a connected Application Programming Interface (API), Point of Rental's Expert and Elite products will pass data back and forth with the Trackunit Manager system and Trackunit Go application. The connection will make them the second and third Point of Rental products, following their UK-based Syrinx product, to integrate with Trackunit.
The combined systems will show statuses of on- and off-rent equipment, when equipment is delivered, when it is called off rent, and when it is ready for delivery. That information will all be visible to customers during the rental contract period via a customer portal.
Billing information will be seamlessly integrated to improve invoicing accuracy and reduce manual entries.
All assets, big and small
With the IoT growing to include an ever-broadening range of equipment, companies are introducing increasingly discreet tracking units to protect assets of all sizes.
DPL Telematics, for example, has launched its AssetView Mini Tracking System.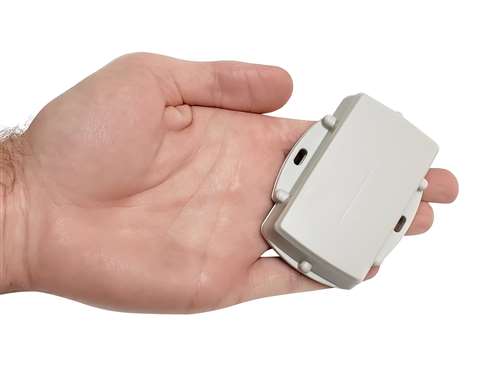 As one of the industry's smallest GPS tracking solutions, measuring 8.4x 6.4x2.4cm, it is self-powered and can last up to three years with three AAA 1 .5V 'off-the-shelf' batteries – assuming it is only being used for daily updates.
The waterproof, self-contained system can be hidden on any powered or unpowered asset so that the owner can monitor it remotely using an internet-based software package and mobile App.
With its global cellular coverage and alerts when geofences are breached, the AssetView Mini Tracking System helps to manage inventory and fight theft.
Similarly, AMI has developed a battery-operated tracking unit, the AT5.
With a battery capacity of more than 19,000mAh, it can can protect an asset for up to 20 years.
Its small dimensions allow it to be installed covertly on a wide variety of assets, with no need for additional wiring or antennae. Also, it lies dormant, meaning it cannot be detected by thieves using scanners.
Each unit comes with AMI's multi-roaming SIM, which ensures that the AT5 unit is always reporting on the strongest available network, providing good coverage across the UK and 27 European countries.