Floating forward
By Laura Hatton30 July 2014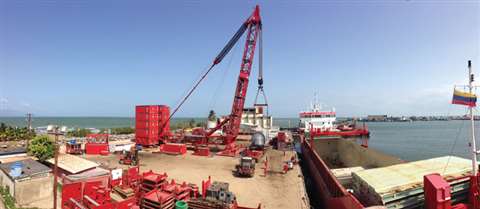 The use of floating cranes, automation technology and heavy lift cranes that can turn any port into a heavy lift port are having a major impact on the way that dockside lifting is being carried out. Laura Hatton investigates
Larger pieces of cargo are becoming increasingly common so the need for the traditional dockside crane is changing. To meet cost targets, companies are looking at alternative ways of lifting. Chris Teague, director of marketing at Barnhart, explains, "The movement of cargo has always been about speed. Traditional dockside cranes are constructed to meet the challenge of both speed and capacity, however, as the need for larger project cargo increases, heavy lift shipping lines depend on larger fleets of heavy lift geared vessels; this lowers demand for large dockside cranes to perform the work."
The increase in demand for heavy lifting and transport in remote areas with limited infrastructure is also changing the way that dockside lifting is being carried out. "These developments lead to a growing need for equipment that combines easy mobilisation and low ground bearing pressures with high capacity," a spokesperson from Mammoet explains. "Equipment such as this will enable the client to have easy access to their modules and materials."
Automation is another area of development, especially for container handling equipment. "This is strongly influencing crane design and development in the industry," Svend Videbaek, Konecranes port cranes marketing, says, "Automation of RTG-based container yards is the next step. Safety is always a major concern, and recent advances in video and laser technology have made it possible to offer new safety-enhancing features with container cranes."
New models
To meet customer demands, Barnhart offers a fleet of heavy lift floating cranes, which have much the same lifting capacity as permanent dockside cranes but with increased flexibility. Barnhart operates three heavy lift terminals in the USA including a 1,250 ton (1,377 tonne) derrick crane in Memphis, a 400 ton (440 tonne) heavy lift floating crane on the Gulf Coast, and a 350 ton (385 tonne) floating crane in the Great Lakes (at Lake Calumet), which can be converted to a 550 ton (606 tonne) dockside crane.
From heavy lift and transport company Mammoet is the Mammoet Terminal Crane MTC-15 for heavy cargo handling. It is designed to convert any small port, quay or riverbank into a heavy lift terminal, the manufacturer says. Transporting modules and materials much quicker and closer to their destination site means that the lead times of the construction or turnaround projects of our customers can be reduced significantly, Mammoet says.
The MTC-15 lifts 600 tonnes at 30 metres and has a load moment of 15,000 tonne-metres, which is comparable to a 1,200 tonne crawler crane. It has a lifting speed of up to 1.6 m per minute and four 22 tonne winches. Ground bearing pressure can be reduced to 10 tonnes per square metre. It can be transported in 25 standard 20 foot containers and water, sand or other local materials are used for the ballasting. Assembly time is seven to ten days and it can be erected using an 80 tonne crane. Maximum weight of the ballast containers is 520 tonnes. The MTC-15 can be used for loading and off-loading offshore reels and project cargo. It can be used as an alternative for local floating cranes and for off-loading power plant equipment. The crane is booked solid and a second one is in development, Mammoet says.
Effer Marine cranes, a division of crane manufacturer Effer, offer new marine cranes that are suitable for a wide range of applications, including deck operations, shipboard and offshore needs. "All our models offer the possibility to double the slewing system in order to increase the efficiency in case of heavy working conditions," the Italian manufacturer says. The marine cranes are available with Scanreco control systems, either as cable or radio remote. Cabins can be fitted with air conditioning, heaters and external protection.
From Konecranes is the new Boxhunter rubber tyred gantry crane (RTG). The Boxhunter has a cabin at the truck lane and the remote operating station (ROS). The crane has video cameras and laser scanners. "The hoisting machinery is located down low on a sill beam, making it much easier to access during maintenance work. The trolley is also lighter so the steel structure is less top-heavy."
It has eight wheels and stacks 1 over 5 up to 7 truck lanes wide. It has counterweights in the legs to reduce the weight of the spreader and reduce the total load by 25 % on average with every lift. It has a lifting capacity 40.6 tonnes. Power comes from a 330 kW diesel generator.
Commenting on the design of the crane, Mika Mahlberg, Konecranes' vice president of port cranes, said, "Traditionally, the operator's cab in an RTG is located at the top of the crane. This is great for visibility over the containers, but with today's sophisticated video technology it's no longer viewed as essential. At the same time, we decided to relocate most of the machinery used for driving the trolley and hoisting operations down to ground level as well."