Folding towers: self erection selection
By Christian Shelton24 March 2020
The versatility and fast set-up times provided by self erectors and mobile folding cranes means that there has been a steady demand for these clever cranes, with the general trend among manufacturers being towards producing higher capacities.
The most recent new self erecting tower crane on the market, for example, is the 4.4 tonne capacity CSE 32 from Terex Cranes. Terex says the crane is the first of a new generation of self erecting tower cranes and it has the highest load capacity in the company's portfolio of self erectors.
The crane has a 32 metre jib and load capacity at the jib's maximum length is 1.05 tonnes. The crane has a new 11 kW hoisting motor with an inverter providing a hoisting speed of up to 56 metres a minute. Tip load is 1.15 tonnes and the hook height can be altered between 19.7 and 21.5 metres. Its swing radius is 2.25 metres.Compared to Terex's older models, the CSE 32 has new ballast, electrical board and motor cover designs.
A reduced ballast radius of 2.25 metres is designed to help it work on space restricted sites. The base ballast can be removed, as it is separate from the crane's electrical board, meaning it can be transported separately to aid transport and manoeuvrability. Control is fully electronic and it incorporates Terex's Power Plus (TPP) and Power Match functions. Optional extras include radio remote control and multiple ballast configurations between 1.23 and 2 tonnes. The crane is available in CE and UL versions, complying with EN14439-REV.1 safety standards. The crane was previewed at its Terex Crane's tower crane production facility in Fontanafredda, Italy, in October 2019. The company says the crane will be available from the second quarter of 2020 and that other models in the new generation will follow.
Additions and enhancements
Spanish self-erecting and tower crane manufacturer Saez Cranes is working on adding to and enhancing its existing self erecting crane range.Saez Cranes is planning to launch two top-of-the-range self erecting cranes: the H45 Hydraulic and the HT 47.13 Telescopic.
These two models will have two-fall reeving. The H45 Hydraulic and the HT 47.13 Telescopic will have maximum lifting capacities of four and six tonnes, and 45 and 47 metre jib lengths, respectively. The H45 will have a hook height of 26 metres; the HT 47.13 will have a hook height of 38 metres. The company is also working on a 40.5 metre hook height version for the HT 47.13 model, although at this hook height Saez says a 10 per cent load reduction will probably need to be applied.Saez says it has already started factory tests of the HT 47.13 Telescopic and it intends to start testing the H45 Hydraulic in February or March, 2020. The tests of the HT 47.13 will finish in February 2020 and Saez plans to start delivering the model in April.
The company is also updating its existing H24, H28 and H32 models which have been in production for 15 years. Saez said it is slightly changing their structural design and completely changing their electrical systems to modernise them, with the end aim of making them more efficient and compliant with future European regulations.At present, Saez explains, its cranes use full inverter systems; the markets it is targeting, however, such as France, Germany, USA and Canada, require more sophisticated features such as remote diagnosis systems, hydraulic outriggers and quick switching between single phase and three phase power.
Delivery dates
At the end of 2019 deliveries of the Spierings SK487-AT3 City Boy started. According to the Dutch crane manufacturer there is high demand for this hybrid diesel-electric mobile folding crane – which is the only crane of its type on the market. Spierings will also showcase a hybrid pack as crane engine concept in the summer of 2020. Its hybrid pack is an option for the SK597-AT4 and SK1265-AT6 cranes and it enables these cranes to be powered using electricity alone, like the City Boy, thus avoiding producing emissions.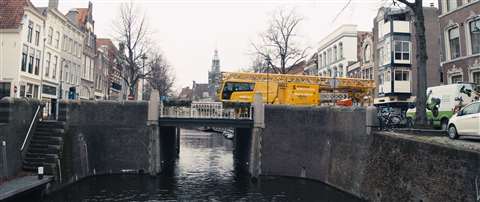 The system comprises a small diesel engine and a battery pack. The crane can be operated using the diesel engine in conjunction with the battery or with a 32 amp grid connection together with the battery. In this fully electric mode, Spierings says the crane does not lose any of its capacity. All Spierings cranes are equipped with Stage V diesel engines and the company has just updated its SK2400-R crawler crane with a new John Deere Stage V upper engine. According to the company, this engine is certified with the highest emission standards currently possible. The SK2400-R has a maximum load capacity of 18 tonnes and a maximum tip load of 5.5 tonnes at 42 metres. Spierings says that, due to the increased use of prefabricated construction techniques, it saw an increased demand for the SK2400-R in 2019 and it expects this demand to continue in 2020.
Deliveries of the latest self erector from Wisconsin, USA-based crane manufacturer Manitowoc, the Hup M 28-22, are expected in early 2020. It is the third model in the company's Hup self erecting crane range. It has a permanent ballast, a double steering axle and a transport length of 11.6 metres. According to Manitowoc, the M in its nomenclature stands for 'mobility'. This mobility comes from its compact nature, 11.6 metres when folded, and its double steering axles. The Hup M 28-22 has a 28 metre (92 foot) jib and features two load charts, each with 16 configurations. Manitowoc claims this is unique to this category of self erecting crane, enabling it to be easily adapted for a range of job site applications. The crane has a maximum capacity of 2.2 tonnes and can lift 0.85 tonnes at its 28 metre jib end.The crane's raised jib has four positions: horizontal; 10 degrees; 20 degrees; and 30 degrees. These provide a height under hook range between 20 metres and 31 metres. The crane comes with a remote control unit which has a large, colour screen. The crane's set-up software incorporates what Manitowoc calls 'Drive Control' functionality. This means operators can select from three profiles that vary the working speed of the crane to suit the application. In addition, a micro-speed function delivers slow, high-precision hoisting. New features mean the operator can steer the wheels and manage the crane's hydraulic elevation.
Distributor appointment
In northern France Manitowoc has appointed French construction equipment sales company Axyom as a new distributor of its Potain self-erecting cranes. Based in Normandy, Axyom will expand its offering to customers by incorporating the Potain Igo, Igo T and Hup self-erecting crane ranges.
Manitowoc says Axyom is well-established in northern France and has a team of almost 50 people, including a quality after-sales service force with experienced technicians on-hand. Axyom is expecting its first delivery – an Igo M 14 – at the beginning of 2020. Jean-Baptiste Dubois, general manager at Axyom, commented, "We have many clients in the construction sector, and the Potain self erecting range will perfectly complement their needs; we know they will be well-received in the market."
Switzerland-headquartered crane rental company Vogel Kranvermietung has bought the latest fast-erecting crane from Liebherr: the 125 K. It is the first company to buy this model in Switzerland. The crane has a radius of 55 metres and a maximum hook height of 65.5 metres, which Liebherr claims makes it the largest fast-erecting crane on the market.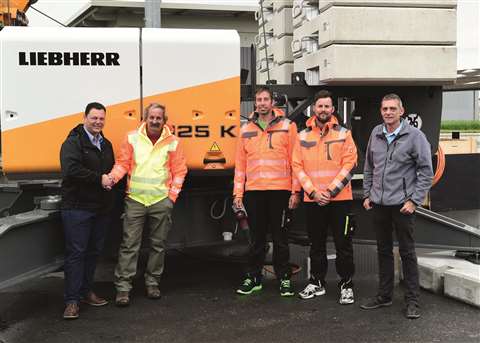 According to Liebherr, the 125 K was specifically developed for civil engineering requirements such as road traffic bridges and commercial as well as industrial building construction where high load capacities and large radii are required for projects with limited lead times.The 125 K has an initial hook height of 29.5 metres as standard although up to five additional tower sections can be inserted to reach a total hook height of 41.5 metres. If the jib is angled at 30 degrees, this increases the hook height to 65.5 metres.
The Liebherr crane has a maximum load capacity of 8 tonnes and at a 55 metre radius it can lift 1.3 tonnes using what Liebherr calls a Load-Plus function. There are five radius options ranging from 35 to 55 metres. The 125 K has a slewing radius of 3.2 metres. Its 2 /3 variable slewing radius, which can be extended to 4.0 metres, means the amount of ballast to be transported can be reduced, says Liebherr.
Other elements of the crane include a Micromove fine-positioning mode and two-line operation. LED floodlights and an external K crane cabin are also available. In 2019 Liebherr also expanded its L1 series with the launch of the L1-32, which has been available worldwide since the third quarter of 2019. The crane has a maximum load capacity of 4 tonnes and a maximum radius of 30 metres, an increase of half a tonne and 5 metres radius on its predecessor, the L1-32. It has a maximum hook height of 21.3 metres.The crane cane be transported using just one three-axle truck compared to the usual two trucks due to what Liebherr describes as 'a flexible ballast concept' carrying five tonnes of basic ballast as well as ten tonnes of additional ballast. The crane is fully deployable in this state with only a small impact on the load curve. For unrestricted use, however, two further tonnes of ballast are required.
The BKL System Cattaneo
German crane rental, sales and service company BKL offers eight fast erecting cranes under its System Cattaneo umbrella, for which it is the exclusive distributor in Germany and Austria. Six of these are stationary cranes and two are mobile. According to BKL, the Cattaneo cranes use a folding system with independent hydraulic cylinders and a flexible jib. The latest addition to its System Cattaneo line-up is the CM 415. It is a stationary fast erector with a maximum load capacity of 5 tonnes. It has a radius of
41 metres and a maximum hook height of 31.5 metres. Two other hook heights, of 23.8 metres and 28.5 metres, are available. Its peak load is 1.25 tonnes. With a 20 degree boom angle hook height can be increased to 42 metres.