Folding towers: up and away, further afield
By Christian Shelton18 March 2019
"We built 92 mobile tower cranes in 2018; it was a record for us – it's the largest number we've ever built in a year!" starts an upbeat Koos Speirings, commercial director at Dutch mobile crane manufacturer Spierings. Part of this success has come from the SK487-AT3 City Boy hybrid diesel-electric mobile folding crane, which was revealed in 2018. Spierings said it developed the City Boy in response to the increasing number of cities around the world banning vehicles with diesel and petrol engines. Since the reveal, production of the crane has begun and the final production version will be on display at the forthcoming Bauma trade show in Germany in April 2019.
Deliveries due
"The first two machines will be delivered to two Dutch rental companies at the start of 2019," continues Koos Spierings. "These will be followed by a delivery of another, to the UK, in around March or April. It's proving to be a very popular machine with around 50 already being sold."
At present around half of Spierings' customers are in Holland, with the company's international presence expanding. "Sales beyond Holland are doing well," Koos Spierings confirms. "In particular, in Germany, the UK, and Belgium. This is very positive. In addition, we are now focusing more on the French market as we think the SK487-AT3 City Boy is well-suited to this country."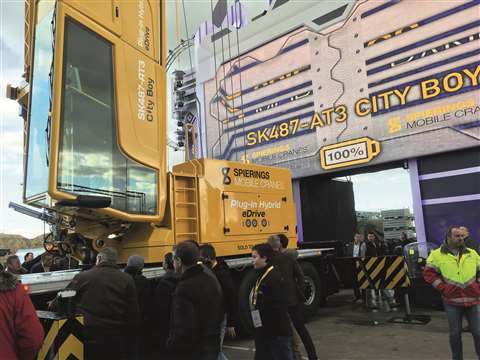 Spierings has also restarted production of its tower crane mounted on a crawler carriage, the SK2400-R. "Demand for the crane dropped off for a while," clarifies Koos Speirings. "But I'm pleased to say this has picked up now that loads are getting heavier, especially in the pre-fabricated and pre-cast areas where a lot of the lifts are around the five-tonne mark. It's for these types of applications that the crane has proven itself to be a very strong machine, and I'm pleased to say demand is back. This year we have deliveries scheduled in Switzerland and Germany."
Crane fusion
The latest innovation for North American crane manufacturer Manitowoc's Hup 40-30 Potain brand self erector has come about through collaboration with Swiss-headquartered crane company Stirnimann, resulting in the Hup C40-30. The crane is essentially the Hup 40-30 mounted on crawler tracks (hence the addition of the 'C'), which Stirnimann says makes it particularly suitable for hard-to-reach job sites with challenging terrain.
Stirnimann has used the Hup C40-30 on two job sites in Switzerland and three in Austria
Stirnimann has been a Potain dealer since 1986 and, in addition to its Swiss HQ, it has a site in Austria. It has around 400 cranes in its fleet and, according to the company's general manager Fritz Oschwald, to provide a full service to its customers the need for a self erector with crawler tracks was clear: "In order for us to provide a comprehensive service covering all areas of crane work we realised we needed a self erector on crawlers in our fleet. That's why, around three years ago, we started discussions with Potain and together we developed this type of crane."
Making tracks
Although Stirnimann admits a self erector on crawlers is a niche crane sector, it recognised there was enough demand to make it a viable production proposition. "An important point in our discussions with Potain was to explain how much demand for this type of crane actually exists," Oschwald outlines. "Once Potain saw the concept as a viable production proposition our discussions were very constructive."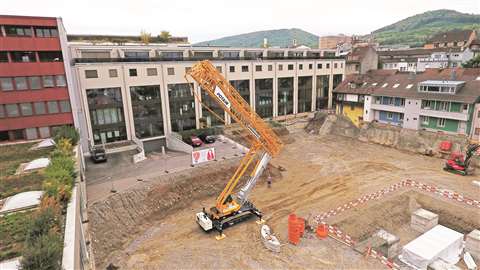 According to Stirnimann, demand for a self erector on crawlers primarily comes from the house and industrial building construction sectors, as well as infrastructure builds in which it is suited to specilaist applications. "This type of crane excels on very specialist job sites," elaborates Oschwald. "For example, it's great for road projects where walls need to be installed along the side of motorways or for long buildings such as factories. In these instances, the crane has to follow the wall or building as it's built. A standard crane needs to be dismantled and re-erected every week or so as construction progresses; however, with the Hup 40-30 on crawlers it's much easier to move along as the job progresses."
The crane itself has compact dimensions, says Stirnimann, and when disassembled it can be transported on a conventional low bed trailer with a retractable gooseneck. The transport width is 2.55 m, the height 4 m, the length is 14.2 m and the transport weight (without ballast) is 28.8 tonnes. Installation is fast, says Stirnimann.
At its full 40 m extension, the crane can lift one tonne and its maximum lifting capacity is 4 tonnes.
Take to the slopes
Stirnimann took delivery of the first two units at the end of 2017, where they were presented at trade shows. The two models were then returned to the Potain factory for their final finish and were delivered to Stirnimann in September 2018. Since then Stirnimann has used the cranes on two jobsites in Switzerland and three in Austria.
"We are very happy with the crane," says Oschwald. "It is easy to handle, very reliable and great at going up slopes. And our customers are very happy it, too.
By running the Hup 30-40 on crawlers as a rental option in our fleet we are able to introduce the crane to the market, and hopefully many of our rental customers will go on to buy their own models. As such, we've ordered more units for delivery in 2019 which will be available for sale."
Liebherr milestone for Heros
Manufacturer Liebherr has delivered a milestone mobile folding construction crane to Heros Kraanverhuur. The Belgian-Dutch haulage company took delivery of the 750th unit Liebherr has built of this crane type.
The landmark crane, an MK 88 Plus from the MK series, was handed over at the Liebherr-Werk Biberach factory in Germany to Rob Heeren, Heros managing director. It is the third mobile construction crane owned by Heros, which has sites at Antwerp in Belgium and Moerdijk in the Netherlands. Work typically includes jobs on confined sites in urban areas or at ports, working on container ships, Liebherr said.
MK series cranes have been sold all over the world but the primary market is central Europe.
Wiesbauer trio works together on retrofit job
German heavy-duty logistics provider Wiesbauer used three of its Liebherr mobile construction cranes for work on the retrofit of an administrative building in Neckarsulm, Germany. The cranes were an MK 140, an MK 88, and an MK 100.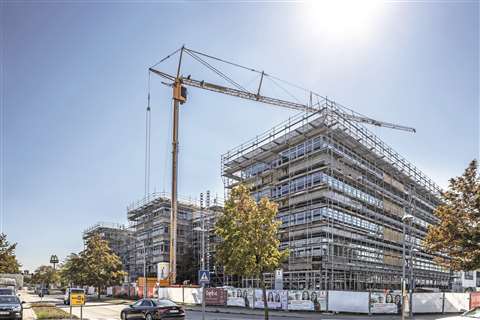 Wiesbauer's Liebherr Mk 140 at work on the job site in Neckarsulm, Germany
According to Liebherr, Wiesbauer opted to use the mobile construction cranes due to space restrictions at the job site. Liebherr says the cranes were well-suited to the work as they were able to get really close to the building being retrofitted. Ease of transfer from one location to another and their height-adjustable elevating operator cabs were additional reasons Liebherr cites for Wiesbauer deciding to use these particular machines.
The MK 140 was used for hoisting steel units and air conditioning units onto the roof of the five-storey building. The MK 88 and MK 100 were used for installing some of the roof and wall elements such as metal profile sheets.
Navigating the MK 140 onto the job site was the first challenge, as there was only around 150 mm of clearance on either side. Wiesbauer knew it would fit, though, as Otto Lindlar from its technical field service team had been to the job site and measured the size of the entrance in advance.
Once on site, the continued space restrictions were no problem for the MK 140, says Liebherr, as it needs little space for assembly.
Once assembled the MK 140 offers a maximum radius of 65 metres, although on this job the maximum raduis used was 50 m. The position of the crane, however, was changed a number of times during its operation to cover the whole site. Due to its ease of erection, this was no problem, says Liebherr.
Installation of the two-tonne air conditioning units required careful handling. According to Liebherr, this was aided by the cranes' Micromove fine positioning mode and radio control, which it said enabled straightforward installation.
The three mobile construction cranes were deployed around 20 times during the three-month retrofit period and installed the units without any problems.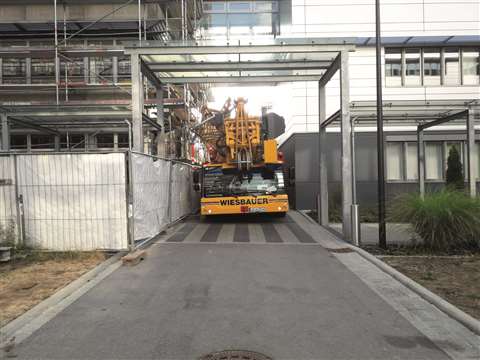 Space restrictions are no problem for the MK 140, says Liebherr