Folding towers: Up and over
By Christian Shelton12 February 2018
Continued demand for housing in urban areas around the world as well as the increasing influence of environmental considerations are key drivers of innovation in the self erecting tower crane and mobile folding construction crane sectors. CHRISTIAN SHELTON reports
The self erecting tower crane and mobile folding construction crane market appears to be doing well, with a flurry of new products and reported sales towards the end of 2017. For example, Belgian-based tower crane rental company and crane manufacturer Arcomet launched the A50 Eco self erecting crane in September 2017. The company says it developed its latest crane following the success of its A47 Eco City, which was launched in 2015.
According to Arcomet, the launch of this new model marks the start of a new era in which its focus is on smart technology and innovation combined with high-quality support. It says that the A50 Eco is one of the largest self erecting cranes on the market, with a jib length of 50 metres and seven hook heights up to 36 metres (18.4; 24.4; 26.4; 28.8; 31.2; 33.6; 36). Both the A50 Eco and A47 Eco City have telescopic towers but the A50 Eco uses climbing towers to achieve the required hook height.
The A50 Eco has a capacity of 8 tonnes and features Arcomet's automatic jib deployment system, which is controlled by a smart PLC technology datalogging and zoning system. The crane can work with power supplies of either 32, 40 or 63 amps.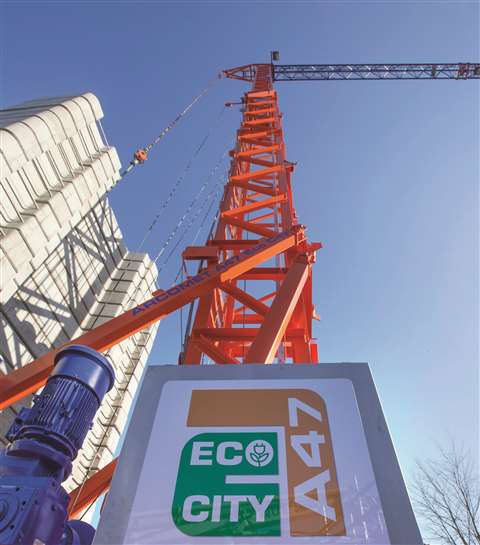 The success of Arcomet's A47 Eco City prompted the company to develop the new A50 Eco
Arcomet says that market reception to its new self erecting cranes has been good, resulting in a 15 percent rise in its production numbers. "The combination of manufacturing cranes and working closely with end-users on the rental market, allows us to act swiftly and follow the constantly evolving needs of the industry," says Gerd Vandecruys, Arcomet marketing and product manager.
The first two A50 Ecos will be used in Arcomet's own rental fleet and full production of the crane will start in March 2018. The cranes will be available in Europe and the USA and the company expects demand to primarily be from the housing construction sector.
German crane manufacturer Liebherr is enjoying success in the mobile construction crane market. In December 2017 the company sold its 250th MK 88, to Dutch crane contractor Barneveldse Kraanverhuur (BKV). The MK 88 has a maximum radius of 45 metres and a maximum hook height of 30.20 metres. According to Liebherr, the mobile construction crane has a compact, manoeuvrable design, making it suitable for jobs in densely built urban areas.
US crane manufacturer Manitowoc is pushing its latest Hup self-erecting range. "We are at the forefront of self erecting crane development and our new Hup range demonstrates this," says Jean-Pierre Zaffiro, global product director for Potain self erecting cranes at Manitowoc. "We have introduced several new features with these cranes that will increase speed, efficiency and versatility for our customers."
Hup first
In 2017 the company sold the first Potain Hup 40-30 in France, which was put to work on a residential housing project. It was bought by French construction firm Agesibat which immediately used it to build 11 houses in Saint-Mathurin in the Pays de la Loire region in western France.
According to Yannis Rousseau, owner of Agesibat, "the Potain Hup 40-30 works well in both a city and forest environment thanks to its telescoping abilities that help us to lift over any obstacles. We considered acquiring a Potain Igo 50, but when we found out about the Hup 40-30, and that such a small amount of space is needed on the ground for its height and lifting capacities, we felt confident that the Hup 40-30 would be a great long-term investment."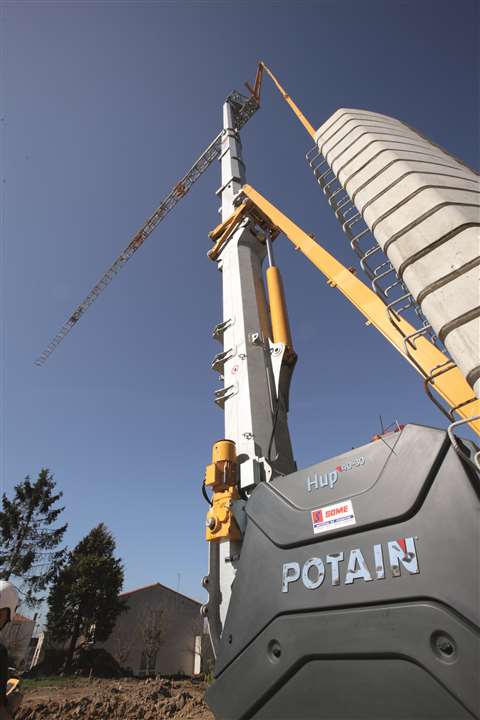 The Hup 40-30 has a telescopic mast and a capacity of 4 tonnes. It can lift 1 tonne at the end of its jib. Height under hook ranges from 20 to 40 m and the crane can be erected in 16 configurations. Manitowoc says this means it can be easily adapted for a range of job site applications. Additional versatility is delivered with the crane's raised jib that offers three positions: horizontal, 10° and 20°.
Manitowoc also staged promotional events in Thailand and Malaysia to celebrate the region's first arrivals of the Hup 32-27.
Bangkok-based construction company Christiani & Nielsen purchased the first Hup 32-27 in Thailand. Som Puangmalai, senior manager, equipment and steelwork at Christiani & Nielsen, explains the company's reasons behind the purchase: "We decided on the Hup 32-27 because it's a better and more cost-efficient alternative to a mobile crane. We would need four mobile cranes to lift what we can with this one crane. With its reach and height, it can stay in one place to do all the jobs on the site. It's also quick to erect and easy to control."
In Malaysia Selangor-based HAB Construction also purchased a Hup 32-27. "The Hup's height is perfect for the projects we work on, like shopping malls and car parks," comments Ong Tien Ling, HAB Construction executive director. "We consider it to be like a mini tower crane. Its speed and ease of use are impressive, and the fact that it's easy to transport is a huge bonus, too."
HAB's Hup 32-27 is being used on the new DoubleTree by Hilton hotel in I-City, Selangor, on the west coast of Malaysia. The development includes a three-storey car park, an office tower, a hotel, and two residential buildings. It will hoist formwork and rebar and help with concreting.
Potain in Australia
Also in 2017, Active Crane Hire of New South Wales, Australia bought two Hup 32-27 self erecting cranes which were put to work in a residential development project in the Sydney suburb of Ryde to construct a seven-storey apartment building.
The Hup 32-27 lifts 4 tonnes, and can lift 1 tonne at the end of its 32 m jib. It has a number of features that mean it is suitable for use in space restricted sites.
First, it has a rear-slewing radius of 2.25 m, enabling it to be positioned close to buildings. Second, it has two compact footprint options: 4 x 4 m or 3.5 x 4.42 m. Finally, the crane has an adjustable two-section mast with a third section inside the second. This allows the third mast section to be telescoped out, boosting its working height to 27 m.
"The Hup fills a gap between large self erecting cranes and small tower cranes. It is small and flexible enough to handle construction work for four-storey to seven-storey developments," says Hermann Buchberger, managing director of Active Crane Hire. "Unlike most cranes used for low-rise construction, the Hup 32-27 has a 27 m working height, meaning it fits above the local tree line, which tends to be around 21 m. It's also compact enough that if we need to install it underneath a tower crane on an existing site, we can do that. This eliminates the need to rearrange cranes on site."
Hybrid electric crane
At the end of 2017 Dutch crane manufacturer Spierings Mobile Cranes launched the SK487-AT3 City Boy. It describes the crane as 'the first hybrid electric crane', saying it developed in response to the increasing number of cities around the world banning vehicles with diesel engines.
The mobile tower crane was originally conceived by Speirings seven years ago. It was a little ahead of its time, though, and was subsequently buried within the depths of Spiering's R&D department at its headquarters in Oss, Netherlands. But the crane was not neglected. Head of the company Leo Spierings and his team completely redesigned it using the latest hybrid electric drive technologies as they became available, as well as introducing a plethora of other Spierings innovations. "Everything has changed on this crane," says head of the company, Leo Spierings. "We are very pleased with the result. We think rental companies in cities will like it because it's a good height and it will help them save money by complying with emissions regulations. This is what everyone is asking for. Whether or not they are prepared to pay the price for it we will now see."
The launch of Spiering's new SK487-AT3 City Boy, which it says is the first hybrid electric crane
One of the crane's key features is its eco-friendly plug-in hybrid electric drive, which offers three possible drive modes: fully electric; hybrid; and diesel. The three-axle SK487-AT3 City Boy has a capacity of 7,000 kg at a radius of 11.96 m. At its maximum 40 m radius it has a capacity of 1,700 kg. The maximum load chart is only available in a 210 degree 'slice' on one side of the crane due to the offset location of the slewing ring. The slewing ring has been offset to accommodate the self erecting tower and cab. For the remaining 150 degrees of the slewing range, a reduced load capacity of 1,350 kg is available at the maximum 40 m radius. This means, to operate it at full capacity, the crane is designed to be used on just one side, the way it would be used in a space-constrained urban environment anyway, says Spierings.
To help navigate narrow city streets the crane's chassis is compact: 2.5 m wide; 13.1 m long; and 4 m high. It has a gross weight of 36,000 kg and all three axles are steered.
The City Boy has four different tower heights (30, 27, 24, and 21) and the jib unfolds through 360 degrees. With the luffing jib at its highest 45 degree elevation, the maximum below the hook height is just over 55 m.
The tower and its head have a new design (compared to the company's other cranes), with the locking cylinder being on the outside rather than inside. There was no room inside the tower as Spierings has located the erecting ram there. The tower's shape is also different to minimise the amount of welding required.
Outrigger system
To ensure the crane's stability Spierings has developed a new outrigger system with three set extension lengths. The maximum extension is 7.25 m – an extra 950 mm over previous Spierings outrigger designs. "The outrigger jacking system is very light and very strong indeed," enthused Leo Spierings. The City Boy's cab is used to both drive the cab on the road and, when at the jobsite, it transforms into an elevator and crane cabin. This involves the cabin rotating 90 degrees and being lifted by two steel cables. It is attached to the crane's tower using an electromagnetic system.
The cab's dimensions are 970 mm wide, 1670 mm high, and 3130 mm long. It has an electric sliding door, large windows for optimum visibility, air conditioning and a rear-view camera.
Remote control operation is also a key feature of the City Boy, said Spierings.
The City Boy's eco credentials have been made possible by using the expertise of Finnish electric drivetrain specialist Visedo and a battery system from French lithium-ion battery systems specialist Forsee Power.
Visedo installed an electric motor on the City Boy's drivetrain which can provide full electric propulsion. According to Pieter Dijkstra, managing director of Visedo, the 370 kW motor "has a lot of torque in the 0-10 mph range." However, the crane cannot drive on the motorway for extended periods using the electric motor alone so Visedo also installed a 230 kW John Deere diesel engine which drives a generator. The generator either charges the battery pack or feeds the rest of the vehicle, in effect acting as a 'range extender'. The smaller John Deere engine can be supplemented with power from the Forsee Power battery pack when required, providing an additional 250 kW. So, in total, bursts of almost 500 kW of power are available to the wheels – great for going up hills. Of course, when the crane travels downhill, power is generated and this is stored in the battery packs via a regenerative system.
There is a 22kW on-board charger that can be plugged in at the jobsite, using an in-built 50 m spring cable reel, to charge the batteries. It can also power the crane, meaning full electric operation is possible. As such, the diesel engine only really needs to run when travelling between jobs. Spierings has kept its tried and tested hydraulic pump system to control the crane's movements, as this has received positive feedback from customers. The hydraulics can also be powered by either diesel or electricity.
Battery system
The battery system itself comprises a bank of 42.5 kW/h lithium-ion cells with a maximum charging and discharging power of 127.5 amps. A more powerful 85 kW/h battery with a maximum charging and discharging power of 225 A can be specified.
"You save a lot of fuel using electric and hybrid solutions," qualified Pieter Dijkstra. And Spierings believes demand for the City Boy will grow as more and more governments ban emissions-producing diesel engines. "The electric and hybrid market is, in my opinion, the future," Leo Spierings stated. And if initial sales are anything to go by, he's right, with City Boy purchases already confirmed with Dutch company M. Verschoor and UK firm City Lifting, among others.