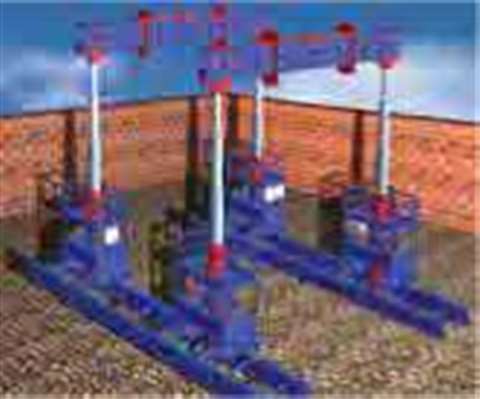 Hydraulic telescopic gantry systems have almost become the convention, as it were, in alternative lifting. However, development continues apace. The first two units of a new system produced by Greiner GmbH of Germany have proven themselves on site.
The Greiner GHS-3 300/620 offers lift heights up to 11.2 m and can be raised a further 1.25 m by coupling one of the height adjustments. Maximum loads using four jacks are 620 tonnes to the first level, 520 tonnes to the second level and 300 tonnes to the full 11.2 m height.
Greiner says the pendulum axle balance ensures the load remains evenly distributed between the jacks. All operations are computer controlled and can be operated by remote control.
The first two customers were Turkish company CABA Endustriyel and Convoi Europe BV of the Netherlands. CABA Endustriyel used its Greiner GHS-3 300/620 to assemble a 300 tonne diesel engine for a power station in Cyprus.
Convoi Europe's first lift with its new gantry system was the positioning of four loads weighing to 65 tonnes for a decoil line at the Maastricht plant of steel producer Corus. This job was directly followed by the lifting of a pair of 130 tonne aluminium casting ovens at Nedal in Utrecht.
Convoi says that it chose the new Greiner system because of "the ratio between lifting height and capacity, the innovative design and the monitoring systems controlling each phase of the lift".
According to Convoi operators, Sander Ratering and Steven Dobschutz, the remote control system makes the new Greiner gantry easy to use because it controls all movements in three axes.