Former Olympic village gets facelift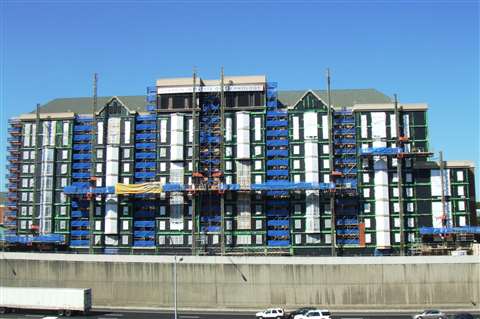 Mastclimbers LLC has been called on by Western Waterproofing to provide access equipment for updating the former Olympic village in Atlanta, GA.
The space used in the 1996 games, which is currently occupied by Georgia Institute of Technology, was in need of a major facelift and Mastclimbers had to work around a bustling building still in use.
"...A variety of services, e.g. food and laundry deliveries, had to continue while work went on above," said Bobby Reese of Mastclimbers. "This meant we had to carefully position the mast bases in between building entrances and erect overhead protection over the entrances."
The company chose Fraco ACT 8 units, erected in single and twin mast configuration. All masts were electronically powered and some fitted with hydraulic cranes for lifting materials to the platform without having to lower the platform to the ground.
Fraco ACT 8 units feature 50-foot single mast lengths and up to 34-foot-per-minute lifting speeds. "We chose electronically powered units because they would not create a nose problem with the occupants of the college," Reese said. "The work had to take place while the college functioned as usual, and we had a number of additional safety considerations."