Fossil-free steel mine opens in Sweden
By Joe Sargent01 September 2020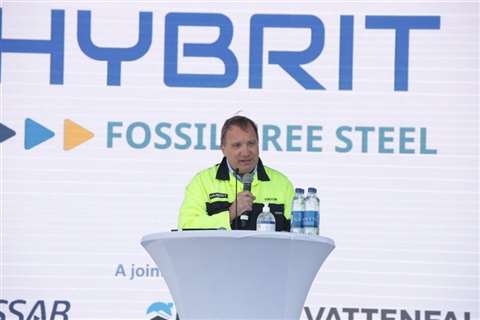 A Swedish venture known as HYBRIT, the world's first fossil-free steel mine, has officially begun operations to produce fossil-free sponge iron at a mining facility in Lulea, Sweden.
HYBRIT was set up by Swedish steel company SSAB, mining firm LKAB and state-owned utility Vattenfall and has its sights set on producing the world's first pilot plant for fossil-free steel.
Reportedly the steel industry generates around 7% of total global carbon-dioxide emissions in 2020.
The potential implementations of this HYBRIT initiative include the possibility of reducing carbon dioxide emissions by 10% in Sweden and 7% in Finland, as well as contributing to cutting steel industry emissions in Europe and globally.
With HYBRIT, SSAB, LKAB and Vattenfall aim to create a completely fossil-free value chain from the mine to finished steel and to introduce a completely new technology using fossil-free hydrogen instead of coal and coke to reduce the oxygen in iron ore.
This means the process of extracting steel will emit ordinary water instead of carbon dioxide.
Swedish Prime Minister, Stefan Löfven, attended the official start of operations at the plant together with Isabella Lövin, Minister for environment and climate and Deputy Prime Minister, Martin Lindqvist, president and CEO of SSAB, Jan Moström, president and CEO of LKAB and Magnus Hall, president and CEO of Vattenfall.
Discussing the start of operations at the plant Löfven said, "Right now we have a historic opportunity to do things that provide jobs here and now – but also hasten the climate transition that everyone realises is necessary. Today, you are laying the foundations that will enable the Swedish steel industry to be entirely fossil and carbon dioxide free in 20 years. Together we can rebuild Sweden as the world's first fossil-free welfare nation.
Martin Lindqvist said, "It [the pilot plant] is a milestone in the transition to fossil-free steel. We aim to be the first to market, in as early as 2026, with fossil-free steel. HYBRIT technology will enable us to eliminate carbon dioxide emissions in steelmaking. We have the chance to revolutionise the entire steel industry and show that net-zero emissions is possible."