Foundations: Pushing the limit
By Katherine Weir16 December 2019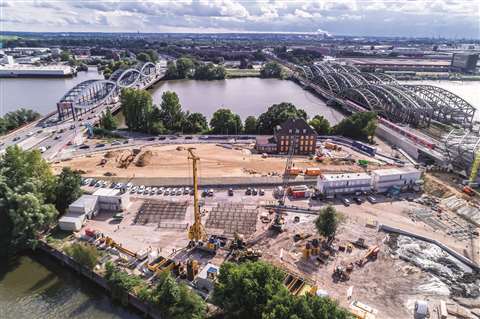 Along with ground preparation, foundations work is one of the most time-consuming elements of a project, and vital to ensure a smooth start to construction works. Specialised equipment helps to highlight any potential issues, giving a clear vision of what contractors are working with and dictates which equipment is needed to execute the foundations strategy.
In the US, deep foundation analysis specialist Pile Dynamics (PDI) has launched several new products over the last few years with smart sensor technology including the Thermal Integrity Profiler (TIP), the Shaft Quantitative Inspection Device (SQUID) and the Shaft Area Profile Evaluator (SHAPE).
Smart construction technology
George Piscsalko, president at Pile Dynamics, said, "Testing methods and quality assurance equipment use smart technology to improve accuracy and efficiency in the industry. Today's smart technology has permeated into the deep foundations industry. PDI's quality assurance testing equipment uses smart technology to provide real-time, accurate data analysis via the Cloud, many times saving time and money for the project overall.
"Smart technology assists with data collection and sharing, but the next generation of testing will come from the emerging use of artificial intelligence (AI). Already, AI is affecting construction with the rise of autonomous vehicles, drone testing, and predictive learning."
SQUID stands for: Shaft Quantitative Inspection Device
PDI's Thermal Integrity Profiler (TIP) uses heat generated by curing of concrete to assess the integrity and quality of drilled shafts, augered cast-in-place (ACIP) piles and other concrete foundations, inside and outside of the reinforcement cage.
The Shaft Quantitative Inspection Device (SQUID) gives quantitative, real-time assessment of the cleanliness and competency of the bottom surface of bored pile or drilled shaft foundations, PDI said. The device measures force and displacement at the bottom of a drilled hole to ensure the performance of the foundation elelment.
The manufacturer's Shaft Area Profile Evaluator (SHAPE) is a quality assurance testing device used for deep foundations such as drilled shafts, bored piles, slurry walls and barrettes to 'better characterise the three-dimensional profile' of these and other excavated deep foundation elements.
Electric construction equipment
The biggest news for Liebherr in foundations equipment is the release of its LB 16 unplugged – the world's first battery-powered drilling rig.
The company said that customers will benefit from the electro-hydraulic and battery mode through a combination of efficiency and local zero emissions. The new deep foundation model has a maximum drilling diameter of 1,500mm, a maximum drilling depth of 34.5m and an operating weight of 55 tonnes, said to be equivalent to its diesel predecessor.
The difference in foundation equipment use varies from region to region, as Wolfgang Pfister, head of strategic marketing and communications at Liebherr-Werk Nenzing, explains.
"Rotary drilling rigs are very popular in developed markets such as western Europe with the highest population of these machines. However, in the US market, very often a conventional duty cycle crawler crane is used as a carrier for foundation tasks although rotary rigs are gaining ground.
"Duty cycle crawler cranes are often used for slurry wall grab application, supported by the trend of urbanisation such as metro construction. Slurry walls are getting deeper and wider. In certain applications, users have been switching from duty cycle crawler cranes with casing oscillator to specialised foundation equipment such as the LB series."
Staying with the electric theme, specialist foundation engineering company Bauer used the Bauma Munich exhibition to introduce its first electrically-driven cutter based on a Bauer MC 96 duty-cycle crane.
The 500 kilowatt (kW) electric drive is said to have many advantages compared to diesel drives, especially in relatively stationary specialist foundation engineering applications, such as trench cutting. Bauer said that the practicality of the system in inner-city areas was a high priority, designed to adapt to different voltage levels and environmental conditions.
Regional differences for foundation equipment
Speaking about how different regions have varying requirements for foundation equipment, Franz-Werner Gerressen, director of method development at Bauer, said, "There are two major influencing factors leading to the request of varying equipment. One is the impact due to exhaust regulations. This requires different engine configurations for various regions. Even if it looks to be only a change of the engine, it has a huge impact on the design of the equipment.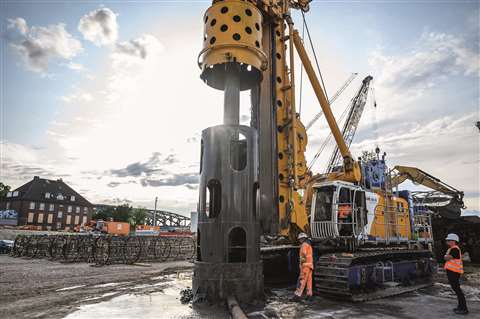 "A second, maybe even more important factor is the level of introduced techniques into the market. For instance, when it comes to pile foundation, the traditional Kelly drilling method is still very common. Equipment for Kelly drilling can be used with the basic requirements of a drill rig, and therefore those rigs are welcome as a cheaper alternative in emerging markets.
"In some cases, it does not warrant buying sophisticated equipment that would also allow alternative piling techniques like CFA, cased CFA or full displacement piles. But it's not only the cost for the equipment, there is also the need of introducing these methods into these markets."
Also introduced at Bauma was the manufacturer's BG 20 H rotary drilling rig. This rig, together with the Bauer BG 15 H form the new generation of its small rotary drilling rigs made for Kelly drilling.
The company recently worked on the construction of the 224m Elbtower tower, which will be the tallest building in Hamburg and the third tallest high-rise in Germany when finished. In preparation for ground to be broken in 2021, Bauer were commissioned with the execution of comprehensive load tests using test piles specifically for this purpose.
Piles were drilled with a Bauer BG 39 drill rig with drilling tools of a diameter of 1,850mm and casings of 2,200mm diameter. The initial test piles were installed with a depth of up to 111.4m – the longest piles to be executed in Germany. Completion of the Elbtower is planned for 2025.
Build big, dig deep
In terms of trends in the foundations sector, Gerressen says that urbanisation will create an increasing demand to accommodate the infrastructure of growing megacities like Shanghai – pushing the required depth for subway, sewage and foundation projects to the limit.
He said, "Future projects will demand excavation depths of more than 100m on a regular basis. This will require the development of equipment capable to deal with these demands, as well as necessary developments within the required techniques in terms of materials and their use. In addition to that, a focus will be given to the development of more environmentally friendly equipment. Electrification and noise reduction are two demands to the industry."
Another new cutter to the market is the CC1600 combi cutter from Sweden-based Epiroc for carriers in the 13 to 23 tonne class, which is part of the manufacturer's CC line of hydraulic combi cutters with five new attachments. The CC1600 model is said by Epiroc to have greater stability and lower weight than previous models yet give the same performance with high crushing force and short cycle times.
Design improvements include optimised jaw and main body design, the inverted design of the hydraulic cylinders, enhanced bearing protection, wider and more robust bearing points and stronger protection of the crushing teeth.
The coupling and positioning system (CAPS) make it easy to switch jaw types on-site to suit the work in hand, while the cutting blades of all versions are reversible and replaceable.
Two jaw versions are available. For light to medium duty building demolition and heavy-duty industrial demolition, the universal (U) version is recommended by Epiroc. The steel cutting version (S) is designed for cutting steel profiles in general steel structures.
New construction equipment for 2020
US-based Vermeer is expanding its pile driver product line with the introduction of two new models. Ed Savage, product manager of utility tractors/pile drivers at Vermeer, said, "We recently launched the Vermeer PD5 model pile driver. The PD5 is available as either a fully remote unit (PD5R) or a manual unit (PD5). It's rotating upper assembly makes setup, teardown and transporting very efficient.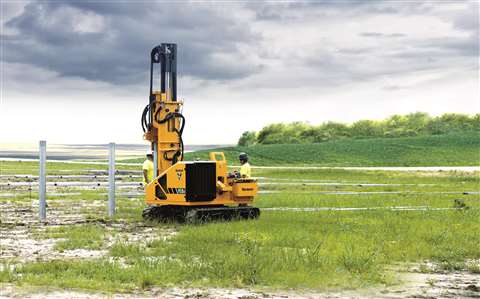 "The rotating upper assembly allows the machine to be transported and setup for operation without assembling/dis-assembling the mast. The PD5's compact size allows multiple units to be transported on certain trailers."
Both lightweight machines – available in early 2020 – are said to be well suited for working on smaller solar installation projects, congested jobsites and civil fencing and guardrail installation applications. The drivers can use an optional laser receiver or a compatible GPS system to help improve productivity by better aligning the machine to the specified pile install location, while operators can move quickly from pile to pile with a 2.6 miles per hour (mph) forward travel speed.
Earlier this year, Junttan released its MPx50 multi-purpose drilling rig designed for different piling methods including Kelly, continuous flight augering (CFA), down the hole (DTH), full displacement piling (FDP), driven cast-in-situ, and driven pile work done with a Junttan hydraulic hammer. The manufacturer said that the rig can do all these work methods with minimal modifications.
Tim Dutton, vice president of sales and operations at Junttan USA, said, "Due to varying depths of rock, the need to drill or drive piles to greater depths changes the requirements for the equipment. In Asia, drilled shafts are typically 75m plus deep, whereas in North America the bedrock is much shallower, so our common shaft depths are 36 to 48m in comparison. The machines used are typically tooled and prepared slightly different to maximize the needs of the region."
In terms of operator assistance, Dutton believes that new technology in this sector will eventually reduce the human factor in the operator seat.
He said, "More and more in our community of foundation equipment manufacturers we see developing methods to reduce the human error in operating equipment. I don't ever see a completely robotic operation, but with new technologies we are providing many assistants to help the performance of the operator."