Four Genie booms offer increased platform capacity
By Lindsey Anderson15 February 2010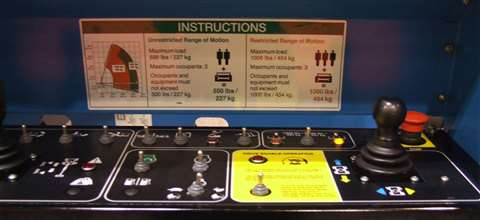 Terex Aerial Work Platforms, a business segment of Terex Corp., now offers extra platform capacity within restricted outreach on four Genie telescopic booms as a standard feature.
The new models include the S-60X, S-60XC, S-60 Trax and S-80X.
The booms have always had 500 pounds of available platform capacity, but now feature an additional 500 pounds within the restricted area, the company told American Lift & Handlers at the 2010 Rental Show in Orlando.
When the operator enters the work platform and starts the machine, there is a toggle switch that he or she must then select: either 500 pounds or the unit's maximum capacity.
The machine will set the appropriate outreach and operating envelope according to the desired input. When the work platform reaches the maximum envelope, the machine will flash a light, alerting the operator.
There are, however, no load sensing devices on ANSI machines.
With the new work platform capacities, up to three occupants can now be in the AWP and the dual capacity allows the operator the choice of setting the appropriate capacity for the necessary operation, the company said.
Terex AWP said other benefits include a ramped boom control system, a virtual pivot primary boom that aligns the machine's center of gravity and fixed width axles.
The new capacities include:
-S-60X: 1,000 pounds at 40 feet outreach or 500 pounds at 51 feet outreach
-S-60 TraX: 1,100 pounds at 40 feet outreach or 660 pounds at 51 feet outreach
-S-60XC: 1,250 pounds at 40 feet outreach or 750 pounds at 51 feet outreach
-S-80X: 1,000 pounds at 59 feet outreach or 500 pounds at 71.5 feet outreach
The S-60XC has a larger counterweight, which allows it the larger capacity and reach, the company said.
For more on The Rental Show and Terex AWP, see the March/April 2010 issue of ALH.