Four Liebherr STS cranes to Fenix
By Laura Hatton09 September 2015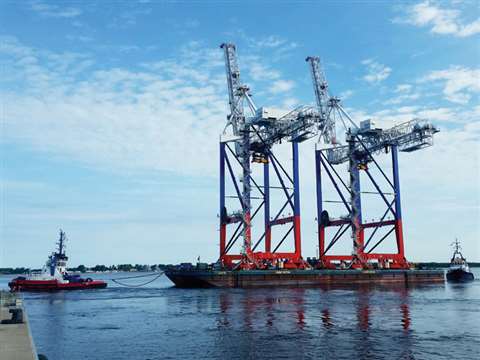 Fenix Container Terminal, Port of Bronka in St Petersburg, Russia, has taken delivery of four Liebherr ship to shore (STS) cranes.
The cranes were designed at Liebherr Container Cranes in Ireland. They were assembled in the Liebherr Rostock plant before being barged through the Baltic Sea to St Petersburg.
The Fenix Container Terminal is being developed in stages. Stage 1 of the project will provide the port with an annual capacity of 1.45 million TEU, while stages 2 and 3 will see the capacity of the port reach 1.9 million and 3 million TEU respectively.
Pat O Leary, Liebherr Container Cranes managing director, said, "Liebherr is proud to have been selected as a partner to help deliver this important project. At Liebherr Container Cranes, we have been designing and manufacturing cranes at our facility in Ireland since 1958. This wealth of experience has given us an expertise and knowledge which is second to none. We supplied our first cranes to Russia, many years ago and since then have delivered both STS and RTGs to ports all across Russia. This particular project required that the cranes be delivered fully assembled and our maritime facility in Rostock was utilized to facilitate this."
The STS cranes are due to begin operation at the container terminal in the coming weeks.