Four new machines from Brokk
By Steve Ducker20 April 2018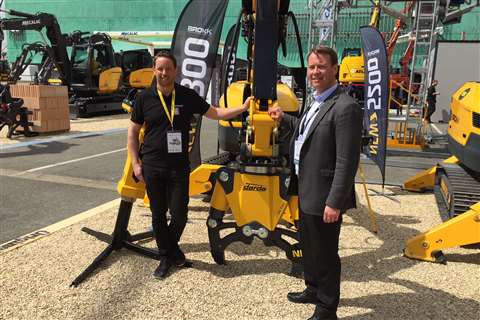 Brokk has made the biggest product launch in the company's history at Intermat in Paris.
Four new machine models have been introduced, together with a proprietary Brokk hydraulic breaker range and three new concrete crushers from Darda.
The four new Brokk models are the 170, 200, 300 and the green Brokk 520D diesel machine.
The new 170 replaces the Brokk 160 in the product lineup. Taking the best from Brokk 160 and adding the full Brokk SmartConcept – the power of SmartPower, the reliability of SmartDesign, the ergonomics and productivity of SmartRemote – the company says the Brokk 170 is the ultimate demolition machine for the construction industry.
With a 24 kW SmartPower electric powertrain, this lightweight machine comes with 15% more demolition power than its predecessor. but retains the same compact physical dimensions as the Brokk 160 and the wide range of attachments are fully compatible between the two models.
The 200 defines a new weight class for demolition robots, filling the gap between the Brokk 170 and the Brokk 300. And it does so by squeezing the power of a 3,100 kg Brokk 280 into a 2,100 kg package, enabled by Brokk SmartPower technology.
This 27.5 kW machine carries tools one weight class above its size and brings the hydraulic power to match it. Compared to its smaller sibling Brokk 170, the Brokk 200 comes with the new Brokk BHB 305 breaker that hits 40% harder and the new stronger Darda CC480.
The 300 is an example of how quickly Brokk demolition robots evolve to meet the ever-increasing demands of the industry. Replacing the fairly recent Brokk 280 model, it comes with the more powerful Brokk BHB 455 breaker
Slightly longer than the Brokk 280 and weighing 500 kg more, the Brokk 300 still retains it is the same width and height giving it access to the same confined work sites.
Finally, the 520D features a larger hydraulic breaker that packs 40% more hitting power than the Brokk 400D it is replacing. This eco-friendly 5 t machine comes with two diesel engine options: a Stage 4/Tier 4 Final Kohler unit meeting the new EU and North American emission standards, and a Kubota model available for the rest of the world.