Leading compact crushing and screening equipment manufacturer EvoQuip has introduced the Bison 160 hybrid hook-lift jaw crusher.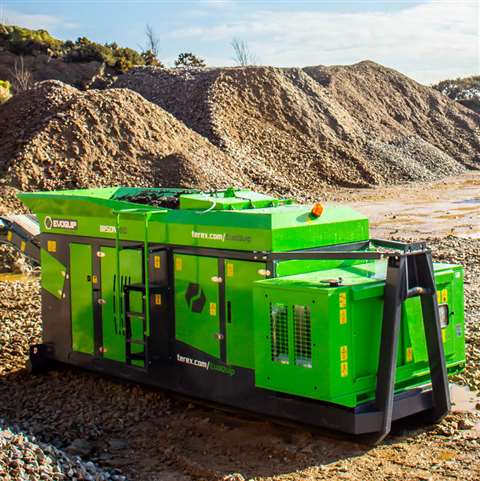 Described by the Terex brand as ideal for construction and demolition recycling applications and urban areas, this is the fourth model in the Bison series and the first to use hybrid diesel-electric drive technology to reduce running costs in addition to cutting noise and fuel emissions.
The dual-powered Bison 160 is equipped with a proven 700 x 500 mm (28 x 20 in) single toggle hydraulically adjustable jaw crusher.
It has been designed with the specific needs of the owner or operator in mind, including working in space-restricted sites.
EvoQuip says that ease of transport, compact size, ease of operation and quick set-up times all mean the machine can get to site easily and begin operation within minutes of unloading.
The new Bison 160 includes a heavy duty vibrating grizzly feeder, and the feeder control system is based on power draw and feed level to ensure optimal material flow in the jaw and throughput.
"The Bison 160 hybrid hook-lift jaw crusher represents a new milestone for us," said EvoQuip product line director Matt Dickson.
"It is an ideal crusher for waste contractors who can use existing hook-lift vehicles to either bring material to depot for processing or alternatively bring the crusher to the waste on site – turning waste into profit whilst providing excellent productivity and fuel efficiency."
"The incorporation of the hybrid diesel-electric drive technology; quick set up times, simple operation and ease of transport are all issues which our customers have identified as key priorities for the future."
Key to the design of the EvoQuip Bison 160 is that it is small enough to fit easily inside a standard 12 m (40 ft) high cube container yet is formidable enough to withstand challenging applications.