Franco Fassi: 1930 - 2019
By Euan Youdale29 August 2019
Franco Fassi, the president and founder of Italy-based Fassi Group, has died.
Fassi founded the articulating loader crane business in 1965 and remained at the company until 1 August this year. He spent his last days in the Trentino mountains, an area he loved, in the company of his wife Angela and children Giovanni, Anna Maria and Raffaella. He passed away on 26 August at the age of 89.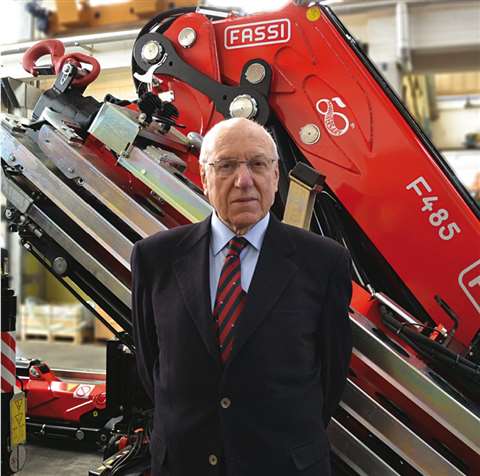 The family business was started back in 1946 by Franco's farther Giacomo Fassi, specialising in the sale and transport of timber and coal, later adding building materials to its offering. Franco was an integral part of the business and during the 1950s and 1960s, he began to work with trucks, being an engine enthusiast. At the time he specialised in techniques for installing the buckets of dumper trucks.
His pioneering spirit was put to the test in the mid-1960s when Italy found itself in a deep financial crisis that decimated his company and reduced its workforce from a hundred to a dozen employees. Ever the Innovator, Fassi overcome the crisis and broke new ground by negotiating a commercial agreement with Swedish company Foco to import truck cranes into Italy, which triggered the idea of becoming a crane manufacturer in 1965. It was to be the year that changed both his personal life and that of the company.
Fassi Group, as we know it today, began with the launch of a 3 tonne capacity crane, with a maximum lifting height of 2m, sold to an entrepreneur in Val Brembana, a town in Lombardi, northern Italy. Franco described this period as, "an exciting adventure, full of so many sacrifices, but of which the whole family is proud."
The ensuing months brought about a range of prototypes and experiments in lifting solutions and in three years Fassi had produced and sold 150 cranes, including to the export market. The next stage in the company saw Franco expanding the commercial side of business and becoming an active salesperson. By the 1980s Fassi was the market leader in Italy, with a thousand units produced each year and in the 1990s it took a further leap into exports.
Today, Fassi has grown into a major group of companies, including its French holding CTELM, of which Fassi owns 92%, incorporating Fassi France and Marrel, a producer of loading equipment mounted on industrial vehicles. Earlier this year the French holding added access equipment manufacturer ATN to its stable. The company owned another access equipment manufacturer, truck mount producer Socage, until it was sold in 2009.
Fassi Group also owns a range of other well-known manufacturing brands, including Cranab, Slagkarft, Vimek, Brake Forest and Jekko spider cranes, with Franco's son Giovanni Fassi at the helm as the group's CEO.
Summing up Franco's philosophy to business, are his own words. "We have always remained faithful to our history. We have grown, we have always accepted new challenges, we have never stopped or been satisfied."