Free standing solution for waste treatment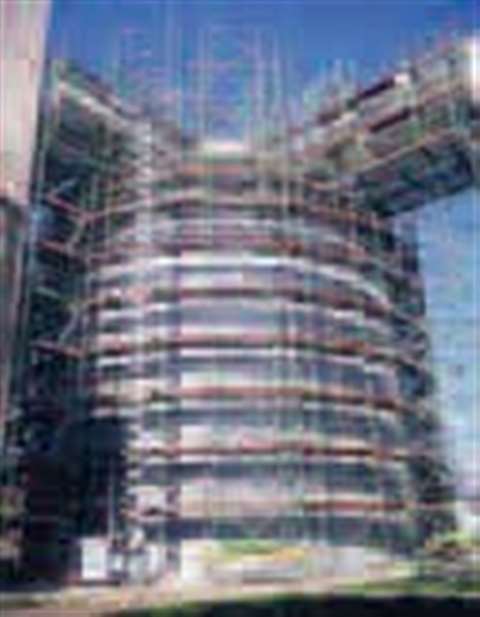 Layher Allround was used to provide a 22 m (73 ft) scaffold structure to allow repair work to be carried out on a concrete fermentation tower and its associated walkways at a sewage treatment plant in Ingolstadt, Germany.
The shape of the structure placed complex demands on the scaffolding, since the radius of the circular scaffolding steadily decreases towards the top. In addition, it was not possible to anchor the structure to the tower.
The stability of the free-standing structure supplied by contractor Grustbau Obermeier required to meet these needs was ensured by the use of outer support towers assembled from Layher's Allround equipment. The scaffolding was matched to the tapered shape of the tower, which at its widest is over 67 m (220 ft), by means of brackets. These were installed on the inside of the scaffolding, as a result of which, the circumference of the circular structure was reduced. The erecters designed the upper end with connected lattice girders resting against the fermentation tower. The connections to the adjacent towers were also designed to be projecting.
The cladding of the tower was removed and the concrete repaired where necessary. Trapezoidal metal sheets were to be fitted in place of the older cladding, and the erecters had to decide how to carry these into the scaffolding.
They settled on briefly removing one of the equalizing bays, inserted between every two rectangular bays in order to match the curvature of the tower. Since the scaffold structure was split during this operation, there might have been risk of the scaffold structure moving, with its stability then no longer assured. Once the sheets had been passed inside, the bay was reinserted and the ballast removed.