French construction grew in 2017
By Sandy Guthrie14 September 2018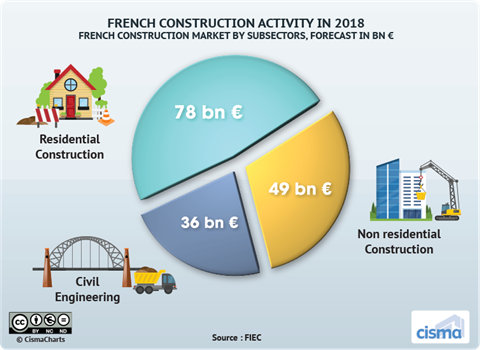 French construction activity increased by 4% in 2017, according to figures from CISMA (the French association of equipment manufacturers of construction, infrastructure, steel and handling equipment industries), but it suggested that while production will increase in 2018, it will be at a more moderate pace.
CISMA said that the 2017 figure followed the first signs of recovery which were observed in 2016. In 2018, it said, production will increase by only 2.6%.
New housebuilding boomed in 2017, CISMA reported, with a rise of 12.8%. However, it said that activity was expected to grow at a much slower pace in 2018, up 3.4%, thanks to the cutting of some supporting programmes.
The forecast was said to show a loss of 10,000 dwelling starts as a result of two main factors.
On the one hand, incentives, such as the Zero Rate Loan (PTZ) and the rental investment product Pinel, will be refocused on areas where the demand for housing is the strongest. The reforms will also affect the social housing sector with an increase in the reduced VAT rate and a drop in revenue from rent, said CISMA.
On the other hand, it felt the market would suffer from the global deterioration in household income because of a sustained rise in house prices, while credit conditions would not improve.
After years of decline, non-residential construction was found to have recovered in 2017 with growth of 3.7%. CISMA said the growth should continue in 2018, the robust figures for permits granted at the end of 2017 suggested.
Overall, in 2018, non-residential construction should increase by 8.9% in volume, but the level of activity in 2018 will remain low compared to the past, it said. All market segments, excluding agricultural premises, should contribute to this growth. Industrial buildings will perform the most strongly, up 16.9%, followed by offices, up 9.4%, administrative buildings, up 7.1%, and finally, retail stores with a rise of 1.5%.
Civil engineering
CISMA's research showed that the French civil engineering sector was gradually recovering from the crisis.
In 2018, civil engineering turnover is expected to continue rising – at 4% in nominal terms. CISMA said that one major infrastructure project, the Greater Paris project, would boost activity and generate 1.2% in additional growth.
Excluding this project, the outlook remained positive, it said, with a rise of 2.8% expected. Activity is likely to be driven by local government investment spending, private investment and ongoing infrastructure projects such as the French high-speed broadband plan, the French motorway plan, etc.
CISMA added that beyond 2018, the French mobility law, which will be subject to a vote by Parliament before end of this year, would influence the industry outlook deeply in the long run.