French evolutions
By Steve Ducker19 April 2018
This year's Intermat has committed to the demolition sector by making it one of the four themed villages, or "clusters of expertise" for the 2018 event. The Earthmoving & Demolition hub in Hall 4 will include machines for recycling and environment as well as demolition, and there is also an outside demonstration area.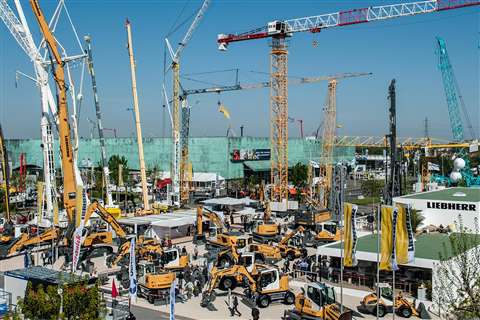 It is a logical move for a host country that has more than 1,000 demolition contractors and indeed has been set up in partnership with SNED, the French National Demolition Contractors Association.
Visitors to Paris in late April will be able to see companies including Case, Doosan Bobcat, Hidromek, Hyundai Heavy Industries, Kobelco Construction Machinery, Komatsu, Kubota, Liebherr, LiuGong Machinery, Mecalac, Takeuchi, Volvo Construction Equipment (CE) and Wacker Neuson.
Arden Equipment, Brokk, Hartl Crusher, MB, Mantovanibenne, Socomec, Trevi Benne and VTN Europe will also bring their products to the show, which takes place every three years.
Products on show will include excavators, loader, buckets, breakers, crushers, shears and recycling equipment as well as components and accessories for demolition machinery.
For some visitors, including Demolition & Recycling International this is not our first trip to the French capital this year.
Back in January we attended the two-day pre-Intermat event where several of the show's exhibitors took the opportunity to preview their forthcoming attractions. At Intermat itself, the KHL Group will be exhibiting as usual and you are most welcome to visit us on stand 6 C 001.
Innovation Award
Pre-Intermat was also the scene of the Intermat Innovation Awards. Among the winners were two names that will be familiar to D&Ri readers – Volvo Construction Equipment (CE) and Mecalac.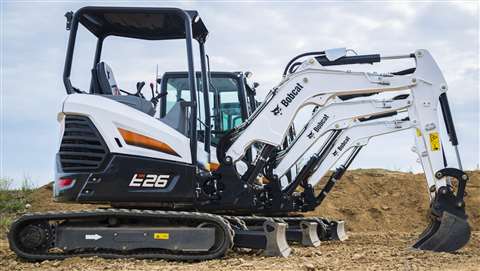 Volvo CE won in the Earthmoving & Demolition Equipment and Machinery category for its EX2, a fully compact excavator prototype that was cited by the judges as delivering "zero emissions, 10 times higher efficiency, 10 times lower noise levels and reduced total cost of ownership compared to conventional counterparts. It is believed to be the world's first fully electric compact excavator prototype."
To make the prototype fully electric, the combustion engine has been replaced with two lithium ion batteries, totalling 38 kWh, which store enough electric energy to operate the machine for eight hours in intense applications.
In the same category, Mecalac was awarded for the e12, said to be "the world's first compact wheeled excavator run only by electricity, without any compromise on battery life, performance and compactness."
Mecalac said the key to this is in the architecture of the machine, as the power supply – separated from the revolving frame – allows putting a 146 kWh capacity, giving eight hours of battery life.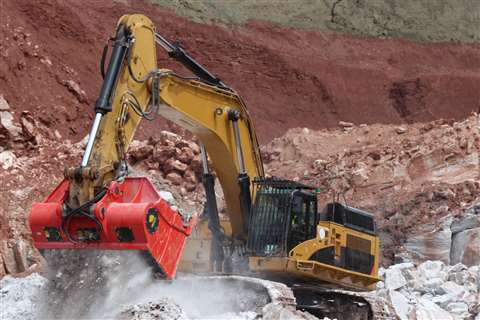 Two electric motors supply the front-end attachment and travel function, while the fully electrical transmission provides a huge drawbar pull force at low speed while allowing energy recovery while braking.
The exhibits at this year's event include some ambitious product launches, not least Bobcat, which says it is aiming to revolutionise the compact excavator market in Europe when it shows a completely new generation of 2 to 4 t machines for the first time.
According to the company, all the new models already meet the upcoming European Stage V engine emission regulations.
The first details to be released are on the new 2 to 3 t E26, E27 and E27z models.
These have operating weights of 2,560 kg (5,643 lb), 2,610 kg (5,754 lb) and 2,700 kg (5,952 lb) respectively.
A similar change is taking place in the 3 to 4 t range. The new E34 and E35z have been developed to reinforce the Bobcat product offering in this category of compact excavator. The company will release more information on these new machines at Intermat itself.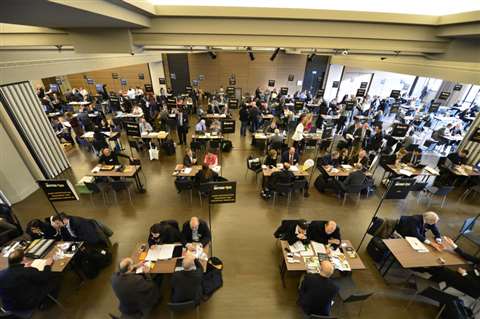 "This is a very exciting time for everybody in Bobcat involved in developing our new products," said Jaroslav Fiser, product line director for Bobcat mini-excavators in Europe, the Middle East and Africa.
"Our engineers and product experts have worked closely together with our sales force and selected European dealers to ensure the new products meet the specific requirements of the very demanding customer base in Europe.
"We are very much looking forward to unveiling our new machines at Intermat."
The Allu Group will be proudly exhibiting equipment from its Transformer and Processor ranges. As well as established equipment, the company will unveil the latest features of the equipment and launch a new development described as a "two-way solution".
According to Allu, together these will enable customers to get even more return on their investment.
The Allu stand will be in the inside earthmoving and demolition area of the showground.
Epiroc's appearance at Intermat is not so much about a new product as a new company. Intermat will mark the official launch of Epiroc for the French market following the decision to split up the Atlas Copco Group.
Products on display will feature hydraulic tools including the SB202, SB1102, MB 1200 Dust, HB 3600 and HB 7000 hydraulic breakers; MG 400 multi grapple; BP 3050 bulk pulverisers; CC3700U combi cutters; HC 350 hydraulic compactor and CB 350/CB 2500 concrete busters.
The event is also the world premiere of the patented IPS Intelligent Protection System for hydraulic breakers, which combines Epiroc's AutoControl and StartSelect functions.
Also in breakers. Montabert will introduce two new products, the V6000 and the V7000. Weighting 6 and 7 t respectively, they will complete the range which equips carriersup to 120 t.
Three patents have been filed for the products – one related to the hydraulic cushion and piston centering and others linked to the new variable energy adjustment system. Other new technologies have been included in the design of these two breakers, such as the dual lubrication circuit. Moreover, these breakers have been engineered for operator safety and ergonomics. Wear parts are easy to change, and noise levels have been reduced to a minimum.
Digitalisation solutions
Liebherr will exhibit several new products including some world premieres, the latest digitisation solutions and the Liebherr Reman programme.
The group will present a cross-section of the latest machine technology in an outdoor area approximately 4,500 sq m (48,500 sq ft) in size.
The R 936 Compact crawler excavator will also be on display for the first time in France. It has an operating weight of approximately 35 t and is ideal for use where space is limited.
Turkish company Hidromek, which manufactures excavators and loaders, is set to launch the HMK 60 CR midi crawler excavator and HMK 145 LC SR crawler excavator.
It will also exhibit four models from its backhoe loader product group, two wheeled excavators and the HMK 220 NLC, HMK 300 LC, HMK 390 LC HD and HMK 490 LC HD wheeled excavators.
The HMK 640 WL wheeled loader, launched in 2017 with an operating weight of 26.3 t, will also be on show. Belgium-based mineral processing technology specialist Keestrack will unveil a new design for its R3e track-mounted impact crusher unit. The company says the 30 t model offers all advantages of the mature diesel electric hybrid concept, which it is implementing as an alternative drive system in more and more product ranges of its highly mobile crusher and screening plants.
At the heart of both versions is the high-performance 48 ICR 100-00 impact crusher with a 770 x 960 mm (30 x 37 in) inlet opening, and which has a crushing efficiency up to 250 t/hr thanks to the heavy-duty 920 mm (36 in) rotor.
Intermat will be the first presentation of the SK500LC-10, Kobelco's biggest conventional earthmoving and construction excavator.
The Generation 10 machine designed to provide exceptional low emissions and increased working performance to maintain unparallelled working efficiency. It is also the latest Kobelco excavator to comply with the Stage 4 (Tier IV) exhaust emissions regulations.