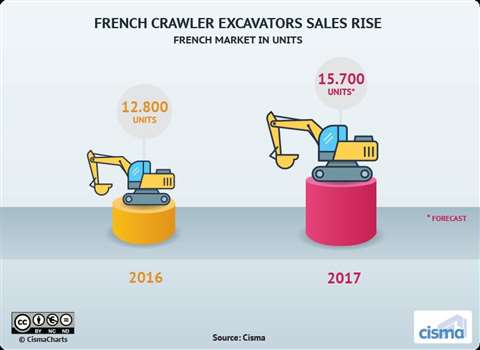 Sales of crawler excavators in France increased 23% year-on-year during the first seven months of 2017, the latest figures from CISMA (the French association of manufacturers of construction equipment and material handling technology) suggest.
The association said that confidence surveys remained positive this year, with building construction growing, and civil engineering activity in France improving.
It added that the rental sector, which it estimated to account for over 60% of supply in the French market, was up 31% for crawler excavators.
Mini excavators were said to be proving popular, with sales of close to 7,800 units over the period. That is an increase of 25% compared to last year. CISMA added that sales to renters were up 33% on the previous year.
Sales of crawler excavators between 6 and 12 tonnes were found to be rising too, with an increase of 19% over the period. CISMA said that sales to renters were responsible for a significant share of this increase.
Sales of heavy crawler excavators – over 12 tonnes – were said to be growing too, with sales up by 11% over the first seven months. The segment between 21 and 24 tonnes accounts for 28% of total sales, while 24 to 28 tonne machines take18% of the total. Both these categories recorded the important growth over the period – a rise of 17% for 21 to 24 tonne models, and 52% for the 24 to 28 tonne segment.
Just over 12,800 crawler excavators were sold in France last year, said CISMA. It said that according to manufacturers, the French market could reach 15,700 units this year, which would represent a 23% annual increase.